Nvidia's (NASDAQ:NVDA) new Tegra 2 mobile processor is designed to serve the fast growing tablet PC market (including e-readers and smartbooks). We estimate that there could be a 12% upside to our $12 Trefis price estimate for Nvidia's stock if the company's mobile chip revenue increases significantly as a result of Tegra 2.
Below we highlight the significance of Nvidia's mobile chip business, the size of the tablet PC opportunity and how Tegra 2 can benefit Nvidia.
Mobile Chips only 8% of Nvidia's Stock
We estimate that Nvidia's mobile business constitutes only 8% of Nvidia's stock but that this amount could double if Tegra 2 can deliver higher mobile chip revenues for Nvidia. (Click to enlarge)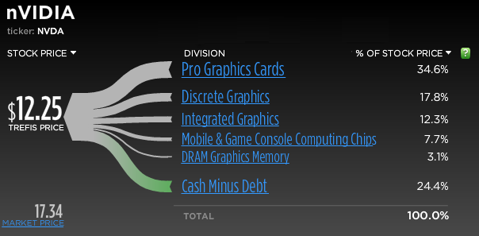 Click to enlarge
Chips for Tablet PCs Could be $4 Billion Market

The tablet PC market is growing fast as PC makers like Dell (NASDAQ:DELL), Apple (NASDAQ:AAPL) and HP (NYSE:HPQ) race to launch tablet PCs (Latitude XT2, iPad, HP Slate). According to In-Stat, a market research firm, the total available market (TAM) for tablet PCs could be as high as 50 million units by 2014. For chip makers like Nvidia the tablet PC chip market could exceed $4 billion by 2014.
First Tegra Chip Lost out to Intel
Nvidia launched the first generation Tegra chip in mid-2008 and competed alongside Intel's (NASDAQ:INTC) Atom processor. Intel's Atom gained traction among netbook manufacturers and Atom is now the leading processor amongst netbooks.
Nvidia's new Tegra 2 chip is capable of delivering four times higher performance than its predecessor and is positioned to go after the tablet PC market. The new Tegra 2 chip is capable of processing HD graphics content while minimizing power consumption.
Nvidia's Tegra 2 can become lead chip for Tablet PCs
Tegra 2 is already the chip of choice for about 50 products being designed or built by mobile device makers. If Tegra 2 is able to capture significant share within the chip market for tablet PCs, Nvidia's stock could see a boost of 12%.
We expect Nvidia's revenue from its mobile computing platforms, including Tegra and GoForce chips, to be $184 million in 2010. You can modify the forecast below to see how Nvidia's stock would be impacted if the company's mobile computing revenues increased to $1 billion by the end of the Trefis forecast period as a result of Tegra 2 capturing about a quarter of the $4 billion tablet PC chip market.
For additional analysis and forecasts, here is our complete model for Nvidia's stock.
Disclosure: No positions