Cybercrime is on the rise. In the past,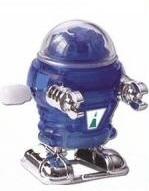 you only needed to worry about pickpockets or losing your wallet. You knew you could cancel your credit cards the next day and not have to worry much. Today criminals are focused on stealing millions of identities at a time. This is proved by Target's recent data breach of up to 110 million customers' data including credit card numbers, PIN numbers, names and addresses. According to the Bureau of Justice Statistics, about 7% of people aged 16 or over were victims of identity theft in 2012. This translates into over 12 million Americans who had to deal with the hassle of the aftermath. Identity theft resulted in over $21 billion in costs to victims and businesses. Today your data may be floating around the black market and you don't know when the actual identity theft will occur. 15% of identity theft victims don't know until 4 or more years has passed.
So who is set to benefit from this trend?
LifeLock (NYSE:LOCK) is the industry leader that is set to benefit from fearful consumers looking to protect themselves. They are a Kerchunker® service company that has steady predictable revenue and a clean balance sheet. Kerchunker is a term coined and uniquely used by Runnymede investment professionals when identifying service companies characterized by predictable, visible growth achieved through a recurring revenue model.
As of September 30th, they have 34 consecutive quarters of growth. Revenues grew by 43% over the last 12 months. From 2009 to 2013, customers have grown by over 16% per annum.
What makes LifeLock a Kerchunker® company:
With identity theft on the rise, customers are likely to stay customers for the long term to protect them from cybercrime. On the consumer side of the business, 60% of customers prepay for the LifeLock service for the year so there is very good sales visibility. On the enterprise side of the business, customers are on multi-year deals with automatic renewals leading to 93-94% visibility.
Annual retention rate has risen from 79% in 2009 to 87.6% in the 3rd quarter of 2013. According to the FTC, identity theft is the #1 complaint in the US for the last 13 years. This trend plays into LifeLock's core business. Consumers tend to be even more fearful than in years passed. 40% of new customers are taking the LifeLock Ultimate service which is $25/month.
LifeLock has a pristine balance sheet. At the end of the 3rd quarter they had no debt and over $191 million in cash.
In 2005, CEO Todd Davis co-founded LifeLock and today it has a market capitalization of over $1.6 billion. He has grown LifeLock into the industry leader and is the face of the advertising campaign. He is famous for publicly sharing his social security number to prove the effectiveness of the LifeLock service. Unfortunately Davis was a victim of identity theft on multiple occasions in 2007 and 2008.
The company has just 2.9 million customers as of September 30, 2013. Over 12 million Americans were victims of identity theft in 2013. Last year, experts said that a data breach at Adobe exposed over 150 million usernames and passwords. The Target breach may reach 110 million. Headline risk will continue to scare consumers and will be a tailwind for the fraud prevention industry for years.
What are the risks?
The first risk is that Target is offering its customers a year of free protection from ProtectMyId from Experian. This could be a huge threat as customers could choose this option; however it is a basic level service that only monitors Experian credit reports and not the other major agencies. It is somewhat equivalent to the LifeLock basic service which costs $10/month. Sure some people will take this free option but not everyone will go for it. I liken it to the cell phone industry. Many phones won't cost you a penny but many consumers still go for the newest iPhone or Galaxy for hundreds of dollars. Furthermore, we have history to reflect upon. Last year Adobe offered ProtectMyId to 40 million of its customers after a security breach. This had no effect on LifeLock's growth and one could argue these headlines are actually helping. Over the last 2 quarters, over 40% of new members have selected the highest priced offering which provides the highest levels of fraud prevention. If you look at Google Trends, consumers interest in LifeLock is rising thanks to the Target incident.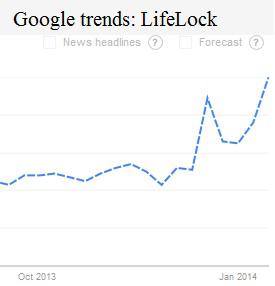 Another risk is the checkered past of the founders of LifeLock. Robert Maynard Jr resigned in June 2007 after questions were raised about his questionable past and the integrity of his story regarding the founding of LifeLock. Maynard no longer has any affiliation with the company.
Thanks to publicly releasing his social security number in advertisements, current CEO Todd Davis has had his identity stolen on multiple occasions resulting in the low thousands of dollars in losses. In 2008 and 2010, the company was sued for deceptive and false advertising which cost the company $12 million in fines.
Valuation and conclusion
LifeLock is currently trading at a rich multiple of 50x 2014 earnings. This is extremely rich considering the street is forecasting just 16% earnings growth for 2014. However I believe that analysts are going to have to up their estimates given that subscriber growth surely got a strong boost from Target's data breach. I wouldn't be surprised to see earnings growth of 30-40% in 2014. While you shouldn't be overly aggressive at these levels, initiation of new positions will likely benefit from positive momentum in the stock.
Disclosure: I have no positions in any stocks mentioned, and no plans to initiate any positions within the next 72 hours. I wrote this article myself, and it expresses my own opinions. I am not receiving compensation for it. I have no business relationship with any company whose stock is mentioned in this article.