When searching for my best ideas, I often focus on looking for asymmetrical risk/reward opportunities. I have already written about a few of my favorite and least favorite ideas for 2014. I recently highlighted Cameco Corp (NYSE:CCJ) as my favorite commodity stock for 2014. In this piece, I will articulate why I Valero Energy (NYSE:VLO) is my least favorite commodity stock for 2014.
The Past Three Years
As shown by the chart below, VLO shares have been quite strong over the past three years. The rally has been a part of a sector wide move with refining stocks such as Tesoro (NYSE:TSO), Phillips 66 (NYSE:PSX), Western Refining (NYSE:WNR) and Marathon Petroleum (NYSE:MPC) all moving sharply higher.
The sector wide rally is mostly attributable to the wide spread between finished products, such as gasoline and heating oil, which refiners sell, and WTI Crude Oil which U.S. based refiners buy. Furthermore, the divergence between WTI crude oil and finished products such as gasoline and heating oil can be attributed to the spread between Brent Crude Oil and WTI Crude Oil.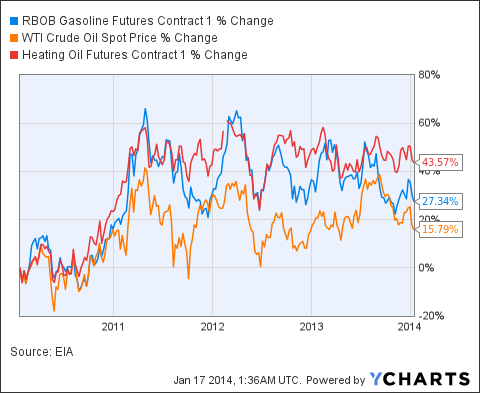 RBOB Gasoline Futures Contract 1 data by YCharts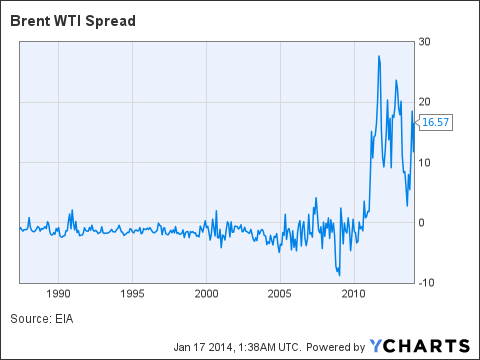 Brent WTI Spread data by YChart
Why Brent/WTI Has Widened
As shown by the chart above, historically, Brent crude has traded at a slight discount to WTI crude. The biggest reason for the widening of the spread has been the increasing supply of U.S. crude from sources such as shale rock. Another factor that has widened the spread is impact of the sanctions that have been in place on Iran as well as other middle east supply disruptions.
How Refiners Benefit
Refiners have benefited from a wider Brent/WTI spread because they can export refined products. The result of this has been that refined products get priced based on Brent crude prices, not WTI crude prices. Refiners have been able to buy cheap WTI crude, refine it, and sell it for a large premium. As shown by the chart below, VLO has used its profits to increase its quarterly dividend from 5 cents per share in 2011 to the current 22.5 cents per share. VLO has also used profits to reduce its share count to 539 million shares from over 570 million shares. Needless to say, these developments have helped VLO shares move higher over the past few years.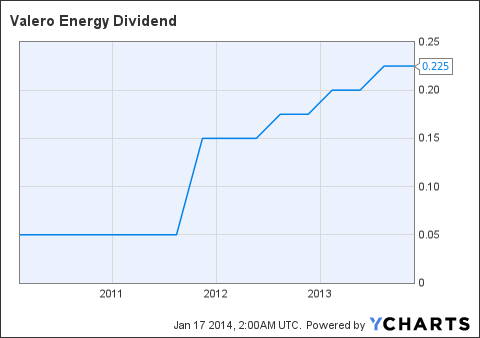 VLO Dividend data by YCharts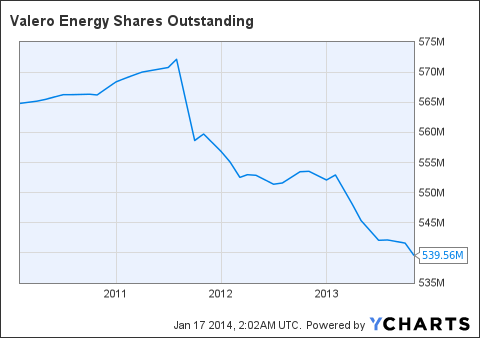 VLO Shares Outstanding data by YCharts
Clouds On The Horizon
Over the past few months, momentum has developed in Washington behind a plan to lift the U.S. export ban on crude oil. The result of lifting the ban would almost certainly be a dramatic tightening of the Brent/WTI spread. Currently, the issue is still up for debate and the major parties have been weighing in. Perhaps the most influential voice is that of Exxon Mobil because of the company's vast lobbying resources. Exxon has come out in support of lifting the export ban. On the other side of the battle are the refiners; VLO and some of its peers have come out, not surprisingly, in opposition to lifting the ban. At the moment, it is too difficult to say how this political game will play out. However, I believe there is a good chance that the export ban is lifted sometime soon. In addition to potential pressure on the WTI/Brent spread from lifting the U.S. oil export ban, an increase in Iranian production could also lead to a tighter spread between the two global oil benchmarks. Taken together, in my view, the risk to the downside is far greater than the risk to the upside for the Brent/WTI spread.
Valero Diverges From Brent/WTI
As shown by the chart below, over the past year the Brent/WTI spread has actually decreased by more than 10%. At the same time, VLO shares have moved higher by more than 55%. Perhaps the move in VLO and other refiners have lagged the moves made by the Brent/WTI spread because of the lad effect on earnings. If this is true, then it would also make sense that earnings going forward may disappoint as the lower spread begins to impact results.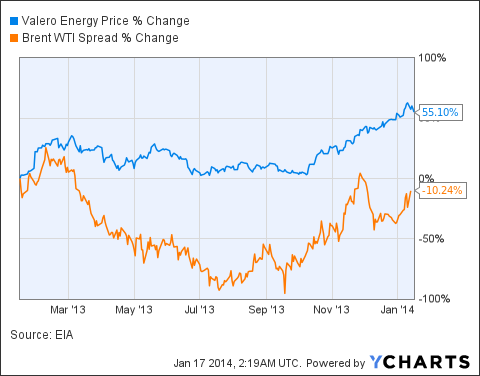 Valuation
Based on a few different metrics, VLO is trading close to the upper end of its historical valuation range. This suggest that VLO may be vulnerable to the downside if results disappoint or forward expectations disappoint. Moreover, if profits are strong it is difficult to see how VLO shares will move sharply higher from here. I do not believe we are in a long-term refining super-cycle which would lead to a change in the way refiners are valued. The refining business has not changed. The refining business remains a commoditized business that is dependent on spreads between crude oil and its end products.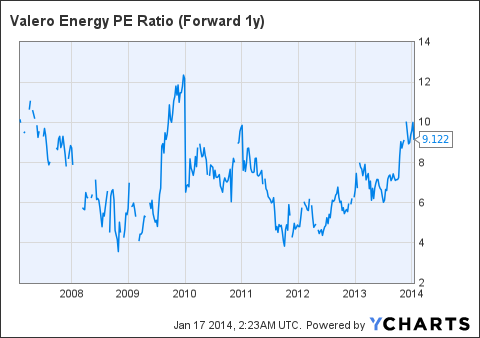 VLO PE Ratio (Forward 1y) data by YCharts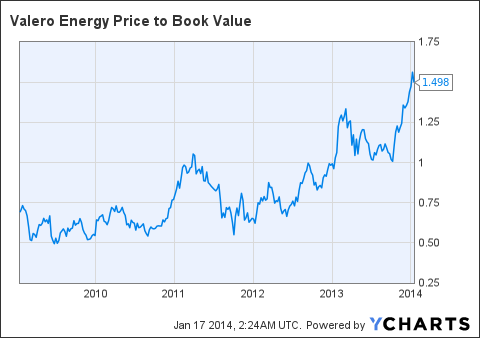 VLO Price to Book Value data by YCharts
Conclusion
In my opinion being long VLO is a poor risk/reward. If the U.S. government lifts the oil export ban, then refiners such as VLO may have considerable downside. On the other hand, even if the U.S. does not lift the export ban increasing Iranian crude supplies could lead to a tighter Brent/WTI spread. If the stars align for VLO, and the Brent/WTI spread remains wide, then I believe upside is somewhat limited given current valuations. Due to these factors, VLO is my least favorite commodity stock for 2014.
Disclosure: I have no positions in any stocks mentioned, and no plans to initiate any positions within the next 72 hours. I wrote this article myself, and it expresses my own opinions. I am not receiving compensation for it (other than from Seeking Alpha). I have no business relationship with any company whose stock is mentioned in this article.