Introduction
Determining undervalued securities is an essential aspect in generating alpha. Investing in these mispriced opportunities is challenging because it requires having a contrarian mindset. Any psychologist will inform you of the difficulty of following this precept. This approach defies the tenets of human behavior that thousands of years of evolution have forged. Although difficult, following this approach is the best way to ensure alpha generation. Cowen Group Inc. (NASDAQ:COWN) is clearly a contrarian trade.
Cowen Group provides alternative investment management, investment banking, research, and sales and trading services. It began trading in late 2006 at $15 a share. This was an inopportune time for this company to go public, and it has subsequently bottomed out in 2012. However, 2013 was a fairly positive year as Cowen went from $2.50 to nearly $4.00 where it now stands.
Reasons for Bullishness
It is clear that the economy is undergoing a recovery. Unemployment has being falling over the past few years, GDP growth is normalizing, and the sentiment in the stock market has become positive. This trend benefits Cowen remarkably. Each of Cowen's business segments will improve if this direction continues. Investment banking revenue has increased from $10,557,000 in 2009 to $71,762,000 in 2012. Furthermore, brokerage revenue has increased from $17,812,000 in 2009 to $91,167,000 in 2012. Overall, between 2009 and 2012, total revenue has essentially doubled. With a beta of 1.34, it is clear that Cowen is highly correlated to the state of the economy.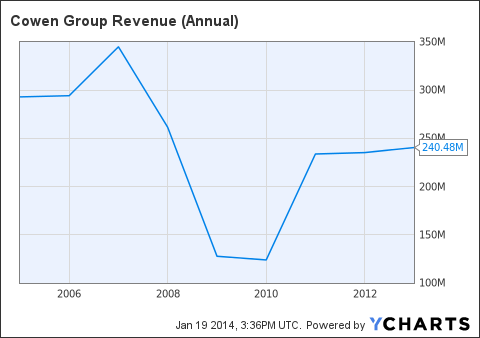 COWN Revenue (Annual) data by YCharts
Positive Catalysts
1. A low interest rate environment will push investors to seek yield and will grow revenues for the fund management segments of Cowen Group. More specifically, management fees and incentive income will expand.
2. Increased positive sentiment and more transparency from regulators and the Fed will allow for a surge in mergers and acquisition activity which will boost investment banking revenue.
3. A real estate recovery will benefit Cowen. They have exposure to real estate through a subsidiary known as Ramius Urban American Funds which manages approximately 9,604 multi-family housing units in the NY Metropolitan area.
4. A stock market recovery will allow Cowen Group to grow its brokerage services which currently are the largest contributor to Cowen's total revenue.
5. Large tax loss carry forwards will enhance its profitability. As of December 2012, Cowen had $316,000,000 of Federal and $377,000,000 of NY State tax loss carry forwards that they can apply to future profits up until the year 2032. 2013 looks as if it will be Cowen's first profitable year since the financial crisis in 2007 and all of those profits will be tax free.
6. Cowen has been authorized to purchase up to $35 million worth of shares in a repurchase program. To date, Cowen has only repurchased $6 million worth. After this profitable and tax free year, I expect Cowen to buy back many more shares at this undervalued level. This will allow them to further grow EPS in the quarters to come.
Conclusion
Cowen Group Inc. has significant upside and will perform extraordinarily well if the market continues to recover. Coverage of this company is quite limited; only 1 analyst is following it and has a price target of $4.60. This can help to explain the paradox of how a company that is returning to profitability with significant tax loss carry forwards is trading at such a low historical level. Cowen Group's increasing profitability coupled with its tax loss carry forwards and hefty authorization to repurchase shares gives this company a tremendous opportunity to outperform going forward. If you have conviction of a sustained recovery and possess the resolution to be a contrarian, Cowen is an exceptional investment.
Disclosure: I am long COWN. I wrote this article myself, and it expresses my own opinions. I am not receiving compensation for it (other than from Seeking Alpha). I have no business relationship with any company whose stock is mentioned in this article.