Background (Source)
GameStop Corp. (NYSE:GME), headquartered in Grapevine, Texas, is the world's largest multichannel video game retailer. GameStop's retail network includes 6,650 company-operated stores in 15 countries worldwide and online at GameStop.com. The network also includes: Kongregate.com, a leading browser-based game site; Game Informer® magazine, the leading multi-platform video game publication; Spawn Labs, a streaming technology company; and a digital PC game distribution platform available at www.GameStop.com/PC.
History: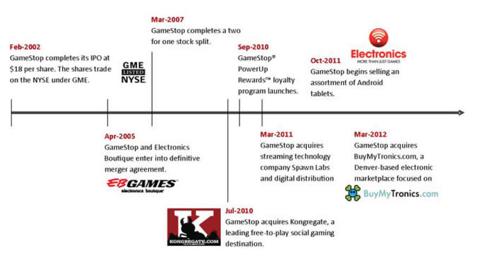 GameStop announced the acquisition of Spring Mobile, a Salt Lake City-based exclusive dealer of AT&T (NYSE:T) services in November 2013.
Recent Events:
On January 14, GameStop reported sales results for the nine-week holiday period ended January 4, 2014. Summarizing, same store sales were driven by strong growth in hardware (lower gross margin) but weaker than expected software sales, resulting in revised Q4 and full year EPS ranges of $1.85 to $1.95 and $2.96 to $3.06. Full-year EPS was reduced approximately 5% from guidance given on the Q3 conference call. In any event, investors panicked and the stock plunged almost 20%.
Going forward, we'll touch on the following to get an idea of risk and value:
Concerns
Financials
Valuation
Conclusion
Concerns
A major concern creating possible headwinds for the stock price listed in the 10-Q:
The introduction of next-generation consoles could negatively impact the demand for existing products or our pre-owned business.
The introduction of next-generation consoles, the features of such consoles, including any future restrictions or conditions that may adversely affect our pre-owned business or the ability to play prior generation video games on such consoles, and the impact on demand for existing products could have a negative impact on our sales and earnings.
To date, there is more hype than substance to this threat. For example, GameZone reported Sony's 2013 release for PS4 would not be "digital-only" for the following reasons:
Sony (NYSE:SNE) decided against a download-only model largely because Internet connections are too inconsistent around the world," one of the WSJ sources said. "Because game files are large, customers in countries where Internet connections are relatively slow would be hobbled by a requirement to download games.
Microsoft backtracked after feeling the heat from gamers when Interactive Entertainment president Don Mattrick stated, "There will be no limitations to using and sharing games. It will work just as it does today on Xbox 360." In other words, you'll still be able to "trade-in, lend, resell, gift, and rent disc-based games just like you do today."
Apparently customer backlash still carries a lot of weight to affect these decisions (GameStop has over 26 million members in its PowerUp Rewards program), but the risk will always hang over the company as each new hardware cycle plays out. If history is any guide, the next cycle is years away. An open question is - Would one player follow through on a download-only model without the competitors agreeing to do the same; risking pushing future customers into their competitors' arms?
In the meantime, the company is not resting on its laurels, as noted in the 10-K:
We expect that future growth in the electronic game industry will be driven by the sale of video games delivered in digital form and the expansion of other forms of gaming. We currently sell various types of products that relate to the digital category, including Xbox Live, PlayStation and Nintendo network points cards, as well as prepaid digital and online timecards and digitally downloadable software. We believe we are the only significant brick-and-mortar retail seller of digitally downloadable add-on content for physical games, which the electronic game industry calls "DLC." We believe that we are frequently the leading seller of DLC for certain game titles by out-selling online networks. We operate an online video game platform called Kongregate.com and we acquired a digital PC distribution platform, Impulse, and a streaming technology company, Spawn Labs, during the 52 weeks ended January 28, 2012 ("fiscal 2011"). We continue to make investments in e-commerce, digital delivery systems, mobile applications, online video game aggregation … In fiscal 2012, we grew our digital product receipts by 39%. Our digital receipts have grown from approximately $180 million in 2009 to approximately $630 million in fiscal 2012.
Sony's announcement of the PlayStation Now game streaming service earlier this month also took a toll on GameStop's stock. Details are lacking as far the pricing model goes, but GameStop already sells "PlayStation Plus memberships" and a GameStop representative told GameSpot:
Similar to how we worked closely with our partner Sony to successfully sell the PlayStation Plus service, we are looking forward to working with them on including the new PlayStation Now service as part of our portfolio of gaming products we offer our customers.
Whether GameStop is successful in striking a deal with Sony is still an open question, but it does not represent the last and final option for gamers. Refer to the earlier quote from GameZone, where Sony decided against a download-only model due to the fact that game files are large and internet connections around the world are inconsistent. This will be a problem for a long time. Adding to the problem is the fact that the Federal appeals court recently threw out the FCC's network neutrality rules, which could increase costs for large downloads and streaming data in the USA since the last mile is controlled by a few very large players. All this assumes that your internet connection is up to speed, which is at the heart of Sony's decision to avoid a download-only model.
What about the weaker-than-expected Q4 software sales? GameStop said they had the highest software and accessory attach ratio of any retailer for both new consoles. The weak software sales could be more industry-wide considering the huge amount of discretionary income going toward hardware, but is impossible to confirm until the next few quarters play out. Also, after reviewing the Q3 report, we noticed a shift of one large title launch from Q4 into Q3 of fiscal 2013, which resulted in a whopping increase of 47.2% over the prior period for new video game software sales. This may have had an effect on consumer purchases in Q4. The following graph illustrates the huge Q3 spike over prior periods: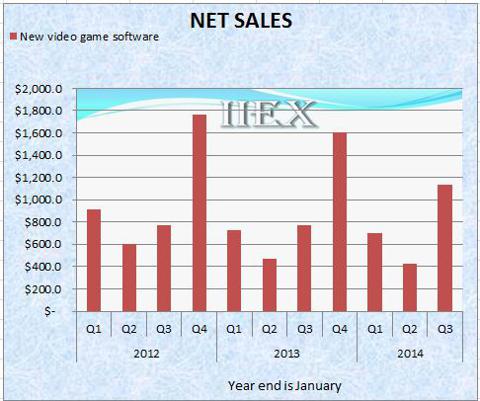 Financials:
We'll examine trends based on the management's financial track record using GAAP results to highlight longer-term trends. (Years noted ends in January)
EPS TRENDS: The following graph for EPS and cash trends are arrived at by calculating the statistics for a trend line using the "least squares" method. This determines the line that best fits the historical data and consensus estimates.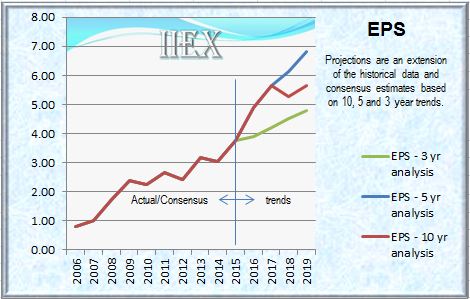 The graph above represents the following trends:
| | |
| --- | --- |
| Analysis Period | Trend |
| 3 year | 9.9% |
| 5 year | 16.6% |
| 10 year | 9.1% |
| Long Term Used | 9.1% |
CASH TRENDS: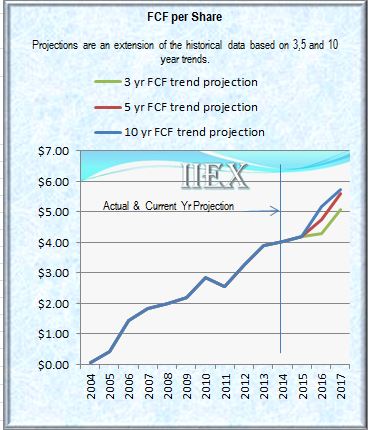 The graph above represents the following trends:
| | |
| --- | --- |
| Analysis Period | EPS Trend |
| 3 year | 8.0% |
| 5 year | 11.5% |
| 10 year | 12.1% |
| Long Term Used | 8.0% |
DIVIDEND: On Feb. 8, 2012 GME announced its board of directors approved the initiation of a quarterly dividend to its shareholders of $0.15 per share. The quarterly dividend has been increased by 83% to $0.275 (Annual = $1.10):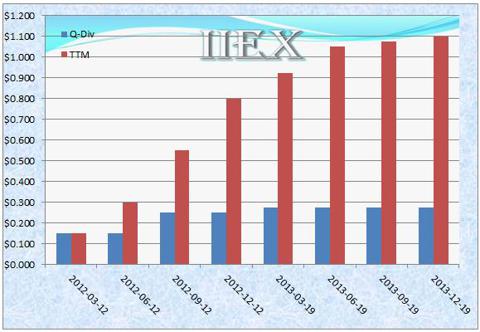 This represents an attractive 2.9% yield at the time of writing this. The FCF payout ratio is under 30%.
Valuation:
This fair value analysis is based on the management's longer-term financial performance, as measured by the previous data. Fair values are based, in part, on the following: Discounted cash flow, a modified Graham's intrinsic value formula, and a P/E analysis. The valuation model consists of two parts.
The discounted cash flow and the modified Graham's intrinsic value are blended to arrive at a fair value.
A P/E analysis based on historical adjusted values.
The fair value used is the minimum value of the two parts.
Part 1: Discounted cash flow and the modified Graham's intrinsic value.
An estimated long-term EPS growth rate of 8% and long-term cash per share growth rate of 9.1% were calculated from the data described above. Analysts are projecting a 5-year EPS growth rate of 14.07% as of writing this piece. (Source: Nasdaq.com)
Running these projections through our pricing model, excluding the PE analysis, produces a fair value of $52. Needless to say, the result is sensitive to changes in growth rates, as illustrated below.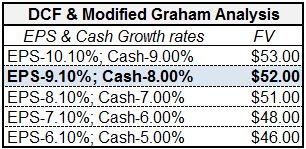 Part 2: P/E Analysis
The model looks at growth plus current and past periods to calculate a limiting P/E value. This produces a maximum allowable P/E of 13.5, yielding a fair value of $51. The result is sensitive to any earnings revision, as illustrated below.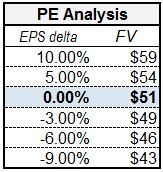 The PE is the controlling factor in this case. The final fair value is the minimum of the two methods or $51.
Conclusion:
Is GME an opportunity or a value trap? The company is evolving, as evidenced by the growth in digital receipts over the last few years. The stock is down about 35% from its 52-week high as fears were abundant after the holiday update - the fear being that GameStop is not evolving its digital business fast enough and time is running out for the brick and mortar stores. Fear has swung the pendulum too far to the bearish side on both counts, and the stock is trading at a 26% discount to its fair value considered in this article, with an attractive yield of 2.9%.
Financial data used for this article can be found here.
Disclosure: I have no positions in any stocks mentioned, and no plans to initiate any positions within the next 72 hours. I wrote this article myself, and it expresses my own opinions. I am not receiving compensation for it (other than from Seeking Alpha). I have no business relationship with any company whose stock is mentioned in this article.
Additional disclosure: My personal entry and sell targets are generated with the financial analysis and are disclosed at our website. Entry targets require a large discount to fair value, which reflects my philosophy, while others may be less or more conservative. In this case it is $36 so as of this writing. I do not own the stock, however, I am short February puts with a strike price of $37. If the puts are exercised, the basis cost will be approximately $35.12, meeting the entry target requirement.