Zynga (NASDAQ:ZNGA) had a difficult time last week, as it nosedived from the $4 mark all the way to about $3.50 a share. The reason seems to be a report from analyst Arvind Bhatia from Sterne Agee, saying that "analysts may be too optimistic in calling for an adjusted fourth-quarter loss of $0.04 per share on sales of $138.82 million."
I think that Bhatia is right on and my question is, why exactly has the market been optimistic about Zynga in the first place?
As a reminder, the last time I wrote about Zynga the stock, it was around $4 a share and I recommended selling (please consider: Sell Zynga And Thank Mr. Market For Being Generous). To my surprise however, while the stock did initially correct, it then rallied as high as $4.5 a share! What gives? My take is nothing gives and the stock has been a beneficiary of the social stock madness in this market, whether it deserves so or not.
Let me show you a chart of Zynga's revenue trajectory: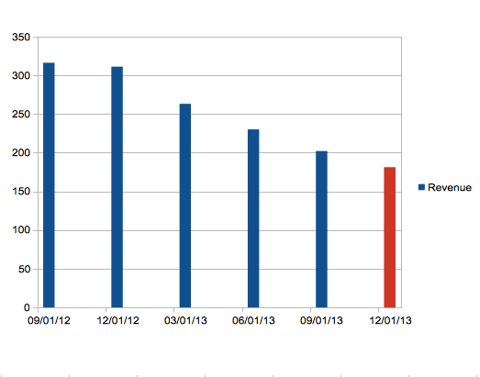 (bar in red is Q4 estimates)
My question is, what is the catalyst that will overturn Zynga's declining revenue picture? The answer is nothing that I am aware of. Analysts do not foresee any increase in revenue and bookings any time soon, and the guidance offered by the company calls for a continued deterioration in revenue and bookings as well.
The market is modeling Q4 2013 revenue of $181.7 million with about $135 million in bookings. Bhatia thinks the market is over optimistic and will be disappointed, and expects Q4 results to be much worse than expected. Bhatia is expecting $130 million in bookings for Q4 and $116 million in bookings for Q1 of 2014 (ouch).
So with revenue and bookings still falling, what is this company worth?
The company has about $1.6 billion in tangible net assets, so it is worth something. However if Bhatia is right, revenue will probably fall to about $500 million for 2014 (my estimate). Even if we add $250 million in value for the declining business (about ½ projected sales), the stock is probably not worth more than $1.9 billion tops. The current market cap of the company is about $2.3 billion, which leaves room for about a 20% further correction if I am right. And I am being very generous with the valuation.
Of course if the company stabilizes and stops losing money, then I might reconsider what I would be willing to pay for it. But in order for this to happen and for me to change my recommendation, I first have to see the goods. Reason being is that I cannot give the benefit of a doubt to a company that has such a perfect record of declining revenue.
Bottom line
I see Zynga as an asset play. If it falls below net tangible value, I might consider buying it, depending on the mode of the market. If not, I see no reason to buy it, because there is nothing on the horizon that tells me this company will stop hemorrhaging -- and that it has bottomed -- with the possibility to reverse course any time soon.
Disclosure: I have no positions in any stocks mentioned, and no plans to initiate any positions within the next 72 hours. I wrote this article myself, and it expresses my own opinions. I am not receiving compensation for it (other than from Seeking Alpha). I have no business relationship with any company whose stock is mentioned in this article.