China Mobile (NYSE:CHL) provides mobile telecommunications and related services primarily in Mainland China and Hong Kong. As of June 30, 2013, CHL's customers exceeded 740 million, making it the largest telecommunications company in the world. In addition, the company owns a 20% stake in Shanghai Pudong Development Bank and a 19.9% stake in Phoenix Satellite Television.
CHL's main competitors are China Unicom (NYSE:CHU) and China Telecom (NYSE:CHA), but the company also faces competition from internet companies that offer substitute products.
CHL is much larger than its two rivals, with revenues equal to CHU and CHA combined. Compared to its rivals, CHL enjoys scale efficiency, superior network coverage, and a well-known brand (Brandz 2013 ranked China Mobile as the most valuable brand in China). However, CHL has experienced some headwinds in recent years.
CHL's troubles began in 2009 when the company was mandated to build its 3G network based on TD-SCDMA technology, which is developed by China to avoid overdependence on foreign technology, while its competitors CHU and CHA were allowed to use the international standard. Since TD-SCDMA proved to be inferior, CHU and CHA each grabbed significant share of the 3G market.
Despite the disappointing result of TD-SCDMA technology, in my view, the Chinese government entrusting CHL to roll out its home-grown technology demonstrates the unique position of CHL compared to its smaller rivals.
Financial Performance Review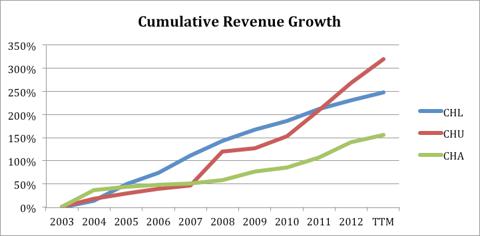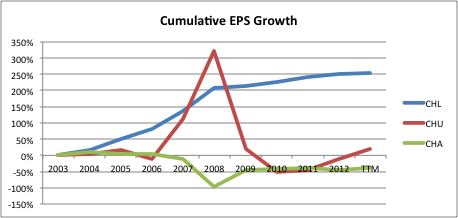 Although CHL is currently facing some headwinds, the company has an enviable history of growth. From 2003 through 2012, CHL increased both revenue and EPS every year with a 9-year CAGR of 14.7% and 13.7%, respectively. Although rivals China Unicom and China Telecom grew revenues at a faster pace in recent years, their growth came at the expense of profitability as both companies spent heavily on marketing and subsidies to attract CHL customers. For example, although CHL has lagged badly from 2009 through 2012 in terms of revenue, the company has outpaced both CHU and CHA in terms of EPS growth at a 3-year CAGR of 3.9% vs. 0% for CHA and a negative 9.1% for CHU.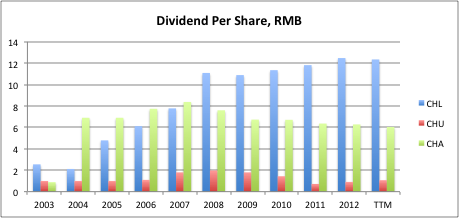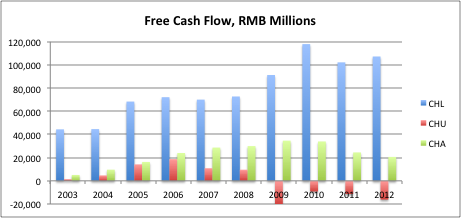 CHL shareholders have been well rewarded with steady dividend increases over the past decade, supported by the company's strong free cash flow. Although CHL's revenue is equal to the revenue of CHU and CHA combined, its free cash flow over the past decade is over 3.4x the combined free cash flow of CHU and CHA.
CHL's current free cash flow and projected free cash flow over the next few years is pressured by the company's roll out of China's first 4G network. Investors who can sit tight for a few years should expect a nice boost in free cash flow once the 4G rollout is complete. Meanwhile, CHU and CHA are still very much focused on using their 3G advantages to gain market share from CHL.
Valuation & Outlook
| | | | |
| --- | --- | --- | --- |
| | CHL | CHU | CHA |
| Price/Earnings | 9.5 | 19.8 | 14.1 |
| Forward P/E | 7.5 | 8.4 | 6.9 |
| Price/Cash Flow | 5.4 | 2.5 | 3.3 |
| Dividend Yield % | 4 | 1.3 | 2.1 |
Relative to peers, and relative to the lofty levels of the S&P 500, CHL looks cheap at 9.5x ttm earnings and a 4% dividend yield. I attribute the stock's weakness to two primary factors:
CHU and CHA currently have a strong advantage in the 3G market and both are gaining market share on CHL in the high-end market. However, things are about to change as CHL ramps up its 4G network based on the TD-LTD standard in 2014 while CHU and CHA are still in the planning stage with their 4G networks. With the recent deal with Apple to distribute the TD-LTE compatible iPhone 5S and 5C in 2014, CHL's 3G headache should come to pass as high-end customers start focusing on 4G technology. Relative to its peers, CHL has a history of steady profitability growth and dividend increases supported by strong free cash flows. There is little reason to believe that things will change going forward, especially when CHL gains the upper hand when it begins enjoying its first-mover advantage in the 4G market.
China's macro factors, including a slowdown in economic growth. Even if the slowdown is permanent, China remains one of the fastest growing economies in the world. CHL is well positioned to benefit from one of the greatest secular growth stories in history.
In conclusion, I believe CHL has many built-in, long-term advantages, while the stock is pressured by short-term headwinds, which will pass over the next few years. Patient investors should benefit from CHL's unique market advantages and steady increase in profitability over the long run.
Disclosure: I am long CHL. I wrote this article myself, and it expresses my own opinions. I am not receiving compensation for it (other than from Seeking Alpha). I have no business relationship with any company whose stock is mentioned in this article.