Philip Morris International (NYSE:PM) is a leading international tobacco company with seven of the world's top 15 international brands, including Marlboro, the world's best-selling cigarette brand. The company used to be a subsidiary of former parent company Altria (NYSE:MO) until it was spun off on March 28, 2008.
Today Philip Morris sells its products in 180 countries and commands an estimated 28.8% market share outside of the U.S and China. According to Jeremy Siegel, this company has been the best stock to invest in for the long run, delivering a staggering 17% average annual return between 1925 and 2003. A $1,000 investment in Philip Morris / Altria stock in 1925 would have grown into a quarter of a billion dollars at the end of 2003, or a total return for the period of 25,000,000%. That's correct -- 25 million percent or a multiple of 250,000x your money. Makes me wish for a time machine.
The Fundamentals
This company certainly has a compelling history and returns like this cannot be delivered over time unless fundamentals are rock-solid. That said, the tobacco industry has long been viewed as a sunset industry so is it all over? Let's have a closer look at its net income development since its spin-off.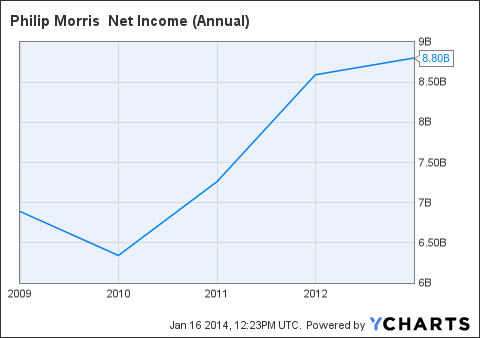 PM Net Income (Annual) data by YCharts
Its net income has risen from $6.9 billion in 2008 to $8.8 billion in 2012. We also see that its best development was in 2010 and 2011 and that its performance has leveled off since then.
A main concern for the company both in 2012 and 2013 has been a strong dollar, which represents a headwind for the company as it sells in all sorts of currencies around the world but report in US dollars. This obviously impacts earnings but currencies tend to mean-revert over time so in the long run this is not a big issue.
Another challenge for the company has been the Euro-crisis. Higher unemployment has led to reduced cigarette volumes and down-trading among consumers. In addition, excise taxes have increased in the Philippines and Russia, also negatively impacting volumes. Even so, growth in other markets, such as Indonesia, and price increases have been able to counter much of these negative developments.
Thanks to the company's strong cash flow it has been able to repurchase and retire a significant amount of stocks and therefore increase EPS even in the face of these headwinds.
Given these challenges and the changes happening in the industry, most notably the growth of e-cigarettes, the company's management has come to the conclusion that 2014 must be an investment year (see page 63). Consequently, cash flow will be diverted from alternative uses, like stock buybacks, and to investments like a new factory for e-cigarettes in Italy. This will temporarily negatively impact EPS growth to the 6-8% range instead of the long term target of 10-12%. The market did not react favorably to this news and the stock sold off about 7% in the days after the announcement.
I think the market overreacted. First of all, had management been worried about the future, it would not have increased the dividend by 10.6% in September. Furthermore, the company is not known for throwing away money. The money will be invested in profitable projects, after all, and should thus support future EPS growth. For long term investors, a slow EPS growth one year in exchange for a higher growth trajectory in the future should be a good trade-off. The long term fundamentals of the company are still sound.
Risk Factors
The obvious permanent risk for Philip Morris is the unfavorable volume development in cigarette sales worldwide. This is especially a problem in the developed world where there are high excise taxes, anti-smoking campaigns and increasingly a social stigma toward smoking. But smoking rates are also decreasing in key emerging markets such as the Philippines du to factors mentioned above. This is a slow development and has been that way for decades so the industry has to some extent learned to cope with it via price increases. Though cigarette demand tends to be quite resilient, severe recessionary environments tend to push demand from higher-priced branded cigarettes to lower-priced ones thus reducing PM's margins more than the overall market decline.
Valuation
In finding a peer group for Philip Morris I decided against comparing it to its former parent Altria and its U.S. competitors Lorillard (NYSE:LO) and Reynolds American (NYSE:RAI). The reason for this is that these companies sell exclusively within the United States, with the exception of LO's recent SkyCig acquisition in the UK, and are therefore not directly comparable. If you're interested in the U.S. focused tobacco stocks you can check out my recent article on Lorillard.
The two companies that are most directly comparable to PM are British American Tobacco (NYSEMKT:BTI) and Japan Tobacco (OTCPK:JAPAF) as all three of them compete both in developed markets and emerging markets.
| | | | |
| --- | --- | --- | --- |
| | Philip Morris | British American | Japan Tobacco |
| Price/Sales | 1.7x | 3.9x | 2.7x |
| Price/Earnings | 15.7x | 15.0x | 14.5x |
| Yield | 4.3% | 4.5% | 2.6% |
Source: Morningstar.
Each company wins its category. The P/E ratio for all three companies are fairly in line with each other so it seems like they are all priced pretty similarly, though Philip Morris is priced at a small premium to the others.
They are all priced below the S&P 500 which has a P/E of 18.6x. PM's five year average P/E is exactly the same as its current P/E of 15.7x, according to Morningstar.
I am not sure exactly how Morningstar calculates the dividend yield. They might use last year's or adding the last four quarter's dividend instead of using the current dividend. On January 15 the stock closed at $83.08. With a current annual dividend of $3.76 that translates into a yield of 4.5%.
I took a look into the Capital IQ database to see how the current yield compared to historical yields. A few interesting numbers popped out -- since the spin-off the average yield is 4.28% and the last time the yield was as high as 4.5% was for a short period of time in September to October 2011. So it's been a while since you had the opportunity to pick up PM stock at these levels.
The Dividend
Philip Morris is pretty much the definition of a dividend growth stock. It has increased the dividend every autumn since the spin-off. In total it has more than doubled from $0.46 to $0.94 for a compound annual growth rate of 15.4% over the five years 2008 to 2013.
For the next five years the analyst community estimates an annual EPS growth of 7.17%. This is probably on the low side given that the company has usually met or surpassed its own guidance. Management has clearly communicated that 2014 will be a low year in terms of EPS growth in the 6-8% range but that it is not changing the long term target of 10-12%. Essentially the analysts are expecting that all years will be like the investment year 2014.
If we look at it conservatively and accept the 7.17% number we arrive at an expected total shareholder return over the next five years of 11.7% as represented by the EPS growth and dividend yield. If we use the low end of management's target, 10%, we arrive at a total shareholder return of 14.5%. Not bad for a global defensive consumer staples company.
Conclusion
PM certainly has its fair share of challenges going forward. Most of these challenges, however, are not new and the company has proved before that it is able to cope with both declining overall cigarette volumes and higher excise taxes. Short term currency issues and the fact that the company will use some cash to invest next year rather than buy back stock has depressed the share price, irrationally in my view. For a long term dividend growth investor this represents a rare and attractive opportunity to accumulate some PM stocks at a discount to historical multiples.
Disclosure: I am long PM, LO. I wrote this article myself, and it expresses my own opinions. I am not receiving compensation for it (other than from Seeking Alpha). I have no business relationship with any company whose stock is mentioned in this article.