Sprint and T-Mobile: Schrödinger's Merger, Part 1 examined the regulatory issues regarding market share and concentration and the doctrines of unilateral and coordinated effects. The article concluded that for Sprint (NYSE:S) to successfully merge with T-Mobile (NASDAQ:TMUS) it would need to demonstrate that an increased market concentration will not lead to excessive market power and that the regulators would need to conclude that the mobile wireless industry is not vulnerable to coordinated conduct pre or post-merger. The next two areas which the regulators will scrutinize are 1) The Disruptive Role of a Merging, and 2) Party and The Entry of New Participants.
The merging of a disruptive, maverick firm in the market will be thoroughly reviewed by the regulators. T-Mobile, the self-proclaimed "UnCarrier" , is the disruptive force in the U.S. telecoms market. The regulators will need to be convinced that Sprint will continue the market disruptions and maverick ambitions post-merger. I do not believe a Sprint/T-Mobile merger will reverse the maverick effect, but it will be a serious concern for the regulators simply because Sprint has not previously shown a natural tendency toward maverick behavior. The regulators will want to understand the relationship of the maverick firm's effectiveness to constrain coordinating pricing and how its competitors might be more likely to engage in coordinated pricing closer to monopolistic levels post-merger. Furthermore, the regulators will have to understand the role of the maverick firm pre-merger and review the effects of incentives on pricing and data plans in the industry post-merger. The chart below shows the current offerings for each of the four main mobile wireless operators in the U.S.
Sprint's "My All-In" plan offers unlimited data with 5GB of hotspot data for $110 per month with a 2-year service agreement.
T-Mobile offers unlimited data with 2.5GB of hotspot data and international roaming for $70 per month without a contract.
AT&T (NYSE:T) offers tiered data plans starting at $20 for 0.3GB per month up to $375 for 50GB with a $40 per monthly service fee per device and a 2-year service agreement.
Verizon (NYSE:VZ) offers tiered data plans starting $40 for 0.5GB per month up to $375 for 50GB with $40 monthly service fee per device and a 2-year service agreement.
Sprint offers unlimited data plan for $60 per month, but offers a pre-owned iPhone 4 8GB model as its premium device without a contract (not included in the graph below).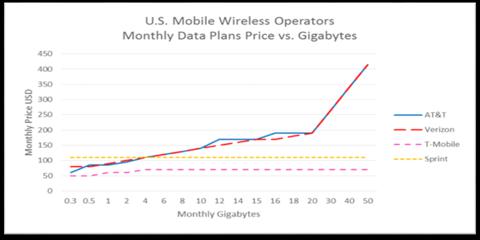 Source: AT&T, Verizon, T-Mobile and Sprint websites
AT&T and Verizon's tiered data plans clearly show an inclination towards coordinating pricing, the maverick firm T-Mobile offers the lowest prices to consumers and Sprint's offer is only beneficial if the consumer uses more than 4GB and is not in a T-Mobile coverage area. However, the graph does not tell us the full story because we are not able to measure the "value" or the total consumer utility. In order to do this, we would have to understand the network performance of each operator.
The graph below compares the average downlink data speeds of the major operators from the consumer's point-of-view (rather than from network KPIs). The reports for Chicago and San Francisco are from October 2013 and the report for New York and the Tri-State Area is from November 2013.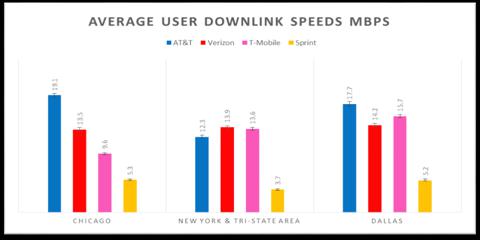 These three markets are used as a comparison due to the fact that each operator has officially "launched" their respective LTE networks in these areas. This data gives us a starting point (not taking into account coverage maps or other network KPIs) to measure the "value" that each consumer might expect when choosing a data plan. The point here is not that Sprint has the worst data speeds or that T-Mobile is arguably the best "value" option, rather Sprint might be able to argue the "efficiencies" card and that a combined Sprint/T-Mobile company will generate efficiencies that will enhance the firm's ability to compete, lower prices in the market place and improve the quality of the services and "value" options to consumers. Sprint will argue that a combined company will be better able to compete against AT&T and Verizon and to possibly force both companies to abolish their tiered plans in favor of unlimited data plans.
Sprint needs to argue that both Sprint and T-Mobile as separate companies will not be able to compete with AT&T and Verizon in the medium and long run, but as a combined company it will be able to change the current industry behavior and become a stronger disruptive force. I find the recent announcement that T-Mobile will purchase $3.3 billion worth of A Block spectrum (700 MHz) from Verizon is very interesting as it could be seen as a precursor to a merger with Sprint on the grounds that with this new spectrum Sprint would be more willing to give up an increased amount of its higher frequency spectrum as a bargaining chip to gain regulatory approval. This still might not be enough to please the regulators because there is still another player in the background actively acquiring spectrum and looking to enter the industry.
The entry of new participants is the one which I believe Sprint will face a significant challenge to its merger plans. The DOJ's guidelines treat firms which have previously committed to entering the industry as market participants therefore the regulators will review the criteria associated with market share and concentration. However, an entry that would take place more slowly due to the adverse competitive effects of a merger or in which a firm will incur considerable exogenous sunk costs, not recoverable outside of the market, will be considered a new entrant for which different rules apply.
The DOJ will examine the enhancement of market power by analyzing the ease of entry into the market based on the following criteria 1) Likelihood (profitability), 2) Timeliness (rapid effect on prices), and 3) Sufficiency (competitive effectiveness). I will explore these three conditions in relation to the industry and the ease of entry and will introduce the concept of endogenous sunk costs to further analyze the criteria of ease of entry and its relation to oligopolistic market structures.
The regulators will examine if a new firm will be able to likely make a profit, will be able to enter the market in a timely manner to have an impact on prices and that its entry will be able to sufficiently counteract any effects of competitive concerns. If entry is considered to be easy, e.g. meets all three criteria, then the proposed merger is unlikely to enhance market power, i.e. competition is not reduced and prices could not be raised to increase profit. In the paragraphs below, I will analyze the entry of a new participant into the industry and use DISH Network (NASDAQ:DISH) in my example with the assumption that the DOJ treats Dish as a non-market participant. The purpose of this example is not to offer an opinion regarding the potential ruling, rather it is to analyze some of the basic entry requirements to the industry which the DOJ will most likely take into consideration.
Dish holds spectrum allowed for use in the mobile wireless industry and has plans to acquire more spectrum, but holding spectrum and actually building a high quality network capable of transmitting this spectrum is a massive venture into a vertical outside of its core business. My estimation is that it will take Dish between 3 to 5 years and at least $45 to $50 billion in CAPEX and OPEX (network design, radio base station construction, optimization, IP transmission, core network, network operations, etc.) to build out and operate a network with equal coverage in POPs to effectively compete with its new rivals. It is important to remember that Dish does not have its own fiber network and will have to build an IP backhaul infrastructure which is a key component to all wireless networks.
This is where AT&T, Verizon and Sprint have a competitive advantage over new entrants because these three operators have their own nationwide fiber networks. Dish will either have to acquire a firm or lease the fiber lines, which decreases its competitiveness. Dish will most likely have higher customer acquisition costs than its rivals as it attempts to churn customers to its network and will not have the buying power of its rivals in terms of negotiating volume discounts from network equipment vendors or device manufacturers. Each of these unique challenges to enter the industry begins to shape a better understanding of how a new entrant will be able to fulfill the criteria of likelihood, timeliness and sufficiency.
We can explore some of the proposals in which Dish might be able to enter the industry to fulfill the three criteria. It is possible that Dish may be able to strike a discounted MVNO agreement with the current market participants while it builds out its own network allowing it to ease into the industry. Dish could then potentially bundle its current services with mobile wireless broadband services and it may be able to have a competitive effect on prices in a reasonable amount of time. Essentially, Dish would enter the industry as wireless broadband provider rather than a traditional wireless operator as the focus would be on LTE and LTE-Advanced. In this scenario, Dish could fulfill the requirements of likelihood and timeliness, but let's review the third criteria of sufficiency.
If we look at the third criteria that a new entrant is sufficiently able to enter the market in terms of being able to have an effect on competition and to replicate the scale or strength of a current competitor in the industry, this is where it becomes problematic. Dish has a little over 14 million customers, but its customers already have a mobile wireless plan with one of the current industry participants. Although Dish may be able to "lease" a network, it will still have the challenge and expense to build its own network and will need to have a significant value proposition to churn customers towards its "bundled" services without having the scale or strength of a current market participant. I believe this is where the regulators will raise red flags because without having the scale or strength of a current market player it will not be easy for Dish to successfully compete or have a pro-consumer impact in the industry.
The mobile wireless industry is a de facto oligopoly where the exogenous fixed costs (the initial investment needed to enter the market) are high and where the necessary investments in endogenous sunk costs (network quality improvements, advertising campaigns, etc.) will continue to move the industry towards the lower bound of market concentration. The mobile wireless market is an industry that is characterized by endogenous sunk costs because as the market expands, the firms increase outlays on endogenous sunk costs, and as these costs increase, the industry becomes more concentrated and entry becomes narrowly bounded. It is interesting to note that if every operator were to equally invest in endogenous sunk costs, the investments would not lead to long run profits in the industry.
Mobile wireless operators continuously need to invest in these costs in order to improve the quality of their networks, enhance their service offerings and to induce its customers to pay more for the increases in quality. However, if a firm does not decide to invest or invest equally compared to other firms in the industry, then during market expansion the below average quality will only entice consumers to purchase their goods at a discounted price or switch to the better "value" options. A Sprint/T-Mobile merger funded by the deep pockets SoftBank will provide the merged company with enough capital to increase its investment in endogenous sunk costs whereby pushing the industry to the lower bound limits of concentration and potentially crowd out a new market participant e.g. Dish.
In conclusion, the Sprint/T-Mobile merger faces significant hurdles in terms of the disruptive role of a merging party and the entry of new participants. First, Sprint will have to argue that an elimination of the maverick firm will not lead to the elimination of the current incentives created in a pre-merger marketplace, rather that a merger will lead to efficiencies between the two firms which will improve market competition and value for consumers. Second, the regulators will have to effectively conclude that the ease of entry in a post-merger industry will fulfill the criteria of likelihood, timeliness and sufficiency.
In addition to these two factors, we also have to consider market share and concentration and unilateral and coordinated effects as discussed in Part 1. The next several months will be interesting to see if and how much Sprint will offer for T-Mobile, how Dish will respond, and more importantly, how the regulators will rule.
Disclosure: I have no positions in any stocks mentioned, and no plans to initiate any positions within the next 72 hours. I wrote this article myself, and it expresses my own opinions. I am not receiving compensation for it. I have no business relationship with any company whose stock is mentioned in this article.