J.C. Penney (NYSE:JCP) states that it is finally getting its act together or has it passed the signpost that says "No return"?
Its web site states: "We're making it easier than ever to find presentation of great savings on all the things you need and want."
It's true that it's now easy to find the appearance of great savings throughout a J.C. Penney Store. Sales and clearance tags may be seen everywhere.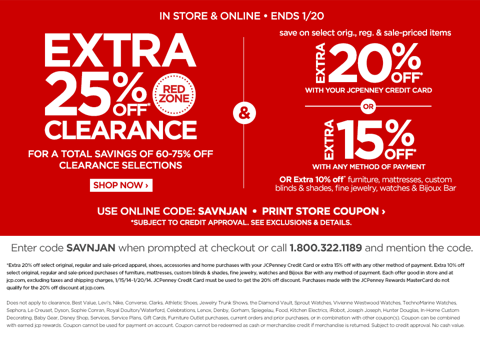 Splashed across J.C. Penney's main web page is a red posting, a coupon that announces great saving.
Although the offering appears to allow successive discounts of 25% then 20% with an "&" sign linking the two discount amounts, I discovered that a customer may only use a single discount.
The coupon included other terms such as an asterisk next to the offer of a 25% discount that told of a credit approval requirement along with a long list of items excluded from sale. To add to the confusion, it reads that the 20% discount category may be only 15% if cash is used for payment. These additional terms of sale mask the fact that two consecutive discounts are not available.
It is not easy to calculate what one must pay for an item until one reaches a cash register, because of the subtle difference between J.C. Penney's "Sale, ""Regular," "Original" and "Clearance" price designations. It is very disappointing when one discovers that a final price is higher than expected. It is disastrously disappointing when one finds that a counted-on discount is completely not applicable.
On January 15th after waiting 15 minutes to pay for Keurig K-cups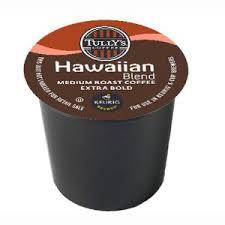 coffee, the J.C. Penney sales associate appeared, and told me that the expected discount wasn't available. She didn't seem to understand the fine points of J.C. Penney's pricing policy nor could she explain why my discount coupon could not be used.
J.C. Penney must have anticipated customer confusion and provided a contact phone number printed on the coupon in large type The coupon suggests that one call the company when prompted at checkout. No one prompted me either before or after I attempted to complete a purchase, but I phoned the telephone number anyhow when the discount was denied.
The phone representative told me that the coupon could not be used because coffee was excluded from the sale. I took reading glasses from my pocket. Did I miss something? Yes! There it was in barely readable type: "Food was excluded." I asked my wife, "Is coffee food?" She answered, "I think so." I didn't purchase the coffee because J.C. Penney didn't honor the promised discount.
My wife and I then traveled to the shopping mall that lay across the street, and entered Bed Bath and Beyond (NASDAQ:BBBY). I again choose Keurig coffee. My wife gave me the Bed Bath & Beyond 20% discount coupon, which we received in the mail. No problem. I obtained my coffee, my discount and my equanimity.
The JCP sale lasts only 5 days. What will J.C. Penney do after the sale's termination to convince customers to continue to purchase? Possibly they should address the problem of customer loyalty before the sale is over. When I arrived home I discovered that it had already addressed this problem on its website, which announced that J.C.Penney was closing 33 under-performing stores.
The positive news is that J.C. Penney is opening a new store in Brooklyn, New York. The opening may be a sign like one of the three signs that the Lord gave Moses to convince his people he had spoken with God. When Moses hesitated at carrying out God's will, God, without much thought to the matter decided to kill him, very much the thoughtless way that Ron Johnson ignored J.C. Penney's past business practices.
Just before God was to slay Moses, Moses' wife Zipporah saved him from God's wrath when she cut short his execution with her quick thinking. Possibly J.C. Penney will be saved by the success of its Sephora cosmetic boutiques whose name was derived from that of Zipporah.
Concentration on offering discounts that fall across the complete product line of a retail store opposes a key commandment of retailing: "Sell merchandise, not price." Discounts from original prices are best used to provide a final incentive to make a purchase.
Broadly applied discounts are sometimes omitted from the "Sell merchandise" rule when they are used occasionally with year end type sales. When offered on a continual basis continual store wide discounts are destructive to the retailing process because the customer is left with no option but to expect similar discounts in the future.
In J.C. Penney's case this selling method causes its organization to have a permanent downward spiral of dearly needed gross margin. When contrasted against J.C. Penney's recent policy of offering one fixed low price, the customer will become further confused and might avoid its stores all together. Reduced sales and gross margin percentage have occurred since 2011, and show no sign of ceasing.

Will customers forgive J.C. Penney as the Lord did Moses and accept its stores as a regular source for their needs? No, unless drastic changes are made to J.C. Penney's image, merchandise selection and selling techniques. Even forgiveness, if it is given, will arrive too late to avoid all or some factors for continuing ownership dilution, financial disablement and store closing.
Disclosure: I have no positions in any stocks mentioned, and no plans to initiate any positions within the next 72 hours. I wrote this article myself, and it expresses my own opinions. I am not receiving compensation for it (other than from Seeking Alpha). I have no business relationship with any company whose stock is mentioned in this article.