This is a series of articles that will attempt to find the best of breed BDCs that I will include in my updated "Total Return Portfolio" for 2014. I have a vested interest in this process because I will be investing in these BDCs as well. This portfolio is for investors that want dependable regular dividends and the potential for special dividends as well as long-term capital appreciation from increased stock values. The returns from this portfolio will most likely be higher and have more favorable tax treatments while requiring less turnover. However many of the higher return BDCs are priced at a premium with correspondingly lower dividend yields and may involve more risk due to higher amounts of equity investments needed for net asset value ("NAV") per share growth and the potential for realized gains to pay special dividends.
Currently, the BDCs that are components in the total return portfolio are Main Street Capital (NYSE:MAIN), Fidus Investment (NASDAQ:FDUS), New Mountain Finance (NYSE:NMFC), Ares Capital (NASDAQ:ARCC) and Hercules Technology Growth Capital (NASDAQ:HTGC). Other BDCs that will be considered maybe some of the ones in my "Underdog" portfolio such as Gladstone Capital (NASDAQ:GLAD) and KCAP Financial (NASDAQ:KCAP) that have underappreciated portfolios with the potential for higher NAV growth such as GLAD did in the last quarter. Some of the higher quality BDCs that were contenders last quarter will also be considered due to better pricing or performance such as Golub Capital BDC (NASDAQ:GBDC), Triangle Capital (NYSE:TCAP) and TCP Capital (NASDAQ:TCPC) that are all coincidentally in the "General" portfolio linked below.
The other five portfolios that I cover are:
As discussed in my "BDC Investment Philosophy" I consider investing in BDCs as an investment in the overall market with risk levels similar to other equity investments. I do not consider BDCs as simply a financial sector investment but take into account the sector diversity of each portfolio. Each investor has different needs and allocations but I believe that BDCs deserve a large portion of the overall stock allocation. BDCs can be volatile and affected by interest rates in the short term but I believe they will benefit from rising rates given the high amounts of variable rate investments and fixed-rate borrowings.
Recent Performance
The chart below shows the performance of this portfolio over the last three months compared to the S&P 500 but does not take into account regular and special dividends.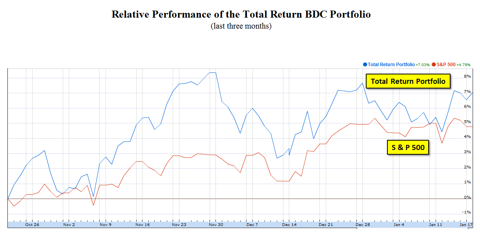 The table below takes into account price appreciation along with dividends for the S & P 500, the average BDC and this portfolio. The average BDC pays higher regular dividends of around 9.1% annually but with much less price appreciation or special dividends.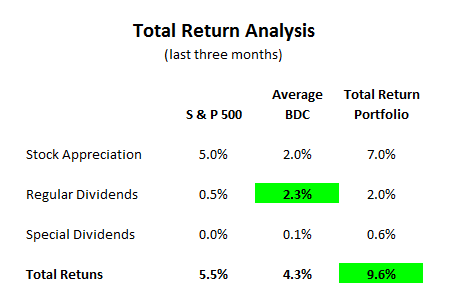 Total Return
Total return accounts for income and capital appreciation. Income includes regular and special dividends and capital appreciation represents the change in the value of the investment. There are a few ways to project total return but I use a method that ignores general changes in market multiples unless the company is responsible for the specific changes in the multiples that investors are willing to pay. I use changes in NAV per share and EPS as a measure of potential capital appreciation instead of actual stock price changes. However when evaluating performance I still use actual stock price appreciation as shown earlier. When evaluating potential dividends I look at current dividends, dividend growth history, and projected EPS to cover dividends and possibly grow or pay special dividends.
This series will look at historical results and projected performance of each BDC in an attempt to uncover the best BDCs for this portfolio. The key criteria I will be analyzing are:
Regular dividend yield and sustainability
Dividend and portfolio growth potential
Special dividend potential
Relative valuations
Risk to reward ratio
NAV per share growth historically and projected
I will try to cover each of these areas using available public information as well as my own analysis and I will most likely be investing in all of these BDCs personally. Investors should only use this information as a starting point for due diligence. See the following for more information:
Disclosure: I am long MAIN, TCPC, ARCC, FDUS, TCRD, PSEC, NMFC. I wrote this article myself, and it expresses my own opinions. I am not receiving compensation for it (other than from Seeking Alpha). I have no business relationship with any company whose stock is mentioned in this article.