While 2013 was miserable for us gold (NYSEARCA:GLD) bulls, 2014 has been tentatively more positive. Last week, however, Gold finally put in a weekly close above $1250.80 which is a technically significant event. When coupled with the leading breakouts in both the Market Vectors Junior Mining ETF (NYSEARCA:GDXJ) and the Market Vectors gold Miners ETF (NYSEARCA:GDX) we see a very positive setup for the rest of January and a potential reversal signal on the monthly chart. If these things come to pass then it will signal the end of this two and a half year counter-cyclical bear market in gold and silver (NYSEARCA:SLV).
Why $1251?
Let's start with what happened. The $1251 level in gold had been rebuffed intra-day and into weekly closes since establishing a high of $1250.80 to end the week of November 24th (#1 on chart below). There have been multiple forays above that level but gold's inability to close above it has kept many technically-driven momentum traders on the short side of the market.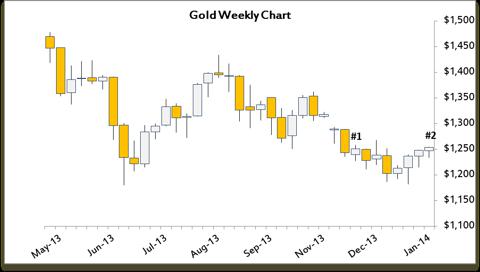 This breakout above $1251 (#2 on the chart) is even more significant - from a trader's perspective -- when one considers that it occurred on an options expirations Friday. Options expiration Fridays are days in which market makers frequently paint charts to limit the number of in-the-money contracts. For those unfamiliar with option pain theory here are a couple of resources for your education. Gold is particularly susceptible to bearish Friday action due to Asian markets being closed for the week by then and traders have all gone home for the weekend. Since Asian markets have been the more bullish markets for gold, bullish Fridays signifies a change in western trader sentiment. Is this a one-time event or the beginning of a new trend, is the question.
What's in a Day?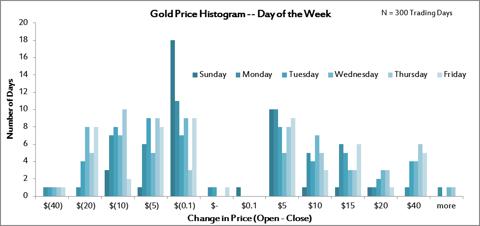 The above chart is the price of gold broken down by trading day since January 1, 2013 through Friday's close (N=300). In that time Gold closed down 163 times, or 54.3% of the time. Note also that Sundays (N=36) were the most bearish trading day with 22 of 36 Sundays closing lower than they opened. The severity of the Sunday declines were very small, 18 of those bearish closes were within $5 of the open. Since Sunday evening markets are purely Asian markets, this supports the data that we're getting from the physical market that Asia, especially China, is buying massive quantities of gold.
When we look at other days of the week we can see that Wednesday, Thursday and Friday the spread of bearish daily action is more evenly distributed over the price range. In other words as each week went along in 2013 gold's price action became more bearish.
Freaky Fridays
In fact, Fridays were especially bearish for gold since the beginning of January 2013, but it's not shown in the aggregated data. The chart below clearly shows quarterly trends within the price action for gold on Fridays. It was negative closes in Q1 last year which kept the price in check technically and created the opportunity for bears to take control of the market last summer.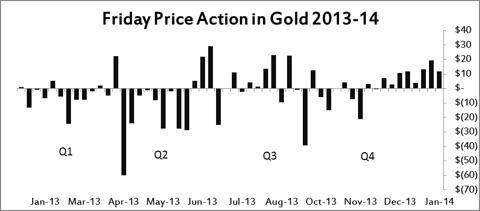 9 of 13 Fridays in Q1 were down days. The situation worsened through Q2 - 10 out of 13 Fridays were down days. Things improved in Q3 with only 6 Fridays were bearish. In November, is when the gold market began to turn bullish into each weekly close, which is what has been pushing prices up towards the technically significant close above $1251. We've now had 8 straight bullish Fridays and this signifies that institutional sentiment towards gold has changed.
The last 30 minutes of each trading day is usually considered where the institutional traders leave their footprints. Smart money only takes a long position through a close if it is confident that the open will be in its favor. Friday's are even more important, especially in gold, since most bad banking and political news is announced over the weekend. Large position traders have to be more confident of a bullish Sunday evening market than a bearish one if they are willing to go long into a two day trading hiatus.
This type of analysis is useful when trading patterns change significantly. Since gold trades 23.5 hours a day defining a trading day is more difficult than exchanges with specific opens and closes. But, regardless of which data set you use for the gold price - I happen to be using the data from Investing.com's CFD as it strongly correlates with global markets, is freely available and easily worked with -- I believe there is a strong case to be made that sentiment is beginning to turn positive.
Rotational Forces
Breakouts in the mining stocks in January without a new weekly closing high on the S&P 500 (NYSEARCA:SPY) signals to me that we're in the beginning stages of sector rotation as fund managers and investors begin applying their new theses for the coming year. Bullish weekly closing action in gold is a good confirmatory signal of these moves in the mining stocks, which are also being helped along by relatively soft oil prices to start the year.
And while the Fed and other major central banks continue to provide ample liquidity to support equity prices, making it is difficult to make a bearish call on U.S. equities in general, I don't see a lot of value at these prices. So, rotation back into hated asset classes is a logical argument.
My core investment thesis for gold from a fundamental perspective has not changed in the course of the last year. Please look through my article archive for my perspective on that. Physical gold is a necessary part of every investor's portfolio to some degree. During times of sincere stress that proportion rises. For those looking for value in this market, gold looks to have technical strength beginning to align with its fundamentals of a world monetary system choking on debt.
Now that $1251 has been bested look for a monthly close above $1268 to confirm that the long-term trend has turned from bearish to neutral. Besting December's high of $1267.30 (#1, chart below) is the next goal; closing above it will seal the deal as that would be a one-bar reversal signal.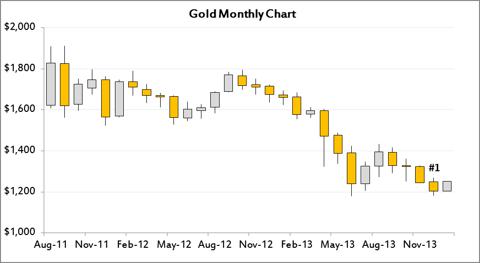 Disclosure: I have no positions in any stocks mentioned, and no plans to initiate any positions within the next 72 hours. I wrote this article myself, and it expresses my own opinions. I am not receiving compensation for it (other than from Seeking Alpha). I have no business relationship with any company whose stock is mentioned in this article.
Additional disclosure: I own physical gold, silver, a few dairy goats and some ducks.