James (Jamie) Potkul is the President and Principal owner of Parsippany, NJ based Potkul Capital Management, LLC, an investment advisory firm that manages the Bread & Butter Fund (BABFX) and separate accounts. The Bread & Butter Fund is a no load mutual fund that follows a Contrarian Value Investment strategy, seeking out of favor and undervalued securities across the entire capital structure. BABFX is rated 5 star by Morningstar and highest rated for total return, preservation and consistent return by Lipper.
Seeking Alpha recently had the opportunity to interview Jamie about his top stock pick.
What is your highest conviction stock position in your fund - long or short?
Ensco International plc (NYSE:ESV) is a high conviction holding of our Bread & Butter Fund. Ensco is a global provider of offshore drilling services to the petroleum industry. It owns a modern fleet of ultra-deepwater semisubmersible (UDS) and premium Jackup (JU) drilling rigs.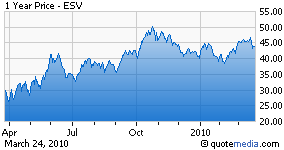 The company has embarked on a $3.1 billion capital expansion program to build a modern ultra-deepwater semisubmersible fleet. The current UDS fleet consists of the 7500, built in 2005 and the ENSCO 8500 initiated operations in the Gulf of Mexico in June 2009. ENSCO 8501 was delivered in June 2009 and commenced operations in the Gulf of Mexico in October 2009.
ENSCO 8502 is in the shipyard and commences operations in Q3 2010 and ENSCO 8503 is scheduled for delivery in the fourth quarter 2010. The 8504 is scheduled to be delivered in the 2nd half 2011, the 8505 for the 1st half 2012 and the 8506 for the 2nd half 2012. When complete, Ensco's UDS fleet will be one of the largest and newest in the world, capable of drilling in water depths greater than 8500 feet.
In addition, Ensco owns a fleet of 40 premium Jackups of which the majority have been upgraded/rebuilt or are new.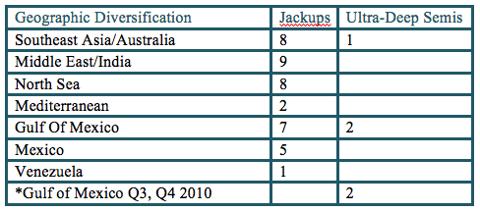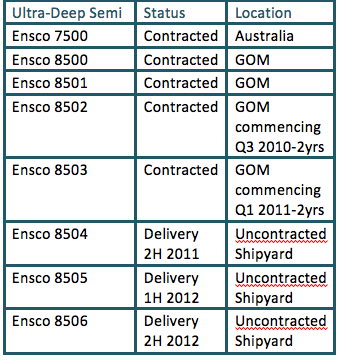 To what extent is this an industry pick on deepwater drilling services, as opposed to a pure bottom-up pick on Ensco?
The offshore drilling industry consists of some well-run competitors such as Noble Corp (NYSE:NE), Rowan Corp (NYSE:RDC), Diamond Offshore (NYSE:DO) and Transocean (NYSE:RIG). The majority of these companies have excellent balance sheets with lots of cash and little debt - except Transocean.
Management of all companies have generally expanded their fleets in a prudent manner, looking to add new rigs through opportunistic purchases of distressed new builds. Valuations across the industry are attractive, but more so to those that have a higher weighting of jackup rigs within their rig fleet. Ensco, Rowan and Noble would fall into this category.
How do you assess Ensco's valuation here?
Ensco is trading at an attractive valuation any way you want to look at it. It currently trades at an attractive price of 1.17 times its tangible assets per share of $36. Ensco has $6.151 billion in equipment at cost and $4.477 billion less depreciation on the books. A large portion of the jackup fleet were purchased at distressed prices in earlier years and have been upgraded, so replacement cost is significantly above the current assets booked on the balance sheet.
A great example of the value in Ensco's rig fleet is the recent sale of two jackup rigs for $95 million, the Ensco 50 and Ensco 51, both built in the early 1980s. The two rigs were sold at over a 50% premium to net book value of $63 million:
"The fleet of 42 jackup rigs represented 74% of the gross cost and 67% of the net carrying amount of our depreciable property and equipment as of December 31, 2009. Our jackup rigs are depreciated over useful lives ranging from 15 to 30 years." - 2009 10k, Page 59
Now, looking at Ensco on a projected earnings basis, average estimates have fallen for 2010 ($4.12) or 10 times earnings due to the resetting of some jackup dayrates lower while the UDS fleet will add substantial revenues in the next few years. As jackup rates start to stabilize especially on the premium jackups, earnings estimates should start to rise.
Ensco has generated over $1.2 billion plus in cash from operations the last 3 years. After spending $861 million in total capital expenditures in 2009, of which $623 million was UDS expansion, Ensco increased cash by $351 million. That's a notable accomplishment, as Ensco builds a modern ultra-deep fleet.
In 2010, Ensco projects it will spend about $610 mil in cap ex growth to build out the UDS fleet while cap ex maintenance will run a little over $100 million with rig enhancements running $30 million and depreciation $237 million and amortization of about $30 million. With a current Enterprise value (market cap – net cash) of approximately $5.5 billion, Ensco is trading at a low-double digit FCF yield. I arrive at this number by taking average net income estimates of approximately $585-600 million which have been lowered and adding depreciation and amortization ($237 million + $30 million) minus capital maintenance and enhancement projects ($130 million).
I do not consider capital expenditure growth initiatives as ongoing maintenance expenditures such as the $610 million for the UDS expansion. This UDS capital expansion will fall dramatically in 2011 and 2012 period to $490 million. At this point, Ensco will be gushing FCF at an enormous rate in the future if day rates stay at these levels. Click to enlarge: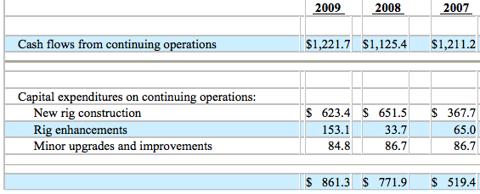 Of course, cashflows can be erratic due to the volatile nature of the offshore drilling business subject to the swings in energy prices and day rates. This is more prominent in the jackup markets with contracts shorter term in nature as opposed to the deep fleets which carry longer term contracts.
What do you expect Ensco will do with this cashflow in future years?
Currently the company has a $562 million buyback in place and a relatively small dividend of 0.10 a year. Since management has done a wonderful job of allocating capital in the past, I expect them to make sound capital allocation decisions in the future. A higher dividend balanced with share buybacks and potentially opportunistic premium jackup purchases is probably the likely outcome for cash.
Ensco has a rock solid balance sheet with $1.141 billion in cash and only $257 million in debt. Ensco is positioned to take advantage of any distressed situation as it may unfold in the future and can weather an adverse energy market.
Click to enlarge:

What is the current sentiment on the stock, and what are the risks in this holding?
The drilling industry is slightly out of favor due to the uncertainty over the global economy, falling jackup day rates and the new rig supply entering the marketplace this year and next without current contracts. Historically, operating results in the offshore contract drilling industry have been cyclical and directly related to the demand for drilling rigs and the available supply of drilling rigs.
I believe the biggest issue is the concern over new rig supply to hit the market in 2010-2012. Currently there is a weaker demand for jackups, so day rates have been trending slightly downward. Below are some rig supply insights from a few companies in the offshore drilling industry.
Ensco Q4 2009 Feb 25, 2010 Conference call:
In the jack-up market…… With oil prices stabilizing in the $70 range, however, market day rates appear to be stabilizing as operators become more confident about prospects for 2010. In the U.S. Gulf of Mexico, jack-up utilization has improved substantially. The utilization rate for premium jack-ups is 90% and we are bringing ENSCO 90 out of cold stack to work under a new contract. As a result, we now have six rigs operating in the Gulf and just one cold stack.

We cannot make any predictions on the timing of a pricing recovery in the jack-up markets other than to remind everyone that it usually takes several quarters of improved utilization prompted by stable commodity prices and our customers' confidence in the long-term fundamentals.
Rowan Q4 2009 March 1, 2010 Conference call:
Industry jack-up utilization currently stands at 75%, which has been increasing, but is still below the level necessary in any single market to allow rig rates to move higher. However, it is important to understand that many of those idle jack-ups are not competitive with our higher specification rigs, which compete in markets where supply and demand are in better balance, and which are all currently contracted. Also, while there are approximately 60 newbuild jack-ups on order for delivery in the next two to three years, many analysts expect that about half of those will go to uncompetitive markets or not be built, which should improve the market's ability to absorb the additional competitive units.

According to ODS-Petrodata, there are currently 459 jack-ups worldwide. Demand is 343 rigs, with utilization at 75%. It appears that the bottom of the cycle is behind us, as worldwide utilization has been on a slow but steady increase from 71% in August of 2009.
Ensco 2009 10K page 44:
Drilling Rig Supply

During recent periods of high demand for drilling rigs, various industry participants ordered the construction of over 175 new jackup and semisubmersible rigs, over 80 of which were delivered during the last three years. Jackup rig supply continues to increase as a result of new build construction programs which were initiated prior to the 2008 decline in oil and natural gas prices and global economic crisis. It has been reported that 58 new build jackup rigs are currently under construction, half of which are scheduled for delivery during 2010. The majority of jackup rigs scheduled for delivery are not contracted.

New build jackup rigs will likely reduce utilization and day rates as rigs are absorbed into the fleet, especially in light of current levels of jackup rig demand. We expect the Asia Pacific region to be impacted most by the delivery of new build jackup rigs, as a significant portion of rig construction is occurring in the Asia Pacific region. It is time consuming and expensive to move drilling rigs between markets in response to changes in supply and demand and, accordingly, the supply of rigs in the Asia Pacific region, or other regions where new build rigs are delivered, may not adjust quickly and could lead to sudden changes in utilization and day rates. It is unclear whether, or to what extent, other markets will be adversely affected by new build rigs.

Semisubmersible rig supply also continues to increase as a result of new build construction programs. It has been reported that 37 new build semisubmersible rigs are currently under construction, over half of which are scheduled for delivery during 2010. The majority of semisubmersible rigs scheduled for delivery are contracted. Based on the current level of demand for semisubmersible rigs, especially ultra-deepwater semisubmersible rigs, we anticipate that new build semisubmersible rigs will be absorbed into the market without a significant effect on utilization and day rates.
Noble Corp Conference Call Q4 2009 Jan 28, 2010:
the demographics of a lot of the new builds, they're in the hands of smaller contractors where one can't assume that they'll have access to a broader customer base
From the various sources I have been able to tap, there appears to be a backlog of 60 new jackups rigs to be built. Since the markets appear to be fairly supplied and the majority of the new jackups coming to market have no contracts, there is the potential for a short term oversupply in the jackup market.
A few points can be made to explain why the market may be able to absorb the potential oversupply of the 60 estimated new builds to be delivered in the next 3 years:
1. According to best estimates, approximately 20 jackups are being built for closed markets like Iran or China. Recently, a Chinese company ZPMC has suspended work on some Iranian jackup rigs due to contract issues.
2. Projections are that 8-10 jackups may never make it to market since highly levered speculators will default on their loans. Just recently Petrojack, an Oslo company, filed for bankruptcy.
3. Many of these speculative new build jackups are being built by smaller contractors whom will be subject to greater financial pressures. The larger competitors like Ensco have better safety records, more efficient operations, better trained personnel and scale to handle the requirements of larger E&P companies and National Oil Companies.
4. The new build book has virtually come to a halt as the easy credit of the past several years has disappeared and only the well financed operators can purchase rigs.
On the other hand, the demand for ultra-deep semisubmersibles has remained relatively strong especially those drilling in 8500 foot water or deeper. Deepwater projects are typically more expensive and longer in duration than shallow-water jackup projects. Accordingly, deepwater operators tend to adopt a longer-term view of commodity prices and the global economy. Demand is especially strong in the deepwater Gulf of Mexico where Ensco already has 4 Ultra-deep rig contracts. Ensco is receiving numerous inquiries into the 3 uncontracted ultra-deep rigs. The management feels confident that these rigs will be contracted well before the construction completion dates.
Ensco Deepwater and Jackup Rig utilization and day rates (click to enlarge):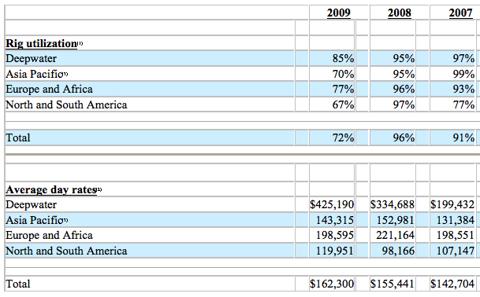 Does the company's management play a role in your position?
Management has demonstrated its ability to navigate the company through volatile energy markets. They have done this by their disciplined capital allocation decisions especially as it relates to the balance sheet and the ultra-deep semisubmersible (UDS) expansion program.
One example of their strong management skills is the company's decision to enter the UDS marketplace. They have developed a wise strategy for the UDS marketplace. Mainly, they have done extensive work designing a proprietary UDS design which shares the following characteristics as it relates to the 7 new UDS fleet 8500-8506.
The 7 new UDS rigs all have similar designs so there are economies of scale, common equipment, common personnel training, repair and maintenance schedules and reduced spare parts requirements and inventory. This strategy has led Ensco to some of the highest operating margins (49%) and the lowest long term debt to total capitalization 4.50% in the Industry. In addition, the company has bought back and retired over 40 mil shares of stock over the years at attractive prices.
Any final thoughts on Ensco's positioning and prospects?
Ensco is in an industry (offshore drillers) that has very favorable dynamics into the foreseeable future. Even though U.S. energy demand has stalled, global energy demand continues to grow as emerging countries like China and India expand their economies. Although the debate continues whether we are at peak oil or not, the days of cheap abundant oil are over, which is one reason why oil prices have held up quite well in the midst of one of the worst financial crises in decades.
Ensco is well positioned to profit handsomely from this situation. It has a modern fleet of jackup rigs at all depths and Ultra-deep semisubmersible rigs positioned strategically around the globe. Ensco has a strong balance sheet to face adversity and excellent management leading the company. I see Ensco as an attractively valued investment and a compelling value any time it falls near or below tangible asset value.
Thank you very much, Jamie.
My pleasure.
Disclosure: Ensco International is a long holding in the Bread & Butter Fund (BABFX)
Read more High Conviction Picks »
If you are a fund manager and interested in doing an interview with us on your highest conviction stock holding, please email Rebecca Barnett.