I'm not disheartened by the recent downgrade of Nokia (NYSE:NOK) by Raymond James. While the market immediately shorted NOK, I'm confident Nokia will likely meet market estimates when it reports its Q4 2013 earnings on January 23. The stock is down 1.89% since Raymond James analysts downgraded Nokia from Market Perform to Underperform last January 14.
There's a big chance that NOK will slide down further this week as market pessimism overcomes reason. This event should offer learned investors a good opportunity to buy on the dip. Raymond James' latest appraisal pegged Nokia's fair share value at only $7. A contrarian bet against this assessment merits serious consideration.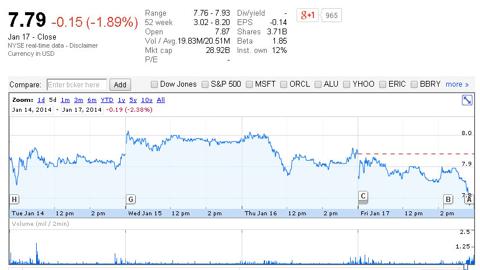 Click to enlarge
Nokia is Worth More than $7
I strongly disagree with Raymond James' $7 fair value per share analysis of Nokia. My previous articles showed Nokia won several significant long-term LTE 4G contracts from China and has a tangible tailwind from patent licensing fees. Nokia, in my opinion, likely earned more than $675 million from its patents in 2013. That's excluding the $2.23 billion it already gained from the Microsoft (NASDAQ:MSFT) 10-year licensing deal. I estimate that Nokia earned as much as $1 billion for its patents last year. The strong sales of Android phones last year greatly benefited Nokia.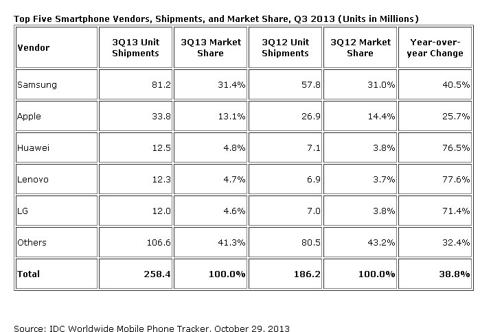 Click to enlarge
A majority of the top Android OEM companies are paying Nokia an average of $5 per handset sold. Samsung's estimated 305 million Android phone sales for 2013 already gives Nokia more than $1.5 billion in royalty payments if we multiply it by $5. Even if we lower the average licensing fee to $3 each, Nokia still gets an estimated $930 million from Samsung.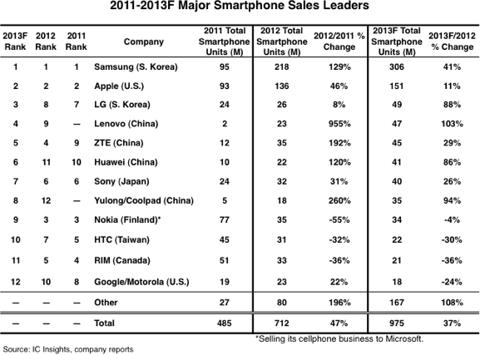 Click to enlarge
Apple (NASDAQ:AAPL) is also paying Nokia an estimated $10 - $13 per iPhone sold. Thanks to the release of the new iPhone 5S and iPhone 5C, Apple had another record iPhone sales numbers for FY 2013. The annual revenue stream from patent agreements will grow bigger as more Android devices and iPhones are sold in the future. Gartner is predicting that more than 1 billion Android devices will be sold this year.
In forward valuation, future royalty income from the company's issued 16,000 patents already makes Nokia's fair value per share worth at least $8. My 2013 $1 billion patent fees income guesstimate only accounts for 10% of the company's patents which Nokia has licensed to third-parties. The chart from IC insights also shows I made a rather low guesstimate. It's not even unreasonable to presume that Nokia might have earned around $1.5 billion last year from Android phones and iPhones.
Nokia's patent licensing revenue can grow exponentially as the company goes more aggressive in chasing obstinate IP violators like HTC. I suspect that Nokia aspires to equaling the estimated $3 billion Android money that Microsoft is raking in annually. I therefore expect Nokia to license more of its patents once it completes the sale of its Devices & Services division to Microsoft this March 2014.
NSN Wins Another Long Term Contract
Nokia's wholly-owned subsidiary, NSN, landed another major LTE 4G roll-out contract in Russia. Cisco's deadmoney status in China and other emerging markets is really a boon for Nokia. VimpelCom (NYSE:VIP) has chosen Nokia Solutions and Networks to deploy LTE radio access networks in the central region of Russia, Siberia, South and most of the Ural and Volga areas. This contract is a five-year agreement which calls for Nokia to use its Single RAN platform and Flexi Multiradio 10 base station technology to provide 4G mobile broadband services. NSN's NetAct cloud-based network optimization & management suite is also part of this 4G deployment contract. The financial terms of the deal was not disclosed but the five year duration and exclusivity of the deal means this contract is significant. Amsterdam-based VimpelCom has global operations so the company might hire NSN again for future 4G infrastructure deployment in North America, Russia, Africa, and Asia. VimpelCom has a current total of 219 million mobile subscribers.
The VimpelCom contract is actually not the first major deal for NSN this year. Nokia's subsidiary also won a fat 4G contract last January 6 from Indonesia's largest telecom service provider, Telkomsel. Nokia's FY 2014 should reflect a more robust income statement from its NSN subsidiary. Nokia's 4G solution is winning industry support from more Tier-1 operators due to its LTE stellar performance record. NSN and Ericsson were declared by Gartner as co-leaders of the Magic Quadrant for global LTE Infrastructure deployment. NSN is way ahead of Cisco, ZTE, and Huawei.
Conclusion
I again reiterate my buy rating for Nokia. I am betting that Raymond James downgrade did not include proper valuation of NSN and Nokia's patents licensing income. The $7 fair share value is not reflective of Nokia's current and future worth - it's a backward-looking judgment that should not scare off NOK investors. As long as Nokia keeps winning LTE contracts and Android phones/iPhones keep selling well, Nokia is a solid long-term investment. If the NOK goes down to or lower than $7 this week, before or after Q4 2013 earnings, my buy recommendation still holds.
The ride to profitability should go faster for Nokia as it will no longer be burdened by the losses from its mobile phones division after Q1 2014. On the other hand, the chart above provided by IC Insights actually showed Nokia Lumia sales did great - around 34 million Lumia handsets were sold last year.
It's sad that Nokia may not include this tremendous achievement in its Q4 2013 Earnings report. The StreetInsider said Nokia will post its Devices & Services Unit as discontinued operations for its full FY 2013 financial performance statements. The strong surge in Lumia sales last year makes me wonder if Nokia's decision to sell its mobile phone business was a premature capitulation. One more year of patient maneuvering could have given back the company its lost mojo on mobiles.
Disclosure: I am long NOK, . I wrote this article myself, and it expresses my own opinions. I am not receiving compensation for it (other than from Seeking Alpha). I have no business relationship with any company whose stock is mentioned in this article.