The Department Store industry has faced tough conditions over the past five years and has struggled until 2013. Poor consumer confidence and lower disposable income discouraged households from making discretionary purchases throughout the recession, with the result being that demand and sales for department stores tumbled substantially. Nevertheless, these poor circumstances did not turn into lower profit for operators. Actually, industry profit increased due to a mix of high margin items and cost management. Therefore, despite emerging competition, continued economic healing is likely to support the industry's growth in the coming five years to 2018 as disposable income goes up.
Retailers are effectively coming up with outstanding strategies while integrating technological improvements and using their real estate portfolios to the best possible levels. By doing so, most retailers these days are implementing an "omnichannel" approach, making use of all possible channels to interact with consumers. For this article, I picked two such companies which are making smart moves and adopting strategies to generate consistent growth in the tough economic and competitive environment. These are Macy's Inc. (NYSE:M) and Nordstrom, Inc. (NYSE:JWN). Both companies have performed well even in the Great Recession and made huge capital gains. The department store industry has averaged over the past five years a total return of around 26%. Let's dig into Macy's and Nordstrom to see how they are setting up for this year and what strategies they are adopting to generate consistent growth. In addition, I'll also try to point out the reasons these stocks are good to buy, hold or sell at the moment.
Where Macy's Stands
Macy's is an omnichannel retail business operating stores and websites under two brands: Macy's and Bloomingdale's. The company sells a broad range of merchandise, including cosmetics, apparel and accessories, home furnishings and many other consumer goods. Macy's runs about 840 stores, as well as thirteen Bloomingdale's Outlets all over the United States. With this business model, Macy's is focused on three key business strategies for continued growth to contribute to their top and bottom lines and cash flow. Based on the business strategy employed, it is looking to maximize a localization initiative. With the My Macy's localization initiative, it has been investing in technology, talent and marketing which make sure that core customers geographically near each Macy's store find size ranges, merchandise assortments and marketing programs that are custom-tailored to their requirements.
Secondly, Macy's has a business strategy of focusing on driving omnichannel business. The omnichannel strategy enables customers to shop easily in stores, via mobile devices and online. A key part of this strategy is the ability to permit associates in any store to sell a product that perhaps is not available locally. Likewise, Macy's online fulfillment centers can draw on store inventories countrywide to fill orders that come in via the internet or via mobile devices. Finally, Macy's business strategy is focused on embracing customer centricity, including appealing to customers on the selling floor with the MAGIC Selling program. This approach to customer engagement helps Macy's to better identify with the needs of customers, and to provide advice and options.
The company is also investing heavily on its expansion program and in the last year alone, it has opened new Macy's stores in Illinois and Victorville Gurnee, California, as well as expanded into an additional existing mall in Las Vegas, Nevada. The company opened a Macy's replacement store in Bay Shore, New York and also opened a new Bloomingdale's Outlet store in Rosemont, Illinois. All in all, with smart business strategies, in the recent quarter, its EPS of 47 cents represents an increase of 31% over the past year. However, the company is still consistently looking to improve its MOM strategies (My Macy's localization, Omnichannel integration and Magic Selling customer engagement) in order to generate more earnings each year. To do this, the company recently announced cost savings actions of approximately $100 million per year which included opening and closing stores and a 2500-employee reduction.
With all these smart initiatives, the company is expecting to generate top line growth of 2.3% in 2013 and 3% by the end of 2014. However, with cost saving measures, bottom line growth will definitely improve as well, and is expected at around $4.40 to $4.50 per share by the end of 2014. The potential to generate strong cash flows allows Macy's to keep investing in growth opportunities and pay constantly increasing dividends as its free cash flows are very high at $1.3 billion while dividend payments account for only $345 million in the last twelve months. In the past three years, it has raised dividends by massive 400%. Still, the low payout ratio of only 25% offers a lot of room to make more increases in dividends.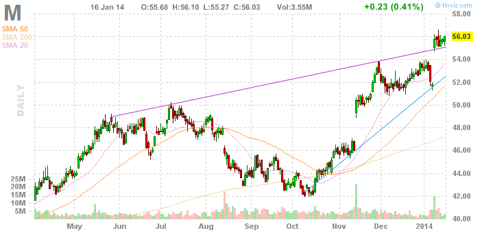 Click to enlarge
However, with solid Q3 results, newly announced cost saving measures, and changes in its MOM strategies, along with a positive outlook for 2014, Macy's stock already has strong momentum which surged around 29.6% in the last three months alone. At the moment, its stock is trading around 52 week high of $56/share. The stock looks pricey to me at current valuations. Therefore, I do not recommend initiating a position at this time when stock is trading at ever higher levels. I believe investors should wait for a dip in the price before initiating a new position. On the other hand, those who already have this stock in their portfolio have two attractive options. They can capitalize on the gain the company has generated over the past three months or hold onto the stock to keep enjoying increasing dividends and wait for the potential gains which the company is likely to generate with solid financial performance and further improvement in its MOM strategies.
Where Nordstrom Stands
Nordstrom, Inc. is one among the top fashion specialty retailers based in the United States. Nordstrom was established in 1901 as a shoe store in Seattle, and now Nordstrom runs 261 stores in 35 states of U.S., including 141 Nordstrom Racks, 117 full-line stores, one clearance store and two Jeffrey boutiques. Nordstrom continually aspires to improve the customer experience, both in stores and online, and across its off-price and regular-price channels. Its ability to provide a convincing service experience has been one of the biggest drivers of its results. The company is continually focusing on improving its multi-channel abilities, and while each channel signifies a significant growth opportunity separately, the synergies these channels create contribute considerably to its ability to retain, attract, and serve customers into the long term. Therefore, the company continues to make investments in its stores, online presence, and in new emerging markets such as Manhattan and Canada.
The company's women's apparel division has continuing momentum. Nordstrom effectively executed its strategic improvements in women's apparel through higher emphasis on key brands, a much better shopping atmosphere, and product innovation. The company is appealing to new customers with its repositioned Savvy Department as well as an expansion of Topshop Merchandise, available now in 41 stores and online, with more planned for the coming year. Further, it has relocated its Glendale, California store and integrated new design ideas that make shopping easier. Nordstrom emphasizes selling-floor flexibility to enable it to swiftly adjust and allow departments to evolve over time.
With this strategy, Nordstrom has been making solid progress in its all direct sales growth and sees improving trends in the rack-mitigating soft sales trends in full-line stores. Nordstrom continues to maintain disciplined execution around expenses and inventory while adding new capabilities and technologies to facilitate a better customer experience. All this led the company to update fiscal 2013 earnings per diluted share to $3.65 to $3.70, contrasted to its earlier outlook of $3.60 to $3.70. The solid top and bottom line performance enhances its potential to generate hefty cash flows. Its dividends look completely safe as free cash flows are nearly twice that of its dividend payments. On top, its low payout ratio of around 31% is also offering room for more dividend increases.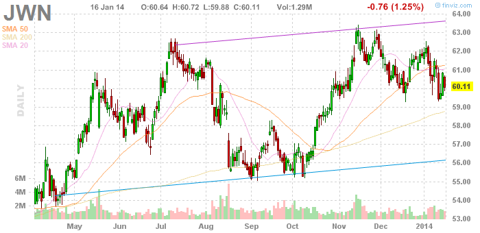 Click to enlarge
While Nordstrom stock looks quite volatile, offering plenty of opportunities for buying and selling, it has good momentum, as the company recently hit a 52-week high of around $60/share after solid Q3 performance and increasing outlooks for the full year. At the moment, it is trading in the range of $60/share. This stock still looks undervalued to me as analysts have a mean target price of $65/share and there is a high forward price earnings ratio of 14. The company is setting a foundation for future growth with its innovations and flexible business model. In my opinion, Nordstrom is a good stock to buy and hold for the steady gains the company is likely to generate in 2014.
Disclosure: I have no positions in any stocks mentioned, and no plans to initiate any positions within the next 72 hours. I wrote this article myself, and it expresses my own opinions. I am not receiving compensation for it (other than from Seeking Alpha). I have no business relationship with any company whose stock is mentioned in this article.