Let's start with a basic assumption, the "fundamentals" and financial markets do not always move congruently. At the present time, I get the sense that a significant portion of investors involved with, or who follow, base metals are quite skeptical of the prices and performance within the complex. A few variables these skeptics get focused on are supply growth and a total lack of demand.
Skeptic Supply Argument: supply growth will exceed demand growth. I will candidly admit I have no idea about the time frame these folks are focusing on. It is possible that supply growth could outstrip demand growth in 2010 (although I doubt it), and of course should this theory come to fruition the basic metals may face some headwinds…but does that automatically make it the norm? Not a chance. I have previously posted an article on the notoriously over-optimistic supply expectations in this industry which can be seen by clicking here.
Skeptic Demand Argument: Demand is non-existent and will remain that way. The problem with this point of view, and the people that tend to support it, is that it incorrectly focuses on past data…data that is being more and more irrelevant every month, thus grossly missing the big picture of the present and future. Even Barclays takes a swing at the naysayers who refuse to acknowledge any positive developments in the base metals complex:
Skepticism over the sustainability of this recovery and, in some cases, total blind sidedness over any recovery at all, means that prices have yet to fully reflect what are turning into very positive demand dynamics indeed.
According to Barclays,
There is a growing body of evidence to suggest that the biggest ever recovery in global base metals demand is taking shape. The latest data for aluminum, copper, nickel zinc and lead all show global consumption growing at a double-digit pace data while other data, such as inventory trends, physical premiums and semis production/steel production is supportive, albeit to varying degrees across the base metals. The demand recovery for copper has been slower than the rest of the metals so far, in part due to its leverage to the US construction sector. But with key copper consumers, such as Wieland-Werke, reporting a noticeable improvement in orders recently we believe that it will soon catch up.
Anyone who follows base metals witnessed a massive crash in metals consumption in the beginning of 2009. The naysayers of the mining industry seem stuck on this time period and thus seemed to have missed new data points in the context of a holistic perspective. However, based on data gathered by Barclays,
if demand continues to recover for the rest of Q1 at the pace of the most recent data point (January in most cases), then global base metals demand will be on track for the strongest recovery on record both in volume and as a portion of consumption. Furthermore, we expect the quarterly momentum of growth to rise further in Q2.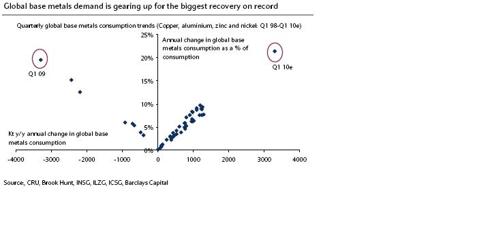 If this view does play out, LME inventories could contract in a very short order. Some metals have been noted to already have declining inventories, which include nickel and aluminum. Barclays estimates that "for other metals, such as copper, which have amongst the weakest supply side dynamic it won't take much of a recovery in demand for inventory draws to gather pace."
The Barclays report concludes that,
with market attention still squarely focused on macro themes and news flow we believe that prices have yet to fully reflect the increasingly positive demand backdrop.
Having been invested in this space for the past year, I fully recognize the strong performance of these stocks. However, given the vast negative sentiment that presents itself all the time, I am left wondering how many investors have failed to participate because they are so caught up in the panicky period in the beginning of 2009.
Is it too late for investors who have missed the ride so far? Absolutely not. Certainly I would never advise someone to jump in head first into allocating 100% of their portfolio to FCX, SCCO, or VALE tomorrow. However, for investors interested in earning good returns over the medium and longer term, these companies deserve serious consideration. Remember, you don't have to buy all at once. Mining companies are notoriously volatile, which means it is virtually impossible to pick the lows. And based on my macro view of this space, simply buying X shares per month over a 6 month period (up to your own reasonable allocation constraint) might be just the thing to do to enhance your portfolio's performance over the next 1-5 years. Good luck.
Disclosure: Long FCX, SCCO, VALE, GDX