There's many reasons to be bullish on Microsoft (NASDAQ:MSFT) right now: great dividends, substantial product catalog headed up by Windows and Office, plenty of cash on the balance sheet, and all round excellent financials.
It's been a lucrative past year for Microsoft investors, who have seen the stock rise 33% and cashed in annual dividends that yield over 3%.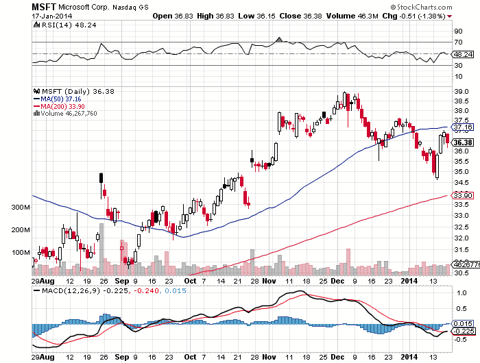 But, my favorite thing to talk about is Microsoft's non-profitable Xbox One. The fact that the Xbox One continues to sell makes me bullish, even if it isn't making money yet.
I've written a few times about how I like Xbox, from Microsoft. The arguments against the Xbox division are simple: despite the fact that the console is selling millions of units, Microsoft simply isn't making any money off the unit - yet. It was estimated that Microsoft could lose more than $1 billion this past year from its venture into the Xbox One. Despite that being down from an initial figure that was north of $2 billion, it's still not encouraging.
Reports like this one, from CNET, plagued Microsoft shareholders:
It's a thin line between profit and loss: the retail price of the Xbox One is just $28 higher than the cost of parts and manufacturing, leaving Microsoft with little to take home.

Microsoft sells each Xbox One for $499 after spending $471 to build it, according to a peek inside Microsoft's new gaming console by research firm IHS, as shared with AllThingsD.

The cost to build an Xbox One is $90 more than the $381 Sony spends on its PlayStation 4, which costs consumers $399. That leaves Sony with an $18 profit on each unit.

"If your cost is within $10 to $20 of the retail prices, there's very little chance you're making a profit on the console," IHS analyst Andrew Rassweiler said when the firm released its PS4 teardown.
But, my concern isn't the profit margins now - it's what they're going to be in the future - and that Microsoft, one way or another simply gets into your living room. Slashgear writes up the details on Xbox vs. PlayStation sales for December 2013:
Head to your local gaming hardware retailer this weekend and you'll likely see a similar sight: the PlayStation 4 completely out of stock and Xbox One units as far as the eye can see. With reports and first-hand experience in both major cities and outlying, smaller towns throughout the USA, we've come to the very unscientific conclusion that Sony simply isn't keeping up with gamer demand for the PlayStation 4 console itself. Meanwhile the Xbox One leads sales in the December 2013 version of NPD Group's sales figures in the states.

NPD Group's December 2013 findings include the Xbox One being the top selling console in the US-based market, ringing in 908,000 units sold in December, 2013. Meanwhile, according to NPD's own Liam Callahan, the PlayStation 4 leads overall sales in units due to a strong start in November.

Inside December you'll also find the Xbox 360 keeping up, bringing in 643,000 units sold - coming in a strong third after the Xbox One and PlayStation 4 in first and second place for the last month in 2013. Naturally both Microsoft and Sony are claiming victories once again for this month.
Microsoft executives look at the situation the same exact way that I do. They're investing in Xbox for returns in years to come, not right now. If you notice in the previous write-up, the 360 continued to sell almost 700,000 models while not being the current generation console - at a profit to Microsoft. As the 360 to One sea change continues to occur, we'll continue to see profit from the 360.
(click to enlarge from Forbes)

When the One is several years into launch, however, is when I'll argue that we're going to see major results. Not only will Microsoft benefit from the profit on the hardware, but it's likely that the One is going to be linked to all of your home media streaming. And, from that, there is also money to be made - just ask companies like Netflix (NASDAQ:NFLX).
I stated in a previous article about Xbox One:
If you don't already know, the One is similar to GoogleTV in the sense that it has the power to integrate with your cable box directly and "take over" your television, allowing the Xbox to paint over your normal signal with their user interface. Skype is also integrated directly into the Xbox One software.

Again, I encourage investors to put aside the initial losses that it's going to cost Microsoft and think about it from a long-term ideological perspective - Microsoft is, with the One, starting to take control of your home media center. From there, the road to monetization is one you can almost draw a straight line to, as long as Microsoft can execute.
If Microsoft can get their foot in your door and into your entertainment system, tablets, PCs and additional supplemental Xbox sales (Microsoft Points, etc) are likely to follow. Additionally, the Xbox gets brand recognition into households and in front of people and is arguably the one Microsoft product that die-hard Apple supporters would buy. I know, because I was one of them.
Microsoft will likely profit from its media capabilities once established inside the home - and that leads me to continue being bullish on Xbox as a division of Microsoft and on Microsoft as an investment.
Disclosure: I have no positions in any stocks mentioned, and no plans to initiate any positions within the next 72 hours. I wrote this article myself, and it expresses my own opinions. I am not receiving compensation for it (other than from Seeking Alpha). I have no business relationship with any company whose stock is mentioned in this article.