I've been bullish on Suncor Energy (NYSE:SU) for a while but only recently decided to purchase some shares. One major reason is the stock is a lot more attractively priced. It is down from a high of around $70 to around $34 currently. A second reason is its recently announced involvement in the Fort Hills oil sands project, making an already attractive company even more so.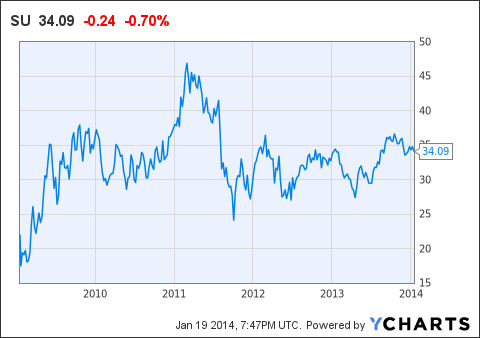 Fort Hills
Surprisingly, the Fort Hills announcement, which came on October 30th of 2013, didn't coincide with a jolt to the stock. That is all the better for those who want to begin accumulating some shares. In a limited partnership Suncor has a 40.8% ownership stake. Suncor will also be the developer and operator of the project.
Capital investments in Fort Hills will be approximately 15% of Suncor's average yearly budget. The first oil to be produced by the project is expected in the 4th quarter of 2017, with 90% of the planned production capacity of 180,000 barrels per day (bpd) reached by the 4th quarter of 2018. Current estimates of resources show 3.3 billion barrels of bitumen, meaning Suncor will have over 50 years of very stable cash flows. In addition, the project has some defenses against lower oil prices. Suncor estimates that even with bitumen prices as low as $50-$60, returns will still be above the cost of capital. As it stands now the company expects an internal rate of return of 13% on the project.
Capital expenditures for this project are already going to be incurred during Suncor's FY 2014. As mentioned before, the benefits of Suncor's efforts are not going to be felt for almost another 4 years. Suncor expects to spend $7.8 billion in 2014, up from $6.7 billion in 2013. Earnings will reflect this gap, but the end of the decade will see Suncor reaping major benefits.
Other Projects
While Fort Hills is an exciting development, Suncor also has other improvements coming along. Near term debottlenecking and expansions are also set to be a benefit. Mackay River is going to be a major benefactor of expansion efforts. Suncor's total 2014 oil sands production outlook is 400,000-430,000 bpd. This is an increase from an average of 361,000 in 2013, which saw Suncor finish the year strong. November was a record month for the company.
| | | |
| --- | --- | --- |
| 2013 | Monthly Avg. bpd | YTD Avg. bpd |
| December | 417,000 | 361,000 |
| November | 437,000 | 355,000 |
| October | 375,000 | 347,000 |
| September | 365,000 | 344,000 |
| August | 433,000 | 341,000 |
| July | 390,000 | 328,000 |
| June | 293,000 | 317,000 |
| May | 218,000 | 322,000 |
| April | 322,000 | 349,000 |
| March | 375,000 | 358,000 |
| February | 353,000 | 349,000 |
| January | 346,000 | 346,000 |
Criticism
There have been some environmental and health concerns regarding the Canadian oil sands region, Suncor's operations included. Legendary musician Neil Young even recently stated that Fort McMurray, where Suncor and others have operations, looks like Hiroshima after the atomic bombs were dropped during the 2nd World War. Hyperbole aside, there are valid reasons to have environmental concerns with this. But there are environmental concerns (and worse ones) with fracking, coal, etc. There are also political concerns with some of the countries that are major exporters.
The U.S. is still importing hundreds of millions of barrels that are worth tens of billions each month. That isn't likely to stop any time soon. As long as we are still dependent on the importation of foreign oil, decisions have to be made as to where we are going to acquire it from. What should be looked at is whether or not the place is secure economically and politically, whether or not it offers a stable supply, and how close geographically it is/ease of access to the product. Canada and its oil sands fulfill all these requirements. Steps should be taken to minimize damage, and the Alberta EPA is there to keep an eye on things. For now oil remains somewhat of a necessary evil, but I think Canada's oil sands mitigate a lot of problems that might otherwise be there.
Conclusion
Suncor is an outstanding long-term growth story. The short-term stock movements on this one seem a little haphazard. However, the company has been increasing dividends nicely to compensate for any wait which might be inflicted upon investors hoping to see the stock price resume its climb. Recently, investors were treated to an over 60% dividend hike as the company raised payouts from $.13 a share to $.21 (American investors remember that unfortunately there is a foreign tax added for you, being that Suncor is based in Canada). I'll be accumulating shares of Suncor for a while.
Disclosure: I am long SU. I wrote this article myself, and it expresses my own opinions. I am not receiving compensation for it (other than from Seeking Alpha). I have no business relationship with any company whose stock is mentioned in this article.