In early 2013, IDC estimated that the 2014 smart connected device market will continue to grow but at a slower pace with smartphones and tablets outpacing personal computers, a trend that has persisted for quite sometime and smartphones topping 1 billion units in 2014.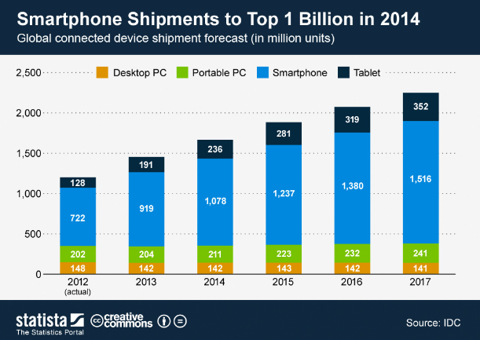 2013 data are just coming in and IDC has ramped up its estimate of 2013 smartphone sales to over 1 billion, up almost 40% from 2012, and sees further growth in the 18% range for 2014 to 2017 with the trend to lower average selling prices ("ASP's") continuing.
Tablet sales rose 53.5% to about 221 million in 2013 according to IDC and are forecast to reach over 260 million in 2014, an increase of 18% based on IDC's "top ten technology predictions for 2014".
Based on these IDC data, the rate of growth of smartphones and tablets is definitely slowing from the torrid pace of 2013, with the growth of both categories dropping by more than half.
The growth is not uniform in all markets. Asia Pacific, Latin America and the Middle East and Africa are growing at relatively high rates from 18.5% to 23.7% while North American and Europe are forecast to grow at 7.8% and 11.1% respectively.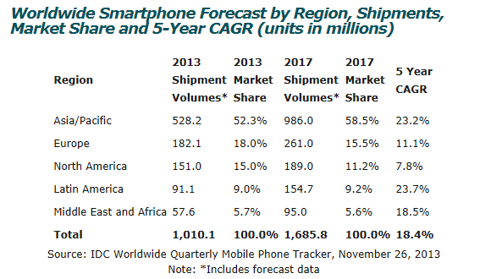 At the same time, IDC sees average selling prices of smartphones declining on average by 7.3% worldwide, again with different rates in different regions.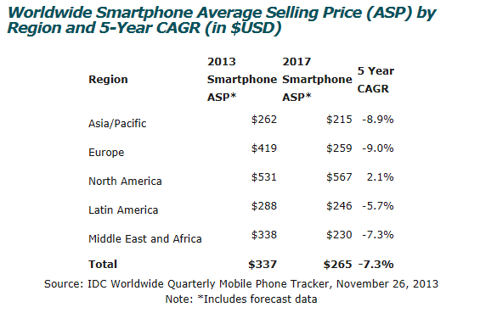 Complicating analysis of these trends is the rapid emergence of "Phablets" as a category, each such device very likely taking the place of a smartphone and a tablet. Deloitte Canada, a unit of one of the world's most respected accounting firms, estimates that in 2014 some 300 million so-called Phablets will be sold at an average price of $415.
Samsung (OTC:SSNLF) is well positioned in both smartphone and tablet segments and took the lead in the creation of Phablet with its Galaxy Note. Microsoft's recent introduction of Lumia Phablet to complement the Lumia smartphone and Surface Tablet lines gives it a complete package to address the shifting trends of demand. Apple, often seen as the leader, offers both iPhones and iPads but as yet does not have a Phablet, although one is rumoured for introduction later this year.
This article attempts to take the IDC estimates and translate them into what the financial implications are for Google (NASDAQ:GOOG), Microsoft (NASDAQ:MSFT) and Apple (NASDAQ:AAPL). There is a lot at stake and Microsoft has not really been considered a factor in the smartphone race until its recent Nokia handset division purchase. Interestingly, Windows phone outsold iPhones in 24 markets in Q3 2013, according to sources.
For the purposes of this article, I am going to start by leaving market share where it is now rather than heap forecast on forecast. That will establish a baseline for dealing with the differing regional growth rates. The world market shares give one the impression that Android phones are winning everywhere. Android phones are doing well, but the regional differences are important. For example, Apple ended 2013 with over 40% of the U.S. smartphone market, a wide difference from its worldwide share of about 14% in Q2 2013.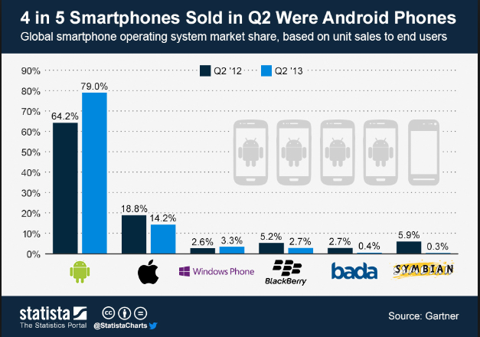 The regional differences warrant analysis since growth is not evenly distributed.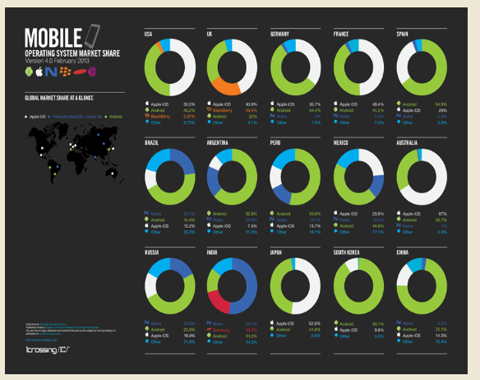 Aggressive estimates suggest China and India will comprise an estimated 400 million new users in 2014 while the rest of the world more or less treads water. I think that forecast may be ambitious but there is little doubt there are differing rates of regional growth.
To estimate the impact of the shifting pattern of demand I constructed a somewhat simplified model of 2013 by OS, region and vendor. The data are not perfect but they reconcile pretty well to what we think each vendor shipped in 2013. If they are close, Apple shipped 157 million iPhones in 2013, Windows OS phones amounted to 45 million units and Android OS phones rounded up the majority of the remainder with about 732 million phones, leaving some 77 million phones to other OS like Symbian, Asha, BlackBerry and Bada.

Sources: IDC, Kantar
I have made assumptions about the growth of each region after reading a wide variety of sources and forming a judgment about what number was representative, show in the table below. Holding the market shares at the 2013 estimated levels, 2014 would shape up with Apple selling 173 million iPhones, Windows OS vendors selling 52 million and Android OS phones making up 873 million.

Sources: IDC, Kantar, my estimates
However, if you make adjustments for recent market share trends the answer is quite different. Windows phone has been gaining share in the U.S., Europe, India, the Middle East and Africa and in Latin America according to data from Kantar World Markets. Android has been expanding its market share in most markets. Apple share has been in decline with one or two exceptions.
Allowing for those changes, the iPhone volume drops to 161 million; Windows phone grows to 60 million and Android volumes pass 907 million.

You can make whatever assumptions you want about growth and share but for certain gains by one vendor come at the expense of another. Market share does matter.
As mentioned earlier, IDC sees the trend to lower ASP's continuing with an average decline in unit prices of about 7% in 2014. Assuming all vendors find it necessary to lower prices and the share estimates I have made hold water, the implications by vendor are as follows:
Microsoft Windows phone unit sales grow by about 15 million units. Microsoft's Nokia acquisition presentation suggested Windows phones contribute about $22.50 a unit (you have to do some arithmetic to get to the $22.50 but it is derives from the assumption of $4.5 billion profit from a 15% share of 2018 smartphones). Even at 7% lower ASP's this should add about $300 million to Microsoft pre-tax earnings. Microsoft also earns royalties from Android devices which would add another $300 to $400 million.
Android adds about 175 million users. A 2012 report suggested Google earns about $10 annually for each Android user. If so, this adds $1.8 billion to Google earnings, probably enough to move the needle.
Apple sells about 4 million more iPhones but at an assumed average price that is 7% lower. iPhone revenues drop by about $4.5 billion (156.8 x $610 less 160.7 x $567).
For Apple, a lot rides on its success in China. The models I have shown assume Apple only holds share in China. If it can increase share of this rapidly growing market, the leverage is very high. Apple does face some barriers in China: (i) it is starting from a very low market share; (ii) iPhones are relatively highly priced; (iii) there are a lot of local and international competitors; and, (iv) like many Asian markets there is a preference in China for devices with larger screens than an iPhone.
Apple's offsetting tailwinds include its recently concluded deal with China Mobile (NYSE:CHL) and the prospect that Apple may launch a larger screen iPhone later this year. If it does that could improve its prospects in the smartphone arena, but not without some cannibalizing of its iPad business.
I have relied on IDC and Kantar data for this article. Gartner has forecasts that differ from IDC on many aspects and its 2014 forecast has just been published and is worth reading. The Gartner forecast is much more bullish for all smartphone vendors and in particular for Apple with 344 million devices shipped in 2014 versus 267 million in 2013, an increase of 27%.
If Gartner is correct, Apple will have a banner year in 2014 with revenues up over 20% despite lower ASP's surging past $200 billion for the first time and net income in the $50 billion range
With the Gartner forecast for Android devices to grow by 25% or 224 million units, Google would get a $2.2 billion bump up in earnings (again using the $10 per device assumption).
Without a breakout of the Windows platform between smartphones, PC's and tablets it is hard to get handle on what the Gartner forecast means for Microsoft sales and earnings except to say they would be higher with another 32 million Windows OS devices in use in 2014.
The Gartner forecast implies growth in smart connected devices will accelerate to about 8% 2014 from 4% in 2013. The IDC forecast (which does not include feature phones and thus has a smaller base and is free from the effect of the shift from feature phone to smartphone taking place worldwide) is for 18% growth in those devices, down from 21% in 2013. The lack of a breakout of smartphones from mobile phones in total in the Gartner forecast makes it difficult to compare, but at a high level these forecasts differ in that IDC sees slowing growth and Gartner sees accelerating growth.
My conclusion is that Google will continue to benefit from the trends, Microsoft will make steady gains and Apple could go either way depending on how well or poorly they fare in China.
I am long MSFT and have no position in Google or Apple at this time.
Disclosure: I am long MSFT, . I wrote this article myself, and it expresses my own opinions. I am not receiving compensation for it (other than from Seeking Alpha). I have no business relationship with any company whose stock is mentioned in this article.