In a recent Moody's report on student housing, the company writes:
Privatized student housing project financing are expected to perform well despite the declining enrollment in the higher education sector. The solid financial performance and market position of these not-for-profit, public-private partnerships will help them navigate a more challenged environment.
Moody's went on to cite several positive credit trends, including:
Solid financial and operational performance
Strong market position die to favorable strategic alignment with the affiliated university
Limited competition in the off-campus market
Moody's summed up the campus housing market as follows:
Privatized student housing projects continue to be a meaningful part of an affiliated university's strategic plan since many do not have sufficient university-owned housing to meet demand from their enrolled students … Privatized student housing is able to absorb moderate declines in enrollment since there is typically excess demand for housing.
Education Realty Trust - The Pioneer of Campus Housing
EdR Properties (NYSE:EDR) formerly known as Education Realty Trust (and, before that Allen & O'Hara) set every standard for the collegiate housing industry for almost a half-century. The predecessor of EdR was founded in 1952. A simple construction company, Allen & O'Hara, soon became one of the nation's most successful developers when they began working with another company founded in Memphis that same year, Holiday Inn.
The company soon expanded and, in 1964, introduced the "student hotel concept" to the market and, thus, created the student housing industry. That first "privatized" student housing development was Granville Towers - a 1,300 bed high-rise on the campus of the University of North Carolina in Chapel Hill, North Carolina. EdR still manages it today for the UNC Foundation.
I was actually in Chapel Hill two days ago picking up my oldest daughter (a freshman). Although she is not living at Granville, I have visited the building a few times, and it's easy to spot the iconic 50-year-old student "hotel."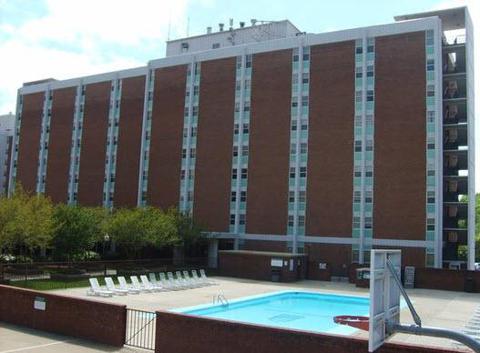 This is my first Seeking Alpha article on EdR; however, I have written articles on the two peers: American Campus Communities (NYSE:ACC) and Campus Crest (NYSE:CCG). (Here is my latest article on ACC and here is my latest article on CCG).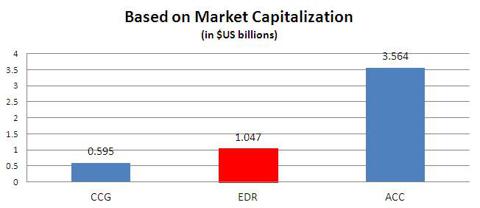 EdR is the second-largest Campus Housing REIT with a total Enterprise Value of $1.7 billion. The Memphis-based company owns 49 communities with more than 28,000 beds. In addition, EdR manages 23 communities with more than 11,900 beds.
EdR has a high-quality portfolio with a median distance to campus of 0.1 miles and an average distance to campus of 0.5 miles. Here is a snapshot that illustrates EdR's distance to campus metrics: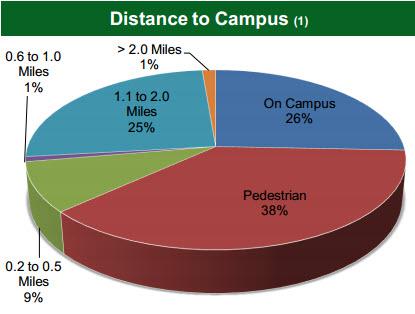 EdR's average college/university enrollment is more than 25,500 with an average rental rate per bed of $630. That compares favorably to 4-year public-private enrollment of 20,139. EdR's high quality investment platform has resulted in exceptional leasing results for 2013 (as illustrated below):

With a strong background in development, EdR maintains a steady and growing pipeline of external development opportunities. In 2014 the projected pipeline is more than $300 million and 4,507 new beds. About one-third of the active projects are for the University of Kentucky, and there is at least $100 million more of new projects planned (with University of Kentucky) in 2015.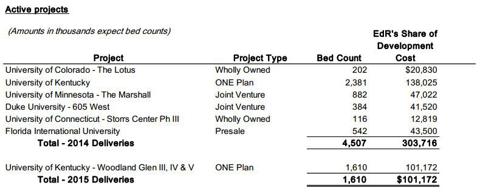 EdR Getting Closer to Investment Grade
Before I look under the hood of EdR's balance sheet, let's check on the historic profitability of the REIT. As you can see by viewing the FAST Graph below, EdR suffered during the Great Recession, and the company was forced to cut its dividend from $0.82 to $0.20 a share.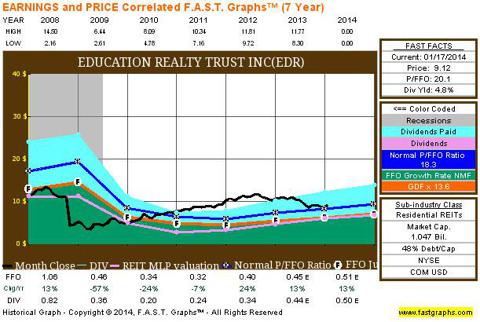 Since that time, EdR has become more conservative with its capitalization and use of leverage. In Q4-10 EdR had just 23% of its assets unencumbered, and as of the latest quarter (Q3-13) EdR's assets are more than 53% unencumbered.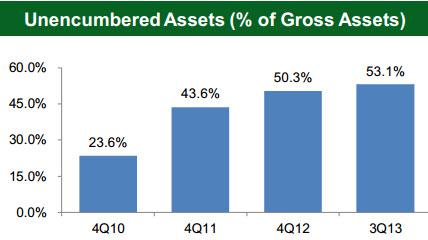 More of the cautionary evolution consists of improved interest coverage - 2.2x in 2010 and 4.6x as of Q3-13.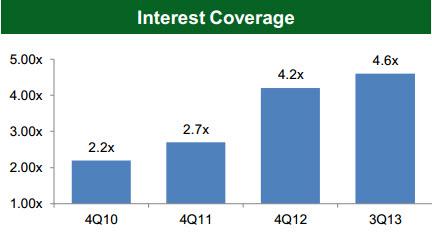 Other improved credit metrics include improved net debt to enterprise value (now at 39.4%) and debt to gross assets (now at 40.2%). EdR has also improved its debt maturities with moderate rotations through 2018.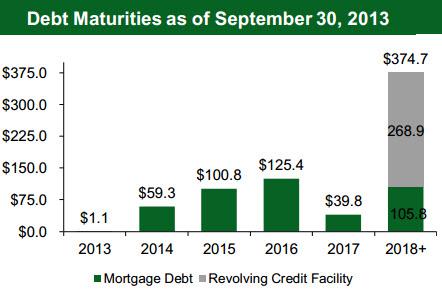 As noted above, EdR's 2014 and 2015 development (and pre-sale) opportunities will add more than 18% to the total gross assets. Also EdR amended and expanded its credit facility to $500 million with an accordion feature, which permits the company to expand to $700 million, giving ample capacity to fund all announced capital commitments.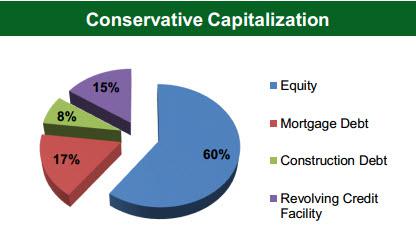 More Predictable Growth Ahead
EdR reaffirmed its expected full year 2013 core FFO per share range of $0.53 to $0.57, representing a 17% increase above last year's core FFO per share at the midpoint of the range. That translates into meaningful revenue growth averaging 4.5% throughout the last four years.
By combining a prudently managed balance sheet and solid FFO growth, EdR appears to be turning the corner.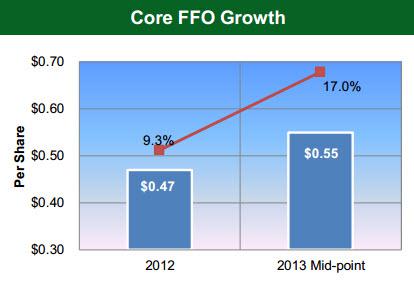 EdR was the only Campus Housing REIT that cut its dividend during the Great Recession (although Campus Crest was not a REIT until 2010).

Here is a snapshot of EdR's dividend history:

Since 2010 EdR has begun to ramp back up and has increase its dividend by an average of 18% throughout the last four years.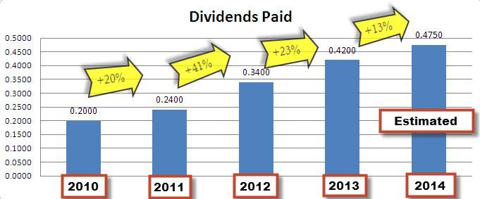 Hold, Fold, or Buy?
Clearly, Campus Crest is the cheapest Campus Housing REIT with a P/FFO of 11.4x. I plan to write an article on that company later in the week. EdR and American Campus are both trading at fair value of around 16x P/FFO.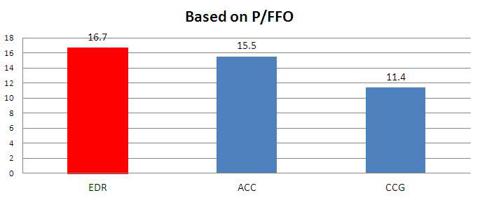 EdR's dividend yield is 4.82%, and given the alternatives today I would like to see a minimum of 5.5%. That could mean that I will wait on a dividend increase or possibly a better entry point (current share are trading at $9.12) - or a combination of both. I'm somewhat attracted to Campus Crest (given the 7.16% dividend yield), and I'm looking forward to providing you with that research later this week.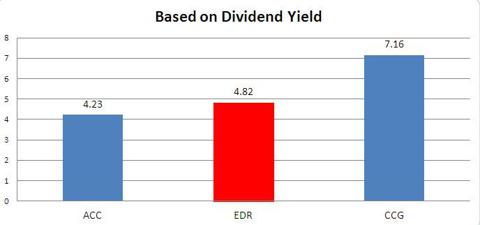 Clearly EdR has made up for some lost ground and the company's more recent dividend policy is becoming more attractive. However, I still do not see a "margin of safety" today, and I will wait until the shares reach a better price (Target: $8.00). In short, EdR is "shoot'n par."
Overall, the Campus Housing sector does not provide an adequate risk-adjusted value proposition … however; Campus Crest may be a birdie (or even an eagle). Until then, hit em' straight!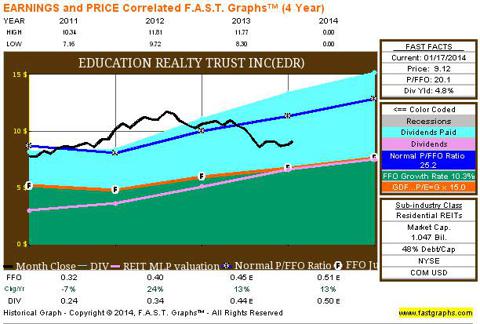 Check out my REIT newsletter - iREIT Investor - the source for intelligent REIT investing.
Source: FAST Graphs, SNL Financial, Moody's, and EdR Investor Presentation.
Disclaimer: This article is intended to provide information to interested parties. As I have no knowledge of individual investor circumstances, goals, and/or portfolio concentration or diversification, readers are expected to complete their own due diligence before purchasing any stocks mentioned or recommended.
Disclosure: I am long O, DLR, VTR, HTA, STAG, UMH, CSG, GPT, ARCP, ROIC, MPW, HCN, OHI, LXP, KIM. I wrote this article myself, and it expresses my own opinions. I am not receiving compensation for it (other than from Seeking Alpha). I have no business relationship with any company whose stock is mentioned in this article.