Real Estate Investment Trusts (REITs) had a very tough back half of 2013. Interest rates rose significantly after the Federal Reserve started to seriously talk about the "Taper" in late May. In addition, investors preferred high growth equities within the market's ~30% rally of the just completed year.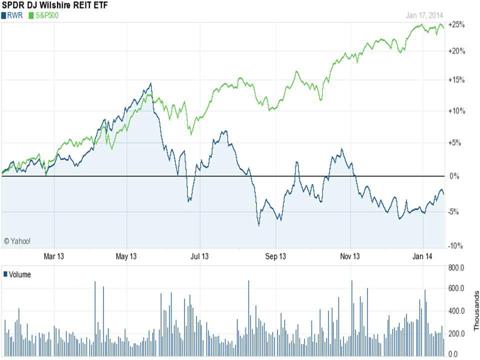 This left REITs withering while most of the rest of the market shot higher. However, over the last month interest rates have stabilized and started to pull back a bit. 2014 should also look much different than 2013. Consensus forecasts are calling for gains in high mid-single digits in 2014 for the overall market. Nice, but not the increases investors have become accustomed to over the past two years.
This sort of environment bodes much better for the prospects for REITs and I believe they will outperform the overall market - which they have done for 16 of the last 24 years. Here are two I that I hold within my own income portfolio. They offered high yield at good values.
Arbor Realty (NYSE:ABR) is primarily a commercial real estate investment trust (REIT). The company invests in multi-family and commercial real estate-related bridge loans, mezzanine loans and other real estate-related assets. It also holds some investments in mortgage-related securities and real estate property.
The REIT was significantly impacted by the financial crisis and had to cut its dividend drastically. Since emerging from the crisis, the company has made frequent payout increases over the last couple of years. The shares currently yield just under eight percent (7.6%).
This REIT is underfollowed on the street. Only two analysts currently cover the shares. One has a price target of $9 a share on ABR and the other is at $9.25 on ABR. Both targets are significantly above the REIT's current price of under $7 a share. Revenues driven by acquisitions and organic growth rose over 40% in FY2013 and another 12% to 15% gain should be in the cards for FY2014. ABR is attractively priced given its yield at 10.5x FFO (Funds from Operations).
Whitestone REIT (NYSEMKT:WSR) is a fully integrated real estate company that owns, operates and redevelops Community Centered Properties, which are visibly located properties in established or developing culturally diverse neighborhoods. The REIT owns and manages about 50 Community Center Properties, including retail, office and office/flex space, with 4.5 million square feet of gross leasing area. Almost all of Whitestone's properties are located in fast-growing Texas and Arizona. It should benefit as the southwest continues to experience higher economic and migration growth than the rest of the nation.
The REIT pays a robust dividend of 8.4% and makes monthly payouts. Several insiders have made small but frequent purchases of the shares throughout 2013. FFO growth is moving ahead at 8% to 10% annually and the shares are reasonably priced at under 13x forward FFO. Whitestone is a small (~$300mm market capitalization) REIT that came public at 2010. Only three analysts cover Whitestone and they have price targets ranging from $15 to $17.50 a share on WSR. Decent capital appreciation from Whitestone's ~$13.50 a share on top of its over 8% dividend yield.
Disclosure: I am long ABR, WSR. I wrote this article myself, and it expresses my own opinions. I am not receiving compensation for it (other than from Seeking Alpha). I have no business relationship with any company whose stock is mentioned in this article.