Economy of United Kingdom

United Kingdom is a sovereign state comprised of England, Scotland, Wales and Northern Ireland. It is a developed country and the world's sixth-largest economy by nominal GDP. Industrial Revolution started here in the 18th century making it the world's first industrialized country. United Kingdom was the world's foremost power all through the 19th and first half of the 20th century when the British Empire encompassed almost a quarter of the world's land mass and was the largest empire in history. British influence can be observed in all spheres of life across the world including here in the US. It is a member of the European Union but does not use the euro as the currency. Pound sterling is the world's third-largest reserve currency after the US dollar and the euro.
In my previous articles over the last couple of years, I have pointed out how I have diversified my portfolio to include more than 40% foreign stocks. UK interests me the most since the country is highly developed and has highly regulated corporate environment. The country is home to number of blue stocks that have Level 1 sponsored ADR on the US exchanges making it easier to buy and sell equities. In this article, I give a brief overview of seven stocks from UK (with more coming soon). They were shortlisted on the basis of dividend history and dividend growth.
Dividends as Stock Screen
Dividends are paid out of positive cash flow and harder to fake over long term. They are typically honest while an over-zealous accountant may be able to window dress earnings per share. I prefer stocks with increasing dividend amounts in native currency. I do understand that the US dollar amount may vary due to foreign exchange conversion rates. While I look for consistency in dividend history with at least 5% growth in dividend amount year-on-year, in some cases I will pardon an occasional dividend stall or even elimination of dividend if I convince myself that the situation so demanded the cut. The British pound is largely stable against the US dollar with no long-term depreciation trend.
Stock

Ticker

ADR
Ratio

EPS

Price
(USD)

Div Amount

Yield

10yr Div Growth

5yr Div Growth

1yr Div Growth

Payout Ratio

Admiral Group PLC

AMIGY

1

0.951

21.65

1.4877426

6.87%

short history

15.65%

19.84%

95.27%

AstraZeneca

AZN

1

4.99

58.86

2.8

4.76%

14.47%

9.86%

3.70%

56.11%

Aviva

AV

2

loss

14.66

0.623998

4.26%

-1.89%

-10.45%

-26.92%

loss

BAE Systems

BAESY

4

0.328

28.72

1.280838

4.46%

8.71%

8.78%

3.72%

59.45%

BHP Billiton

BBL

1

4.07

60.84

2.32

3.81%

22.30%

10.63%

3.57%

57.00%

British Petroleum

BP

1

0.608

47.87

2.22

4.64%

3.59%

-7.80%

8.82%

365.13%

British Sky Broadcasting

BSYBY

4

0.6

55.71

1.97052

3.54%

short history

12.40%

18.11%

50.00%
Withholding Tax on Dividends
UK does not withhold tax on dividends for non-resident investors. This means that stocks from UK are almost similar to an American company when it comes to taxation on dividends (there are subtle differences in REITs and qualified dividends). Unlike stocks from most other countries, a British company stock is well suited for retirement accounts due to this 0% tax withholding rate. However, remember to consult your tax advisor on all tax-related matters since each individual case is different and I am not qualified to give tax advice.
Admiral Group (OTCPK:AMIGY)
Admiral has become one of the largest car insurance providers in the UK in a short span of 20 years. It has a presence in seven countries and based out of Cardiff, Wales. The biggest chunk of the business is in the UK and the customer base is largely people who are traditionally unable to get cheaper insurance. They insure more than 3.5 million vehicles. The group turnover has risen sharply from £18m in 1993 to £2220m in 2012 though the latest yearly increase from 2011 to 2012 was only 1%. The company did an IPO in 2004 and has paid rising dividends since then. I did not know about this group until a few weeks back and have now started monitoring it closely and plan to buy the stock on any sign of weakness. Admiral should provide yield, dividend growth as well as some share price growth as well.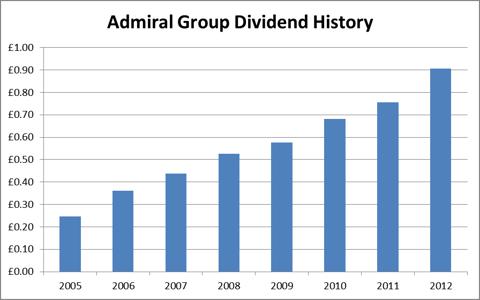 AstraZeneca (NYSE:AZN)
AstraZeneca is a British-Swedish pharmaceutical and biologics multinational company headquartered in London. The company was formed through the merger of Swedish Astra AB and UK-based Zeneca Group in 1999. It is now the 7th-largest pharma company measured by annual drug sales. Its leading product is Crestor for cholesterol management while other big drug includes Nexium for treating acid reflux and Seroquel for psychiatric disorders. Like most other major pharma companies, AstraZeneca is also facing a stiff patent cliff. Sales have declined a bit over the last year and the profits have seen double digit decline as well due to generic competition. The two big drugs - Crestor and Seroquel go off patent within the next three years. The company has been focusing on launching products in the emerging markets like China where the revenue is growing at a healthy pace. It is also adding new products through partnerships and small to mid-sized acquisitions but has generally struggled to come up with blockbuster new products.
The dividend yield is a respectable 4.75% with a 10-year history of growing at 15%. However, the growth is slowing down as the following chart shows quite clearly. The most recent increase was only 3.7%. Though the payout ratio is sustainable and less than 60%, I wouldn't be surprised if the dividend growth stalled or there was a minor cut in coming years. It may be a few years before AstraZeneca is able to fill the void of blockbuster drugs going off patent with a new hit. I plan to hold my current position until I find another pharma stock with better dividend prospects. Fellow British company, GlaxoSmithkline (NYSE:GSK) may offer better dividend prospects along with other big pharma names like Novartis (NYSE:NVS) and Roche Holding (OTCQX:RHHBY) though these are from Switzerland and withhold taxes on dividends paid.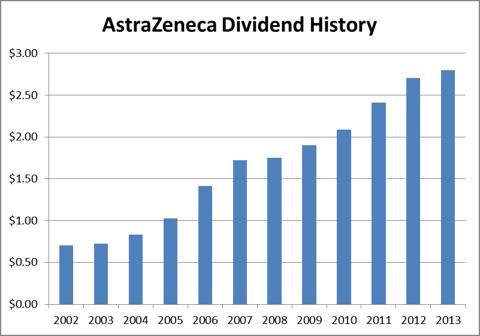 Aviva (NYSE:AV)
Aviva is one of the world's largest insurance companies. It provides Life insurance, General Insurance (including Home, Motor, Health and Commercial) and Asset Management. Life insurance is its biggest segment contributing more than 66% to its profits while General Insurance and Health is approximately 32%. The company gets 50% of its operating profit from the UK while another 36% from Europe. Canada contributes another 10% while the rest is from Asia. The company has been around for 317 years and is UK's largest insurer with 1 in 4 household having an Aviva product. The company has more than 34 million customers.
The company has a good yield of more than 4% right now though it did have a net loss for the latest year on the back of discontinued operations in the US and declining gross written premiums. The dividend grew attractively from 2002 through 2008 when it was cut in the face of global economic crisis. I would like to wait for at least couple more years to see how their recent initiatives to grow in their core markets take place and the impact of disposal of their US business starts to bear fruit.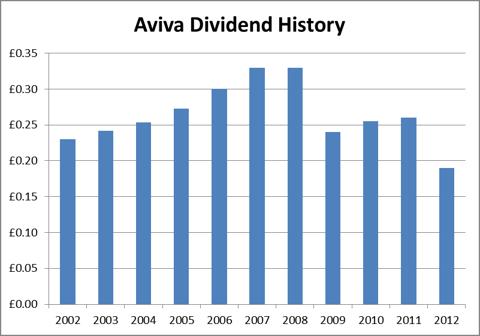 BHP Billiton (NYSE:BBL)
BHP Billiton is a global natural resources company. This mining giant was formed in 2001 when BHP of Australia and Billiton of UK merged. The company has access to a large number of mines around the world and has interests in alumina, steel, coal, iron ore, base metals, diamonds, uranium and increasingly in oil and gas as well. The company is more tied to the global economy than any other company. In addition, it needs to accurately predict which way the economy is headed and invest appropriately in buying new facilities and expanding existing sites. Even though the company continues to do a decent job of controlling costs and increasing production especially petroleum products, the revenue for the year ended June 2013 decline by 9% to US$ 66 billion. Profits from operations declined even more by 20% to $19.2 billion. As a result dividend growth slowed to only 3.6% having grown at 10% for previous 5 years and 22% over a 10-year period. The stock yields 4.5% right now. If may be a great addition to a long-term dividend focused portfolio especially when bought closer to $54-55 mark than the current $60 market price since there is no long-term trend in price appreciation yet.
Investors should note that BHP Billiton is a dual-listed company and there are ADRs from both. BBL is the symbol for the UK company and BHP is the symbol for the Australian company. There is no dividend withholding tax on either since UK doesn't withhold taxes on dividends and the dividend on the Australian company is fully franked. I am personally invested in BBL over the last 3+ years now.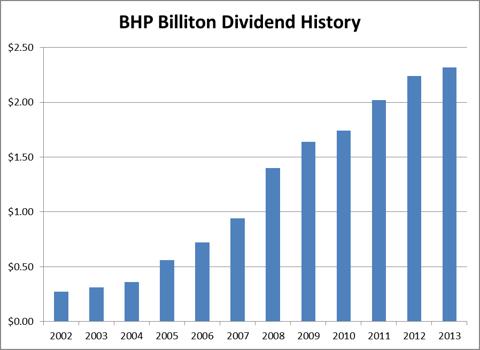 British Petroleum (NYSE:BP)
BP needs no introduction having been in the limelight for more than three years after the Gulf of Mexico Deepwater Horizon oil spill disaster in 2010. It is one of the world's leading international oil and gas companies with operations in more than 80 countries. It is highly diversified and integrated with operations in all areas of energy - exploration and production, refining, distribution and marketing along with petrochemicals and power generation. BP also has growing interest in renewable energy alternatives including biofuels and wind power.
The company is still not clear of all the charges stemming from the 2010 oil spill and it may take many more years before all claims are settled and the company can truly put the disaster behind it. The company has managed to recover from the financial impact and returned solid performance in the last couple of years on the back of significant asset sales to help pay for the cleanup and claim settlement costs. The dividend was cut in 2010 but has since been re-instated and increased a few times within the last year. The current yield is 4.6% which is better than most other big oil and gas companies like ExxonMobil (NYSE:XOM) at 2.5%, Chevron (NYSE:CVX) at 3.2%. I would much rather invest in another European giant like Royal Dutch Shell (RDS-A) at 4.7% or Total SA (NYSE:TOT) at 4.5% than deal with the lingering risks associated with the oil spill.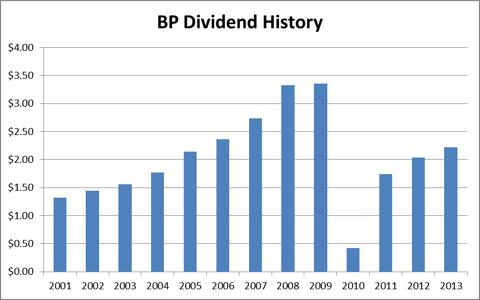 BAE Systems (OTCPK:BAESY)
BAE Systems is a defense, security and aerospace company headquartered in London. It is ranked as second largest defense contractor by sales, second only to Lockhead Martin (NYSE:LMT) and beating out Boeing (NYSE:BA), Northrop Grumman (NYSE:NOC), General Dynamics (NYSE:GD) and Raytheon (NYSE:RTN). The company was formed in 1999 with the merger of British Aerospace and Marconi Electronics Systems. It is now the predominant supplier to the UK Ministry of Defense where the second largest supplier, Babcock International, gets about a quarter of the contracts. The company has continued to get more contracts from the US Department of Defense under Special Security Arrangements and now it sells more to the US government that the British government. The company is also the largest defence contractor in Australia.
The company has a respectable dividend growth history in the recent past after being relatively stable for in the early part of the 2000s. Dividends have grown at 9% over the last 5 years but grew only at 3.7% last year. The payout ratio is at a sustainable 60% with a current yield of 4.5% which is much better than Northrop's 2.1%, General Dynamic's 2.4% and Raytheon's 2.5%. Only Lockheed may offer better dividend prospects with a smaller yield of 3.6% but better 3-/5-/10-year historical compounded growth. BAE is also at multi-year high so it may be prudent to wait for a pullback to $25 levels.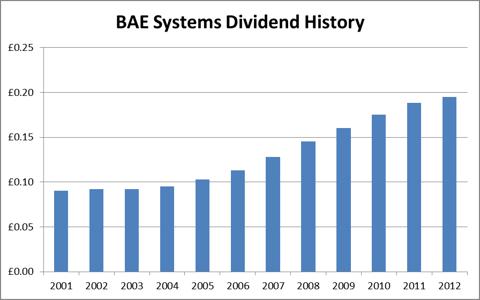 British Sky Broadcasting (BSYBY)
BSkyB is United Kingdom's leading home entertainment and communications provider with services provided to more than 11 million homes. The company's primary business is direct broadcast satellite and TV content. In addition to satellite TV services, the company has a large number of Broadband customers as well which has grown rapidly after the company acquired two companies roughly six years back. Sky recently acquired businesses from O2 consumer divisions and that has helped it become United Kingdom's second-largest broadband provider. Sky continues to bundle various service offerings and managed to increase ARPU by £29 to a record level of £577. This came together with continued growth in customer numbers. The company added more than half a million new customers and now has penetrated more than 40% of households across Britain and Ireland.
I feel that there is a lot of growth potential in this business since Sky also has access to a lot of content - both domestic (like sports) and international (Game of Thrones, Disney movies). The continued investment in technology and on-demand initiatives should help the company maintain its lead and support the enticing yield of 3.5% which grew 18% over the last year and more sustainable 12% over the last 5 years. The current payout ratio is only 50% leaving scope for further growth. This compares to dividend yield of 0% from DirecTV (DTV) and Dish Network (NASDAQ:DISH). Comcast (NASDAQ:CMCSA) is a much bigger company and pays a yield of 1.5% only with lesser growth potential than Sky. I would be a buyer of the stock closer to $50 for an entry yield of 4%.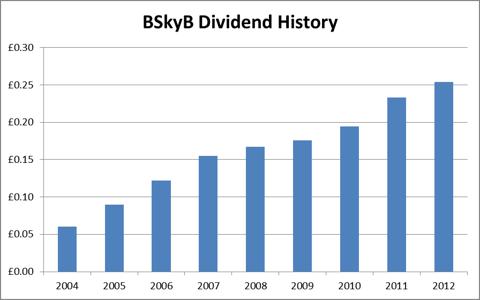 Concluding Remarks
I am not sure whether US will continue to be an economic superpower in the coming five decades in the face of mounting federal debt and increasing trade imbalance. The US market is at an all-time high and it is hard to find bargains in the dividend bucket. I am slowly selling some of holdings at multi-year highs and investing sale proceeds along with any new savings into foreign dividend paying companies. I am looking forward to investing in Admiral, BAE Systems and BSkyB. I think these companies offer great potential for dividend growth for the coming few years. I look forward to discussing these and other stocks from the UK in my future articles.
Disclosure: I am long TOT and AZN and I plan to buy AMIGY and BSYBY in the immediate future. I wrote this article myself, and it expresses my own opinions. I am not receiving compensation for it (other than from Seeking Alpha). I have no business relationship with any company whose stock is mentioned in this article.