Microsoft (NASDAQ:MSFT) is scheduled to report its quarterly earnings for the period ended in December on Thursday January 23, 2014, after the market close. Microsoft's fiscal second quarter webcast and conference call will begin at 5:30 PM ET. The stock has taken an interesting route that seems to reflect the company's challenges and its actions to meet them. In this report, I mostly examine EPS estimate trends and what may happen in a week's time when the company reports, and whether it can meet or beat the consensus estimate and the earnings whisper number.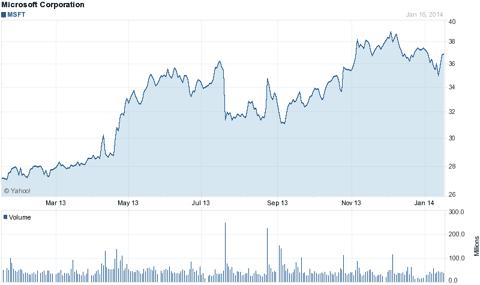 Microsoft's one-year stock chart above reflects the company's critical importance in the enterprise space and its efforts to remain relevant with consumers. The clear trend for the shares has been higher this past year, with the stock up 44% in 2013 after adjustment for dividends. For those who recognized the value opportunity last year, congratulations are due.
Obviously, Microsoft benefits from economic recovery, though its Windows software has become such a necessity that the beta coefficient of the stock (0.72) reflects a lighter cyclical nature today. I believe MSFT has outperformed the market this year partly on the correction of the company's valuation penalty due to its late reaction to the competitive threat posed by Apple (NASDAQ:AAPL) and the inroads of Google (NASDAQ:GOOG). The development of its operating system for its PC partners like Dell (NASDAQ:DELL) to broach the tablet and Smartphone arena have marked a stand against the market share threat of Apple. The company's development of the Windows Phone and Surface Tablet, and its acquisition of Nokia (NYSE:NOK), served as supports as well. Xbox is expected to provide some uplift this quarter also given its fall release. While the stock benefited from the news about the company's CEO search, I'm not sure of the net impact of bringing in a new CEO if that leader is an outsider. I recently suggested the company search its own talented masses to source its new chief.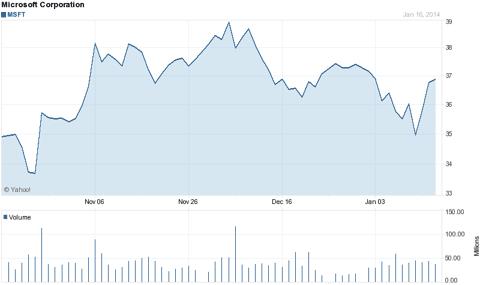 3-Month Chart at Yahoo Finance
The stock's price trend is mostly higher since its last quarterly release. That has a lot to do with what happened last quarter at earnings when the company beat the Street consensus estimate by $0.08. The stock was up 5.9% on the day following its fiscal first quarter earnings release, which of course came after the market close on the day of report.
MSFT's recent EPS history versus expectations shows 3 out of 4 beats and one failure, which came in the June quarter. That failure preceded last quarter's eight cent beat, and so last quarter's result relieved some tension that existed ahead of the report.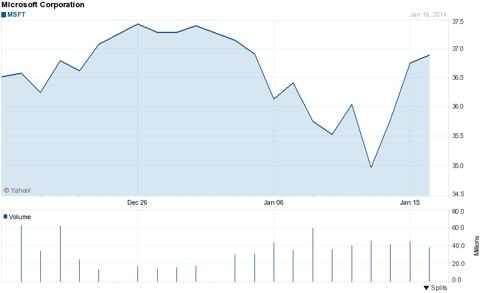 1-Month Chart at Yahoo Finance
The stock's history year-to-date shows it softened at the turn of the year, probably on tax related post-2013 profit taking, which pushes payments forward to 2015. In recent days, along with the broader market, the stock has shown signs of life again and it is approaching its 52-week high. However, as we near the earnings release, the stock may begin to reflect concern about the estimate trend and also the performances of other companies.
| | | | | |
| --- | --- | --- | --- | --- |
| Microsoft | Today | 7 Days Ago | 30 Days Ago | 90 Days Ago |
| Q2 Consensus Estimate | $0.68 | $0.69 | $0.69 | $0.74 |
The consensus figure for the current quarter has come down, even as recently as this past week according to Yahoo Finance. Though, the same resource at Yahoo Finance also indicates that a net of 1 analyst has revised his estimate higher over the last seven days. The whisper number is $0.70 according to Earnings Whispers but Estimize has it at $0.69, which seems to say MSFT could beat the Wall Street consensus. The fact that the consensus estimate has not changed much other than after the last earnings release provides me with some comfort here. In the case of Citigroup (NYSE:C), estimates were collapsing through the entire quarter, and it disappointed at its report.
In terms of valuation, MSFT trades at 13.1X my estimate for the next twelve calendar months of $2.77. The company is expected to grow EPS at a rate of 8.3% through its FY 15 (June) and 7.2% over the next five years. If Microsoft's mobile market entry is able to capture market share and help the company preserve enterprise and PC share, then this could be understated. Also, its recent efforts show that it is on the prowl and acting to defend turf and to take new market positions. The company should no longer be viewed as a stagnant dinosaur, and rather as a potential value opportunity, though it's less attractive than it was at this time last year. Now, it is sort of in a show-me position this month, where its efforts must begin to generate real operational results. Still, at the P/E ratio against the long-term growth outlook, and taking into account its 3.0% dividend yield, MSFT has a KPEG of 1.3X. That's equivalent to GE's valuation heading into its report Friday. So, while that does not seem expensive, I believe MSFT must produce a good result, and probably better than the Street expects in order to continue higher this quarter. Like GE (NYSE:GE), it is vulnerable to disappointment in my opinion. Considering its value proposition and turnaround efforts, long-term investors might hold the stock heading into the release, while the nimble may reduce event risk, though I see it as limited.
Disclosure: I have no positions in any stocks mentioned, and no plans to initiate any positions within the next 72 hours. I wrote this article myself, and it expresses my own opinions. I am not receiving compensation for it (other than from Seeking Alpha). I have no business relationship with any company whose stock is mentioned in this article.