Recently, Zacks reiterated SunPower's (SPWR) rating to outperform and categorized under Zacks Rank #1 (Strong Buy) grade. JPMorgan Chase has also given an overweight rating in its initial coverage report, thus further supporting Zacks thesis. Both the ratings mirror the strong growth prospects of SunPower, which resulted in stock appreciation of 386% in 2013. After some temporary correction in November last year, the company looks all set to post another strong performance in 2014.
Solar project business, a key growth driver in 2014
Over the years, SunPower has been diversifying its product offerings to become a one-stop solar shop for its customers. Unlike its competitor, First Solar (FSLR), SunPower's customer segment is not only concentrated on utility-scale power plant customers, but also on commercial and residential customers. In 2011, the company added a residential solar lease program to its product offering, which helped it gain traction in the lucrative residential solar installation market in the U.S. Due to this program, the company has been benefiting from tax incentives under the Investment Tax Credit structure set for promoting the Solar Photovoltaics, or PV, installation.
As of the third quarter of 2013, the company had more than 20,000 lease customers (cumulative) running under this program with net aggregate contracted payments exceeding $585 million. Lease revenue is only a small portion of SunPower's revenue, and the company is still far behind residential installer leader SolarCity (SCTY), which commanded a 32% share in the U.S.' residential installation in the third quarter. Residential PV installation in the U.S. is growing at a rapid pace of 49% year over year through the third quarter, and there is enough growth for market leader SolarCity and the emerging SunPower as well.
Apart from residential projects, SunPower has built a strong project pipeline, especially in utility projects. Last year, the company finished construction of the California Valley Solar Ranch, which has an installed capacity to deliver 250 megawatts, or MW, of electricity. This project has been one of the biggest drivers of the company's topline with the project owner NRG Solar contributing 23% of SunPower's revenue for the first nine months of 2013. In addition, the company also began construction of the 579 MW Solar Star Project in 2013, with its project owner MidAmerican Energy, contributing 21% of the SunPower's revenue generated for the first nine months. Recently, the first phase (57 MW) of this project has been synchronized and is delivering energy to the California grid. This project is pegged for completion in 2015, and it will provide a significant boost to SunPower's project business (utility based) in 2014. In addition, SunPower has two other projects in California, 100 MW Henrietta Solar Project and 110 MW Quinto Solar Project. SunPower will recognize the revenue from both these two projects through 2016, so I believe these projects will provide long-term growth.
SunPower's utility projects have expanded beyond North America as the company has been leveraging its alliance with French energy major, Total (TOT), for expanding its presence globally, targeting emerging markets in the Middle East, Africa and South America regions. Last year, SunPower received a 70 MW project in Chile, which is pegged to be world's largest merchant PV power plant, selling electricity on the spot market rather than through a long-term power purchase agreement. Total SA is the co-owner of this project, and thus SunPower was the preferred choice for project developer. SunPower has a potential pipeline of 6-gigawatt, or GW, out of which nearly one-third are in collaboration with Total.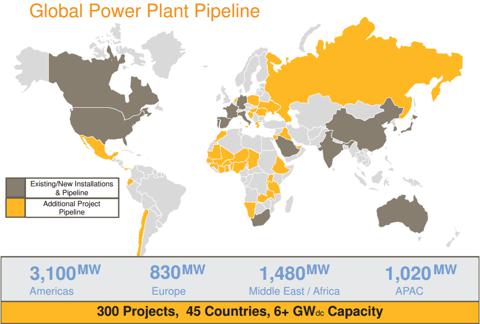 Overall, SunPower's project business looks strong, and its alliance with Total has positioned SunPower in the global scenario. SunPower doesn't provide segregation in margin for its project business, but if I use its competitor First Solar's system segment margin, than the gross margin comes out to be around 36% for the revenue earned in first nine months of 2013. The gross margin of the First Solar's project business is more than SunPower's overall gross margin of 19.2% (for the first nine month). Therefore, it can be inferred that the project business is a high margin business and conversion of SunPower's potential projects can provide a significant boost to its bottom line.
Importance of Asia Pacific region
SunPower still derives maximum revenue from the Americas region, especially from North America. However, this situation has been changing, with the Asia Pacific region posing a significant market opportunity for the company. Revenue from this region was up 62.5% year over year in the third quarter due to strong demand from Japan, where the company posted 130% year over year growth in shipments during the same period. SunPower's solar panels match the Japanese market preference for high conversion efficiency from the rooftop segment, so the company is among the top contender in this market. Japan was the first country to hit the 1 GW installed PV capacity mark in 2004, but expansion towards nuclear energy resulted in a slowdown in new PV installation. However, after the recent nuclear disaster, Japan's government realized the importance of diversification in energy mix, which resulted in strong growth in PV installation.
SunPower's strategy is aimed at targeting both residential and power plant PV demand. For power plants, the company signed multiple agreements last year, which will utilize SunPower solar modules in the projects. A recent one includes signing a supply agreement with Ecomax for delivering 20 MW of high efficiency PV. Ecomax will use SunPower's solar panels in its undertaken projects, which will help SunPower expand its presence in Japan, especially in the Northern and Central regions where the projects are situated. Before this, the company had signed an agreement to supply 69 MW of high efficiency solar panels to Shimizu, which will utilize this for the Eurus Energy Power plant.
For the residential market, SunPower has agreements with top domestic PV distributors Toshiba and Sharp, which sell SunPower's high efficiency solar modules through their established distribution channels. This partnership has helped SunPower gain 10%-15% market share in Japan's residential installation. Like the U.S., Japan's residential PV market is growing at a robust rate, thanks in part to the government's subsidy program, which helps cover 50% of the cost of PV systems. SunPower plans to penetrate the Japanese market further by providing more custom PV products for consumers.
The Asia Pacific region had a revenue contribution of 15% for the first nine months of 2013, and looking at the increased PV demand from this region, this share will increase at a robust rate. SunPower might have gained considerable presence in Japan's PV market, but intense competition might hinder the company's growth. The addition of First Solar's high efficient TetraSun panels will further intensify the competition. First Solar's low efficient CdTe based solar panels affected the company's growth in Japan, especially in the lucrative residential segment, but with the acquisition of TetraSun in April last year, the company is all set to expand its presence.
TetraSun is about to commercialize high-efficiency, low-cost crystalline silicon cell technology, which is capable of providing conversion efficiencies exceeding 21% with manufacturing costs comparable to conventional multicrystalline silicon solar modules. For distribution of TetraSun solar products, First Solar signed deal with Japan's leading distributor of oil and other energy solutions, JX Nippon, which will distribute these high efficiency products through April 2015. TetraSun high efficiency solar panels coupled with JX Nippon's strong distribution will help it gain market share in one of the most lucrative PV markets in the world.
Thus, SunPower will now have to face tough competition from its domestic counterpart, which has been dominating the solar module distribution in the U.S., but the Japan PV market provides enough room for both U.S. based players to prosper and gain market share. I believe that despite growing competition, SunPower's strong partnership and high efficiency solar panels will help it penetrate Japan's solar panel market further.
SunPower's downside risk associated in 2014
Although the company is all set to post strong fiscal year growth, it is important for investors to view some downside risk that may hamper the company's growth. Currently SunPower is at its full optimum capacity of 1200 MW, with 10% capacity addition in 2014 through fab improvement. With PV demand expected to grow 36% year over year in 2014, this expansion figure might not be. The company will undertake a 350 MW expansion to its facility situated in Philippines, but this added capacity won't contribute until 2015. Therefore, it will be interesting to see what measures the company will adopt this year to fill this gap, as outsourcing its manufacturing will be difficult since this would mean sharing its proprietary technology of high efficiency solar cells.
Conclusion:
Overall, SunPower's growth prospects look solid since the worldwide PV installation is expected to reach an all-time high in 2014. The company has established a strong foot hold in its domestic territory (U.S.), and with the alliance with Total, the company can now bet on international market opportunities as well. Going with the long-term growth fundamentals, I recommend buying this stock.
Disclosure: I have no positions in any stocks mentioned, and no plans to initiate any positions within the next 72 hours. I wrote this article myself, and it expresses my own opinions. I am not receiving compensation for it (other than from Seeking Alpha). I have no business relationship with any company whose stock is mentioned in this article.