Any worries about the reliability of Chinese companies' accounting that surfaced last week with the Fuqi International (OTCPK:FUQI) fiasco have now been dismissed by traders who are clearly in a buying mood this week. Three consecutive strong sessions left our China OTC Player index at an all-time record on Wednesday, up 16.8 percent year-to-date.

Wednesday saw new all-time record closes for two of the stocks in our index: housing player China HGS Real Estate (OTC:CAHS-OLD) at $4.80 (up 95 percent in the 11 weeks since China OTC Player recommended it); and U.S. based operator of Chinese coal businesses L&L Energy at $10.01 (NASDAQ:LLEN) (up 67 percent in the 6 weeks since I first touted it); China OTC Player had also picked this stock in January). And China MediaExpress (OTCPK:CCME) saw a new record high on Tuesday before it dipped a bit on Wednesday.

I was particularly heartened by LLEN's close at $10.01, because earlier on Wednesday I had written that a close above $10.00 would provide additional confirmation that the stock is ready to continue its next bull leg. I am hereby revising my price objective for LLEN to $19.50.

Small caps continue to out-perform the other indices we follow, particularly the Shanghai Composite which remains underwater for the year with an 8 percent loss.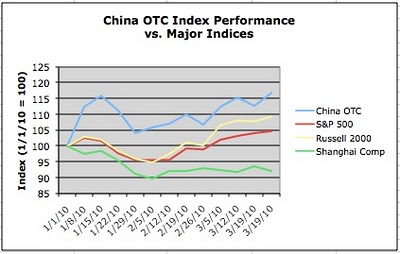 In addition to the stocks mentioned above, Soko Fitness (SOKF.OB) generated a new buy alert Tuesday on the strength of its triple top breakout.

The uptrend that begin in late December has found new life this week, so hang on to those Chinese small caps that are performing well. For my part I plan to stay fully invested in this sector for the foreseeable future.