2013 began with the federal government getting by the fiscal cliff and finished with legislation that funded the federal government for the balance of the fiscal year. But raising the federal debt ceiling remains a nagging problem. This is the fiscal background for the worst economic recovery since the depression. The best quarters of growth since 2009 have struggled to exceed a 3% annual rate. The Federal Reserve in December predicted GDP growth in 2013 will be 2.2-2.3% and 2.8-3.2% next year. Janet Yellen last week said she hopes 2014 growth will be 3%. Even though the unemployment rate dropped below 7%, many new jobs are temporary with low pay while other laid off workers have given up looking for work.
Meanwhile the stock market roared ahead. Following four very good years (2009-2012), stocks had one of their best years in history in 2013. The Dow Jones Industrials rose more than 26% to a new record at 16,576 at year end, the S&P 500 soared almost 30% to 1848 (another record) and the Nasdaq climbed 38% to 4176 (a 13 year high).
Dow Jones Industrials - 1 year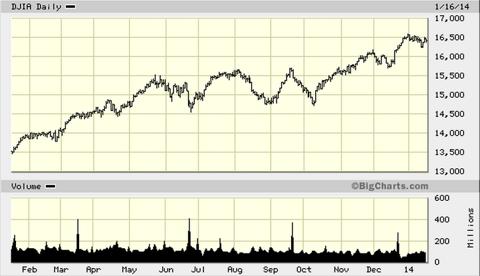 But an alternative measure of growth for stocks shows the Dow rose only 17% above the previous record in November 2007, less than a 3% annual growth rate. Since the start of 2000, the Dow rose 44%, equivalent to a meager 2.6% annual compounded growth rate. Not only was capital appreciation disappointing, there were 2 substantial selloffs along the way.
But dividends and dividend growth remained meaningful for growing portfolios, and, more importantly, annual income. The ultimate goal for the vast majority of portfolios is to supply income in retirement so that an investor will be able to enjoy, potentially, more than 20 years and pay for rising medical and Obamacare related expenses. Dividend Aristocrats are the most reliable stocks for increasing income, having raised annual dividends for a minimum of the prior 25 years. Over the long term, higher dividends should continue because of track records of raising dividends through good and bad years.
Below are 9 of the finest Dividend Aristocrats with attractive yields. They will be raising dividends in 2014 and in the coming years. In my article last year "A Dozen Stocks To Depend On For Profits In 2013," the featured stock was VFC Corp (NYSE:VFC). With the lowest yield in the group, it had the best year by gaining 60% in 2013 because investors were rewarded for smart business decisions by management to grow the company. Below are 9 Dividend Aristocrats for investment in 2014.
9 Dividend Aristocrats for Yield and Growth
| | | | |
| --- | --- | --- | --- |
| | Price | Yield | Dividend |
| HCP (NYSE:HCP) | $38.40 | 5.5% | $2.10 |
| AT&T (NYSE:T) | $33.96 | 5.4% | $1.84 |
| Leggett & Platt (NYSE:LEG) | $30.10 | 4.0% | $1.20 |
| McDonald's (NYSE:MCD) | $96.06 | 3.4% | $3.24 |
| Chevron (NYSE:CVX) | $118.83 | 3.4% | $4.00 |
| Clorox (NYSE:CLX) | $90.12 | 3.2% | $2.84 |
| Kimberly-Clark (NYSE:KMB) | $106.05 | 3.1% | $3.24 |
| Procter & Gamble (NYSE:PG) | $80.56 | 3.0% | $2.41 |
| Coca-Cola (NYSE:KO) | $39.71 | 2.8% | $1.12 |
(1) HCP, Inc. is a REIT and an S&P 500 company that invests primarily in healthcare real estate, including senior housing and related facilities. Because of conservative leverage, it has a BBB+ credit rating. Funds from Operations applicable to common shares (FAD) was guided at $2.51 in 2013 at a November presentation, an increase of 13% over 2012 comparable earnings. The annual dividend was increased for the last 28 years. The yield is 5.5% and the next dividend increase is scheduled for the end of January.
(2) AT&T descends from "Ma Bell" founded in the 19th century. Today it offers voice coverage and data services in over 200 countries. AT&T has the nation's largest Wi-Fi network including Wi-Fi Hot Spots globally along with voice and cloud-based services. The IP-based communications services business is one of the most advanced in the world. AT&T also offers advanced TV service. Known as a yield stock for years, it still offers a high yield of 5.4% and the annual dividend was increased in December with a streak of 29 years.
(3) Leggett & Platt sells components for bedding, furniture and automotive seat support. After barely covering the dividend following the recession, earnings recovery from the recession is showing progress, which has lowered the payout ratio to 73% in 2013. Weak businesses have been sold, paying for an aggressive stock buyback program and 4 cent annual dividend increases. The stock yields 4.0% with a 42 year dividend streak and the dividend is scheduled for an increase in August.
(4) McDonald's is the leading global food service retailer with more than 34,000 restaurants in 118 countries. Nearly 59% of the restaurants are conventional franchisees, 21% are licensed to foreign affiliates or developmental licensees and 20% are company-operated. Same store sales growth has been sluggish for several months, up only 5% in November. Management is upgrading menus, renovating restaurants and adding new outlets. The yield is 3.4%, the annual dividend was increased annually since the IPO in 1976 and the next increase is scheduled in September.
(5) Chevron is one of the largest energy companies in the world. The bulk of the company business is the upstream division. Liquefaction, transportation and liquefied natural gas provide 80% of earnings and about 75% of that is earned outside the US. Downstream refines and transports crude oil and refined products globally. In the first 9 months of 2013, capital and exploratory expenditures were $28.9 billion, up from $22.7 billion in 2012. CVX became a Dividend Aristocrat last year and the next increase is scheduled in April. Over the last decade, dividend increases averaged 11% and management will likely continue with a similar growth rate going forward. The current yield is 3.4%.
(6) Clorox sells household products globally. Brands that are #1 and #2 in their fields represent nearly 90% of sales. Its #1 ranked brands include: Clorox Disinfecting wipes, Clorox Toilet Bowl Cleaners, Pine-Sol, Tilex/Clorox, (Bath), Kingsford/Match Light, Brita, Clorox Bleach and Burt's Bees. 22% of 2012 sales were international and 2/3 of those sales are in emerging markets. Management is looking for 3-5% organic growth and 10-12% free cash flow from sales. The stock yields 3.2% and the dividend is scheduled for an increase in May after 36 years of annual increases.
(7) Kimberly-Clark is a paper company with many popular brands (along with annual sales): Huggies ($6 billion), Kleenex ($1 billion), Scott (over $2 billion), Pull-Ups ($2 billion) and Kotex ($1 billion). KMB brands typically hold #1 or #2 share positions in more than 80 countries. Personal Care (brands such as Huggies, Pull-Ups and Kotex) is the largest division with 45% of revenue. 2013 EPS is guided to grow 8-10% to $5.60-5.75 for a new record. The dividend should be increased next month after increasing dividends for 41 years and provides a 3.1% yield.
(8) Procter & Gamble consumer packaged goods are purchased more than 40 billion times a year globally. Organic sales growth targets are above market growth rates in each product's category and geography to deliver EPS growth in high single digits. PG recently grouped its Global Business Units into four industry-based sectors: Global Beauty; Global Baby, Feminine and Family Care; Global Fabric and Home Care; Global Health and Grooming. Dividends have increased annually for the last 57 years at a compounded average rate of 9.5% and the stock yields 3.0%.
(9) Coca-Cola is the world's largest provider of non-alcoholic beverages. Business is split into sparkling beverages (carbonated) and still beverages (Minute Maid, Dasani and vitaminwater). For cost savings, KO has consolidated its operations into 3 business segments: 1) Americas, 2) International and 3) Bottling Investments. Its 2020 Vision involves more than doubling revenue by 2020, increased margins and more than doubling daily servings to over 3 billion by 2020. KO's objective is to be No. 1 in the non-alcoholic ready-to-drink business in every market (over 200 countries). Annual dividends have been raised for more than half a century and the next increase is expected in February. The current yield is 2.8%.
My favorite in the group is HCP. Besides having the highest yield (86% of the 2013 dividend was taxable), HCP kept raising dividends through recessions, including 2009 when many REITs cut dividends. The annual shareholder return for 1985-2012 (including dividends) was an impressive 16.5%. Very few companies exceeded that record.
Earnings growth comes from property investments in healthcare, the largest single industry in the US. According to the National Health Expenditures report: (1) national health expenditures are projected to grow 3.8% in 2013 and 7.4% in 2014 and (2) the average compounded annual growth rate for national health expenditures (2015 through 2021) is anticipated to be 6.2%. Seniors are the largest consumers of healthcare services and on a per capita basis, the 75-year and older segment spends 76% more on healthcare than the 65 to 74-year segment which spends more than triple the population average.
High yielding stocks with records of consistently raising dividends are more important for increasing portfolio values than in the past. Capital gains since 2000 have been unsatisfactory for many companies. Growing dividends are important for most investors whose main financial objective is to have a portfolio fund a long period of retirement and provide additional insurance in later years when expenses can climb sharply. These stocks offer high yields and rising income at a time when some pundits are calling for stocks to extend their winning streak to 6 years. I recommend high yielding securities delivering rising income whether stocks go up or down. As a bonus, rising dividends will bring higher stock prices over time.
Disclosure: I am long KO. I wrote this article myself, and it expresses my own opinions. I am not receiving compensation for it (other than from Seeking Alpha). I have no business relationship with any company whose stock is mentioned in this article.