Intel (NASDAQ:INTC) is losing serious money trying to break into the mobile market.
Here are Intel's latest financials broken down into its various business units: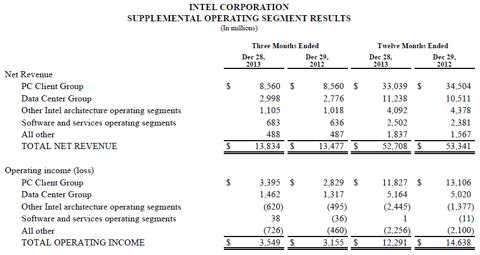 Mobile is part of Other Intel architecture. As you can see Intel has lost $2.5 billion for 2013 in this segment. In fact as this table demonstrates, Intel's mobiles losses have doubled each year for three years in a trot.

In 2014 it's not going to get any better, as Intel is subsidizing the purchase by OEMs of 40 million Bay Trail tablet chips. That will cost $20 per chip or $800 million in total. It's even possible that these figures will be higher, since Intel is believed to have an internal target of 60 million tablets. Therefore you should reckon on Intel losing at least $3.5 billion on mobile in 2014.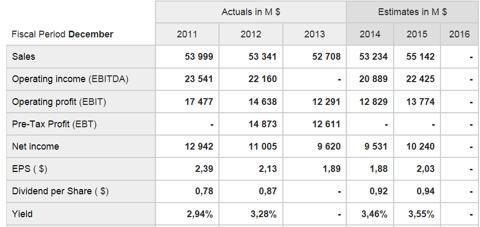 Source: www.4-traders.com
This table shows Intel's operating profit and forecasts for 2014 and beyond. Intel has reported $12.3 billion in operating income for 2013 or $14.8 billion excluding the Other Intel segment. Next year Intel's operating income - excluding mobile - will be $16.3 billion, which is what it generated in 2012. That means in 2014, mobile will be subtracting over 20% of Intel's operating profits. That's huge for any company, but especially one which has seen flat top line growth for three years and is expected to continue that trend for a fourth year.
For emphasis, I've also posted Microsoft's (NASDAQ:MSFT) financials, once again broken down by business division.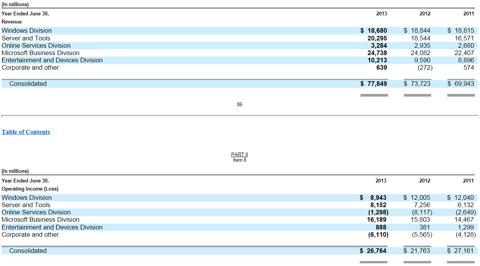 The loss-making Online Services Division is what I want you to look at. This is the business unit where Bing is. Now ignore the $8 billion loss reported in 2012, as $6.2 billion of that was due to the write-down of AQuantive. The actual losses have never exceeded $2.6 billion. Now Microsoft's operating income, excluding the Online Services division, is over $28 billion, therefore Bing has only ever consumed 10% of Microsoft's profits.
Let that sink in: Microsoft has received constant criticism over the years for the losses it has racked up from Bing and also Xbox, and in fact the share price has recently risen in part at the prospect of a new CEO shutting down Bing and selling off Xbox. Yet, the losses it has endured have only been half that of Intel's and of course Microsoft has been growing the top line as well.
Now you might say that mobile chip processors are part of Intel's core competency, in the way that search and video game consoles simply aren't for Microsoft. That's certainly true up to a point. However you should bear in mind that the online advertising opportunity is $100 billion a year for Microsoft, while mobile chips are only $30 billion for Intel. Moreover, it's not clear whether Intel's leadership position in server and PC chips will ever translate into mobile chips.
The PC era is over
Now one argument Intel bulls like to give is that mobile losses are just temporary and once Intel gains traction in the mobile arena these losses will go away. The problem is I find it hard to believe that Intel will make any headway in mobile.
The major difference between the PCs (and servers) and mobile devices are that with PCs the two most important things are the operating system and the processor, everything else is basically peripheral to that. For mobile devices, the operating system once again drives the choice of chip, but the other major drivers are the particular features and form factor of the mobile device. This determines whether the chip needs to integrate various features such as Wi-Fi and bluetooth; how powerful and power efficient it needs to be - higher resolution screens might require different chips, for example.
Device vendors therefore like to tightly couple the design of the tablet or smartphone with the chips that go into them. That's the reason why most of the mobile market is dominated by two vertically integrated companies, Apple and Samsung (OTC:SSNLF), who design both the chips and devices themselves.
This implies that device vendors have the whip hand over the chip designers and explains why Intel is being forced to bend over backwards to get OEMs to "buy" its Bay Trail chips. It also indicates that Intel will have difficulty ending its rebate program: why wouldn't the OEMs simply just re-redesign them to once again use non-Intel chips?
There's another way to make all those Other Intel losses disappear
Instead of trying to penetrate the mobile market with its own designs, Intel should instead fabricate other companies' chip designs. This would mean Intel scrapping entirely its efforts to compete in the smartphone arena, where it has made zero headway against Qualcomm (NASDAQ:QCOM) at the top end and MediaTek at the lower end. Doing so would not only save money, but would also assure wireless chip designers that Intel wouldn't try and gain any insight into their chip designs. I suspect that if Qualcomm was to give Intel its fabrication business, it would insist on that.
How much foundry business can Intel win? In theory, all of it, but even if Intel only wins Apple's (NASDAQ:AAPL) iPhone and iPad chip business that's still pretty good. If Apple sells 150 million iPhones and 100 million iPads, that's about $7.5 billion worth of chips. Intel's foundry cut of that might be just over 50%, or about $4 billion. That should be more than enough to bring Intel's "All other" operating segment into the black.
Moreover, it would still compete in tablets, since they are quite similar to laptops, but it would no longer subsidize those efforts. And Intel will still be able to count on sales to devices that run on full Windows, if nothing else. Over time these tablets and hybrids should grab a decent amount of market share.
The bottom line
If Intel eliminates all R&D spending on its wireless chips solutions - it could sell Infineon in fact - and sees some growth in tablet chips, the Other Intel operating segment should also move into the black. That means Intel's operating income would be $16-$17 billion instead of $12.7 billion and net income of at least $12 billion, instead of the $9.6 billion it earned this year and the $9.5 billion it's expected to earn next year.
The market would still likely give Intel a similar P/E rating to what it sports now, because the market would no longer worry that Intel would be pissing one in five dollars down the drain, and because Intel could still grow revenue from its server division and further foundry deals. That implies a market cap of $168 billion and a share price of $34.
Disclosure: I have no positions in any stocks mentioned, and no plans to initiate any positions within the next 72 hours. I wrote this article myself, and it expresses my own opinions. I am not receiving compensation for it (other than from Seeking Alpha). I have no business relationship with any company whose stock is mentioned in this article.