Green technology in China just got a new boost.
While picking up the Chinese newspapers last week, I noted that according to China's Ministry of Finance (MOF) and the Ministry of Industry and Information Technology (MIIT), Chinese "new-energy vehicle buyers" will be entitled to subsidies from the government.
Zhang Shaochun, vice minister of the MOF, mentioned that the specific amount of the subsidy is still "under consideration," while Li Yizhong, minister of the MIIT, was quoted as saying that the Chinese government "will promote household purchases of electric and fuel cell vehicles."
He added that
New-energy vehicles are expensive because of the huge investment in the research and development of such vehicles. To encourage consumers to buy new-energy vehicles, the MIIT is working with the MOF on a subsidy policy and since the subsidy will serve no use if it is too low, it is likely to amount to several thousand yuan.
We've been hearing rumors that the maximum subsidy amount could be up to 60,000 yuan (around US$8,800).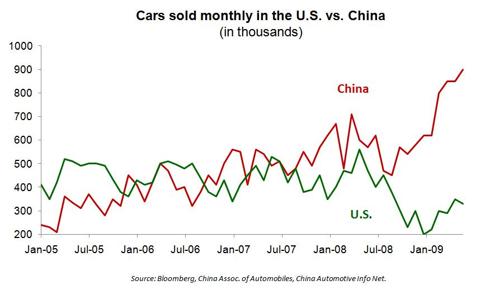 China, by the way, has recently overtaken the US as the largest car market in the world (see graph above). For the oil bears out there, I encourage you to visit Beijing or Shanghai and sit in traffic. And further auto market penetration terrifies Chinese officials. When you multiply car ownership per capita in any neighboring East Asian neighbor (Taiwan, Japan, Korea, etc) by any fraction of the Chinese population of 1.3 billion you start talking about serious oil consumption (today, China consumes around 8million barrels/day). So the talk about subsidies is important.
And what's the play? Well one is lithium (the key ingredient powering laptop, mobile phone, and now electric car batteries). The largest lithium producer in the world is Chile's Sociedad Quimica y Minera (NYSE: SQM). I think its pretty expensive, but might be worth a look in any market dip. Another play is BYD (OTCPK:BYDDF), China's large battery maker. Warren Buffett put money into the company, among other reasons, because BYD, is leveraging its battery technology to develop China's best electric vehicles. The company has teamed up with Daimler AG to develop electric cars in China and plans to begin selling cars in Europe next year. And BYD's hatchback may be sold in the U.S. this year.
Several weeks ago I wrote quite a bit about lithium and think that the coming 6-12 months will see a number of Chinese firms buying lithium assets in South America.
Disclosure: No stocks owned