Verizon (NYSE:VZ) reports its earnings on the first day of trading this week, January 21st at 8:00 AM ET. Our earnings preview takes a close look at EPS estimate trends and other data, including the EPS whisper number, to determine how VZ might fare in its report. We examine sensitivity and risk to determine what the odds are for VZ shares on the upside and downside against positive and negative scenarios and based on valuation and stock price and operational trends to make a recommendation. Verizon will be reporting for its fourth quarter ended December this Tuesday morning and you'll be able to access the press release and webcast via this link.
Earnings History
Verizon's earnings history shows that it has beaten Wall Street expectations 3 out of the last 4 times. The good news here is that over the last three reports, Verizon has beaten estimates decidedly. Unfortunately, the last time Verizon failed against expectations was the December quarter last year. The fourth quarter is the one in which companies tend to write off items. It's hard to say if this sets a precedent for this year's Q4, but the company did partake in M&A this year that could lead to some write-downs and so there could be some extraordinary items coming through. I would not worry about that risk though, as the trend seems to say ex-items, Verizon would still outperform and possibly be able to raise guidance as a result of cost savings.
| | | | | |
| --- | --- | --- | --- | --- |
| | Q3 2013 | Q2 2013 | Q1 2013 | Q4 2012 |
| Reported | $0.77 | $0.73 | $0.68 | $0.45 |
| Expected | $0.74 | $0.72 | $0.66 | $0.50 |
| | +4.1% | +1.4% | +3.0% | -10% |
Earnings Estimate Trend
The earnings estimate trend looks positive for the quarter, but less sanguine in the coming Q1. Most of the adjustment in Q4 estimates occurred right after the last EPS report, and so is attributable to the data and guidance. In Q3, Verizon beat estimates by a significant margin, and the estimate for Q4 was hiked by five cents thereafter.
| | | | | |
| --- | --- | --- | --- | --- |
| | Q4 2013 | Q1 2014 | 2013 | 2014 |
| Current | $0.65 | $0.86 | $2.83 | $3.51 |
| 7 Days Ago | $0.65 | $0.85 | $2.83 | $3.50 |
| 30 Days Ago | $0.65 | $0.88 | $2.83 | $3.51 |
| 90 Days Ago | $0.60 | $0.90 | $2.78 | $3.51 |
The Whisper Number
Earnings Whisper shows the whisper number at $0.65 for the quarter, which matches the Wall Street consensus. Estimize has the number at $0.66 for Q4. The difference matters because if Verizon can beat its Wall Street bar and the whisper number, it's almost guaranteed to see upside on Tuesday. Take careful note, though, that it would still face risk on guidance. That is a concern given the estimate adjustments occurring for the first quarter, bringing that figure down to $0.86 from $0.90 over the last 90 days.
The Chart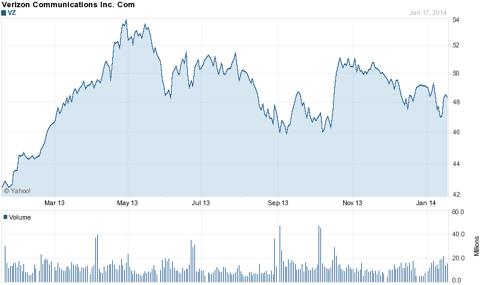 The stock benefited from its last earnings but has been giving back ground ever since. So far year-to-date,it's down 1.6% and off 3.3% over the last three months. Some of this may be due to give back post the turn of the calendar on tax related drivers as investors take profits and push payments forward to 2015. In my view, it would only set the stock up better for the earnings news. The five-day chart leading into the report shows some excitement heading into the news, and raises the probability of a good report in my view.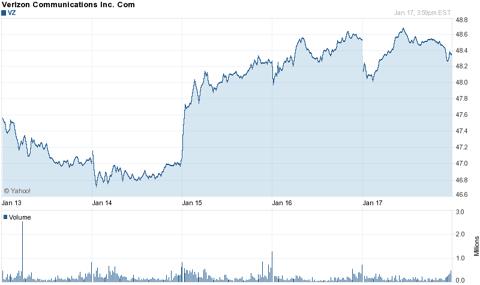 Conclusion
In a recent report, I favored Verizon shares because of what I believe is a strategic opportunity for it opened up after its Vodafone deal. The stock is now 13.8X the 2014 EPS consensus of $3.51. Analysts are looking for 10.3% growth over the next five years, giving the stock a PEG ratio of 1.33X. But this stock pays a 4.4% dividend yield, giving it a KPEG of 0.94X. That is more than enough reward for the risk in my opinion, so I would be a buyer of VZ here.
Disclosure: I have no positions in any stocks mentioned, and no plans to initiate any positions within the next 72 hours. I wrote this article myself, and it expresses my own opinions. I am not receiving compensation for it (other than from Seeking Alpha). I have no business relationship with any company whose stock is mentioned in this article.