My last article received several comments from readers who criticized my comparison of Organovo (NYSEMKT:ONVO), a company engaged in research using 3-D printing technology to "print" tissue-like products with "bio-ink" with a vaccine company. The point of the comparison was only to illustrate that Organovo is a far riskier biotech investment, but I will take heed and, in this article, compare apples to apples. In this case both companies make products or intend to make products that are sold to other biotech companies as opposed to meeting the pharmaceutical needs of the general population.
Repligen (NASDAQ:RGEN), while somewhat multifaceted, is primarily engaged in developing and manufacturing bioprocessing products that are used in biotech research and development, namely protein A. Protein A is used to purify monoclonal antibodies, which have a fairly wide variety of applications within the biotech industry. Repligen's Protein A business (and related purification products) has had a level of success that any developmental stage biotech should aspire to achieve. In its last quarter, Repligen reported product revenue of about $12M. It has been profitable 5 out of the last 5 quarters.
Presently, Repligen is a bit risky because Orencia royalty rights, which have been a major contribution to total revenue, expired at the end of 2013. Q1 2014 may prove disappointing in comparison to previous quarters and the stock will likely see some volatility (after the earnings report or perhaps, in anticipatory fashion, ahead of). However, given that this has been known for some time, the revenue decline may have a minimal or even a counterintuitive positive impact on the stock.
Regardless, the protein A business should continue to provide robust revenues. Repligen also has a pancreatic imaging product in Phase 3 development and an orphan drug candidate in the Phase 1 stage. It seems right about at a fair value with a market cap of about $400M. In contrast, Oraganovo is unprofitable, has no known drug candidate and a mere $23,000 in total revenue last quarter (with no product revenue). The viability of Organovo's liver assay product is still uncertain. In 2010 Organovo entered into a collaborative research agreement with Pfizer, which was completed in 2012. Organovo said it anticipated that an additional agreement or agreements would be arrived at. But so far Organovo hasn't disclosed any new agreements with Pfizer. Here's one possibility: Pfizer saw little or no potential in Organovo's product. So why is its stock so incredibly hot?
CASTLES IN THE SAND
In his classic Wall Street tour guide, Burton G. Malkiel gives a detailed history of market manias in a chapter titled The Madness of Crowds. The manias are those times in which the public (and likely many professionals as well) bought stock of companies lacking a firm foundation (buyers were typically enticed by some speculative future potential) at higher and higher prices with hopes of the irrationality persisting. But Ultimately these castles fall as fast as they are erected when their weak foundations succumb to bearish tides.
As early as the 1920s, writes Malkiel, there were organized stock promotion schemes in which pools of traders were collaborating using opaque trading tactics (eerily reminiscent of the modern era's computerized environment) in order to push prices into levels where large blocks of insiders' and professionals' stock lay waiting in the order book to be devoured by the ravenous crowd. Since these companies tended to be extremely speculative by nature, the extreme price levels were unsustainable and after the manipulation met its objective of filling the large orders, the stocks tended to fall as quickly as they rose.
A decade of roaring gains was brought to a dramatic and bitter end in the days leading up to and following October 29, 1929, aka Black Friday. Virtually the entire market was demolished during the panic and subsequent depression, but the companies with solid foundations (think "boring" blue chips like General Electric) survived the test of time and their stock prices eventually recovered... and then some.
Currently, few stocks trade in the same rarefied air as Organovo's. It is again nearing $1B in market cap. It may be the most irrational stock in the non-penny stock market. A recent Google Finance scan for stocks priced over $5 per share, over $500M market cap and with price over 500x sales returned only 14 results from the entire market (all sectors and all exchanges) including Organovo. The top ten results (ranked by p/s are below).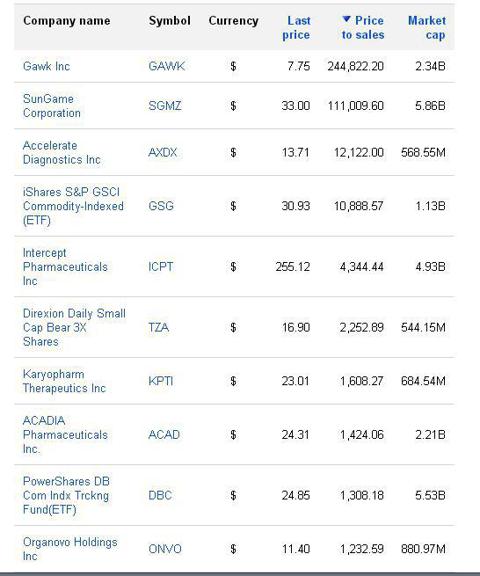 Click to enlarge
A few of these names can be filtered out on the basis of being ETFs (not individual companies) or OTCBB stocks (notoriously irrational and under-audited). A few more are noteworthy, such as Acadia Pharmaceuticals (NASDAQ:ACAD), which has a Parkinsons drug in Phase 3 trials - potentially a bonafide blockbuster drug. Another, Intercept Pharmaceuticals (NASDAQ:ICPT), is an example of what can go wrong with this rare breed of stock. Following negative drug news, it dropped from nearly $500 down to $250 in the course of three trading days. Imagine the horror of those who held the stock over the weekend when it gapped down 100 points on Monday morning. It's the perfect poster child for my case that these outrageous stocks should not be held as investments.
HYPE VS. SUBSTANCE
I read a recent bullish article on Organovo, and the author's advice was to just ignore valuation. The author emphasized the same insubstantial aspects of Organovo that all the other proponents of hype have emphasized. This care-free attitude may be fine for the rapid-fire daytrading crowd, but for anyone not watching the stock daily, the notion that one should not hesitate to buy at extreme valuations is a ridiculous one. Just ask euphoric bubble buyers who recklessly adhered to this notion by continuing to buy and hold anything just because it had a dot-com in its name. Seven decades after the Black Friday crash, those who invested in hype were punished again when the tech bubble burst.
Are we in a biotech bubble right now? Indeed, some stocks certainly are. Getting back to our apples: if Repligen is reasonably valued with a $400M market cap then Organovo deserves a market cap that is a small fraction of that figure - certainly less than $100M. Assuming no future dilution from stock offerings, that would mean a share price of $1 to $3.
Disclosure: I have no positions in any stocks mentioned, and no plans to initiate any positions within the next 72 hours. I wrote this article myself, and it expresses my own opinions. I am not receiving compensation for it (other than from Seeking Alpha). I have no business relationship with any company whose stock is mentioned in this article.