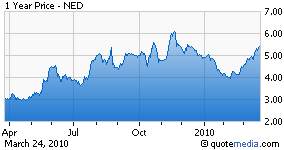 You have a lot to learn if you're unfamiliar with Noah Education Services (NYSE:NED). They are a leading provider of interactive education products and software in China with an expanding footprint in the Education Services segment.

NED's products include a range of sleek, high tech devices such as
Electronic-Dictionaries, and hand held electronic tutors. Their "DLD" (Digital Learning Devices) resemble the most modern model of cell phone with features like touch screen display and flip phone functions. Other "KLD" (Kid Learning Device) models come complete with microphones, speakers, & trays for inserting and swapping various DLDs. DLD content can be anything from videos of teachers in best schools in Beijing, to filling up beakers and cylinders in a virtual chemistry lab. The videos of top teachers will let children in lower tier school systems know what it's like to learn in a top tier classroom.

NED surpasses the average device manufacturing company, whose gross margin is around 10%, because their margins are 50% - that of a typical software company. They sell their own software that is specific to their own devices to
eliminate piracy and reap all the benefits from their own products.

NED management (along with sounding smart and energetic) is on the look-out for accretive acquisitions. They acquired Little New Star in July 09 (to establish a 700 learning center network). More recently, they struck a deal to purchase 70% of Wentai Education. This move will really help NED grow its education services business.

The growing children's education market in China is enormous and valued at
$200 Billion in 2010. NED has plenty of cash ($3.05 per share), and no debt.
Their gross profit is up 7.3% year-over-year to RMB73.5 million. In addition
to that, their net revenue is up 14.5% to RMB 154.9 million. With a foot in
the door in the Chinese education market, established state-of the art
products, and a management team that impresses us, we believe Noah Education is a good buy and are picking up shares on the 5.30s.

Disclosure: own shares of NED at the time of this article.