Come on, let's get the misperceptions game cranking already. Let's finally get to the point where patient people who await rare but rewarding opportunity get to make their once-every-year-or-two impact trade.

Right now a world full of assets is being micromanaged higher by bull wiseguys touting peak oil, peak resources and hyperinflation. On the stock side, pitch men - who were nowhere to be found at the bottom of Peak Angst '09 - enable the dumbest of money to capitulate to the upside right into the highest risk profile of the entire recovery.

Meanwhile, there is gold. The chart hasn't changed, nor has our upside target above 1300 off of the bullish ascending and symmetrical triangles. But if you do not know who you are as an investor, if you listen to the competing blow horns, you will be long gone before it ever gets there, shaken out on a simple re-test of support.
Click to enlarge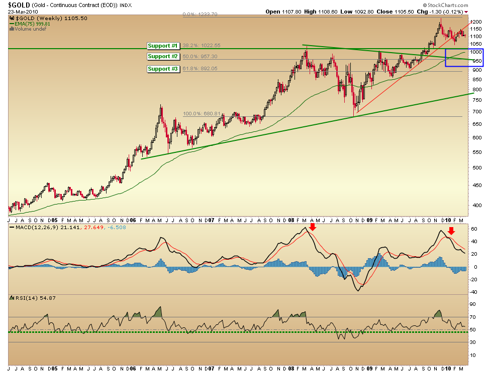 So, pretty please, just try to keep casino mentality under wraps, tune down the noise and realize that there is a continuum in progress here and it is not necessarily on your preferred schedule. Half the battle is perspective in a world where debt money is competitively degraded to keep economies afloat.

If you have been around the blog for a while, you know we have been through this drill before. The world again laughs at Prechter, he of the persuasive argument. I have little doubt he will again come front and center and when he does, the majority will become hysterical. Opportunity awaits. Prechter represents the lever, the deflation impulse. Chicken-shit policy makers would pull that lever and introduce the next cycle.

This stuff plays out over time and again; it may not be per an individual's preferred schedule. Misperceptions need a good long while to get firmly entrenched.

Disclosure: Long term bullish on gold and deployed as such.