Shares in Chipotle Mexican Grill (NYSE:CMG) have risen by over 75% in the past 12 months and are now valued at $527.61, giving the company a market cap of $16.32 billion. Analysts expect a high rate of growth for the company, but can this justify the current price or should investors steer clear of this company for now? I will be looking at several aspects of this company, while using Jack in the Box (NASDAQ:JACK), McDonald's (NYSE:MCD) and Buffalo Wild Wings (NASDAQ:BWLD) for comparison.
Let's start by looking at Chipotle's revenue. Revenue was $2.731 billion in 2012, a number analysts expect to increase to $3.18 billion for 2013 and $3.68 billion for 2014. While this is an amazing rate of growth, it is still lower than the revenue growth Chipotle Mexican Grill had in 2010, 2011 and 2012, as can be seen in the next graph.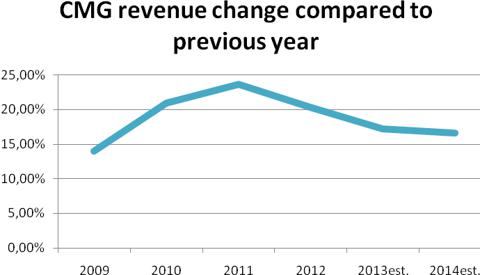 At current prices, Chipotle is valued at 4.44 times expected revenues for 2014, which is quite a bit more expensive than it has been in recent years. Over the past five years, Chipotle's average price to sales ratio was at 3.06.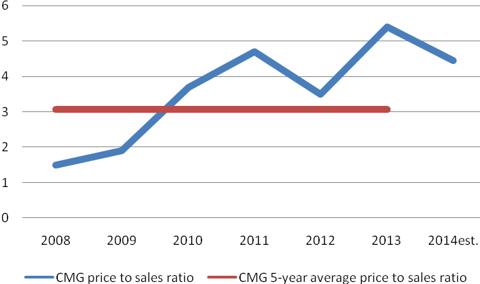 Chipotle's forward price to sales ratio is a lot higher than its competitors. McDonald's has a market cap of $94.90 billion, with expected revenues of $29.42 billion in 2014, giving it a forward p/s ratio of 3.22. Jack in the Box and Buffalo Wild Wings are both valued at much lower p/s ratios, as can be seen below.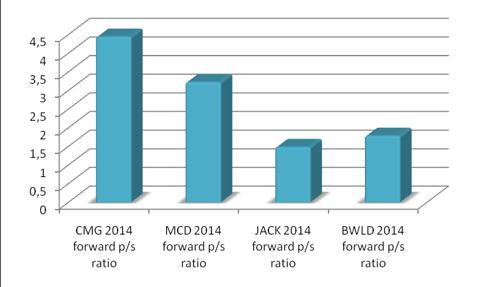 Chipotle Mexican Grill's earnings per share is expected to reach $10.47 in fiscal year 2013, which is an increase of 19.66% to last year's $8.75. EPS is expected to grow even more in 2014, to $12.94. At a price of $527.61 per share, Chipotle is now trading at a forward price to earnings ratio of 40.77. This makes it a lot more expensive than its competitors, as can be seen in the next graph: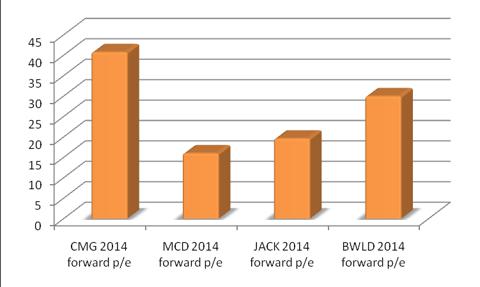 Chipotle Mexican Grill has a very impressive balance sheet with no debt on it. At the end of the most recent quarter, the company had current assets totaling $604 million, with current liabilities of only $180 million, giving it a current ratio of 3.36, which is a lot higher than the competitors I have chosen to compare CMG to.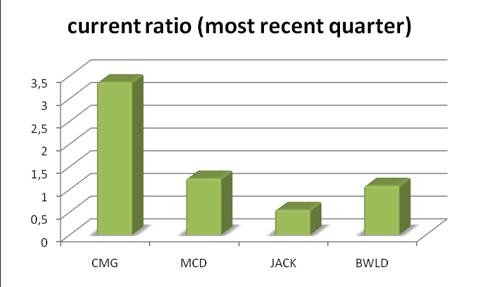 Chipotle has a total of 1,539 restaurants. At a market cap of $16.32, each restaurant is valued at over $10 million. In the graph below, I have divided the market cap for each company by its number of restaurants. It should be noted that there are a lot of differences in term of size and profitability between these four company's restaurants. Still, I believe the next graph might be interesting to add.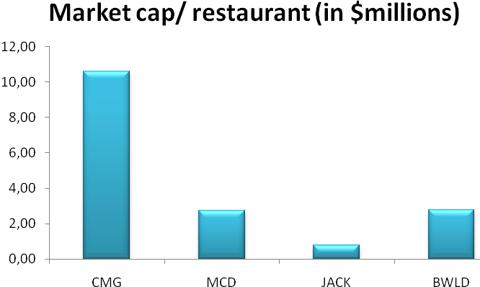 At current prices, I believe Chipotle Mexican Grill might not be the best opportunity in the fast food sector. I will be steering clear of the company for now. Its growth in recent years has been very impressive, but after a 75% increase in share price over the past 12 months, I feel it might be better to wait for the stock to cool down before getting in.
Disclaimer: I am not a registered investment advisor and do not provide specific investment advice. The information contained herein is for informational purposes only. Nothing in this article should be taken as a solicitation to purchase or sell securities. Before buying or selling any stock you should do your own research and reach your own conclusion. It is up to investors to make the correct decision after necessary research. Investing includes risks, including loss of principal.
Disclosure: I have no positions in any stocks mentioned, and no plans to initiate any positions within the next 72 hours. I wrote this article myself, and it expresses my own opinions. I am not receiving compensation for it (other than from Seeking Alpha). I have no business relationship with any company whose stock is mentioned in this article.