Now that we've had a look at Advanced Micro Devices' (NYSE:AMD) latest line of APUs a number of things stand out to me. The first of which is that AMD reached its design goals of optimizing Kaveri for lower power performance. The second of which is that the design created compromises that hamper the chip's performance at high power draw. The third is that with Intel's (NASDAQ:INTC) latest announcements - flat guidance, mothballing Fab 42 and laying off 5,000-plus people, Kaveri has a real opportunity to invigorate a stale desktop and notebook market and create a whole new class of value-driven gamers.
That said I think a quick review of what Kaveri is and is not is of value and will give us more insight into how it will be positioned in the coming months as AMD releases variations on the three desktop parts we've seen so far.
In my last two articles on the subject I covered Kaveri's position in AMD's long range strategy to integrate the GPU and CPU on-die and how current measuring techniques will not be adequate to the job of assessing its market potential. Architecturally, AMD achieved its goals.
Scaling Down to Move Up
Because the CPU and GPU can fully share resources and be utilized to their best advantage by software aware of the situation, Kaveri presented certain challenges physically which limited how each part of the chip could be clocked and had a direct effect on real world performance.
Global Foundries' 28nm bulk process was modified specifically for Kaveri to get the best compromise between GPU and CPU performance. So, for anyone still complaining about AMD's single-threaded CPU performance - Anandtech's review was particularly blunt about this - all I can say is that AMD warned you. By making the choices it did it understood the trade-offs between CPU and GPU throughput at launch.
Similarly, on the GPU side of things, despite numerous rumors to the contrary, memory bandwidth is still an issue for the highest TDP parts like the 7850k and 7700. This limited the overall GPU performance gains over Richland in non-HSA tasks to between 10% and 30%. I noted in many reviews that the more modern the game the greater the performance gains seen with Kaveri over Richland.
What many reviews showed quite clearly is that the 7850k (512 shaders) was less impressive compared to its Richland counterpart than the A8-7600 (384 shaders) was. This is the clearest example of how much the top end Kaveri parts are suffering due to the low memory bandwidth provided by DDR3.
This is a reverse of Trinity/Richland, by the way, as their performance dropped off significantly with both numbers of cores and clock speed. So, where the value provided by Trinity and Richland improved as TDP and chip resources rose, the opposite seems true for Kaveri.
In review after review the A8-7600 - 4 CPU cores, 6 GCN cores - performed very favorably versus the A10-7850k and has a $54 lower MSRP at $119. It is the lack of gaming performance loss when tuning the 7600 down from 65W to 45W that should give investors pause. We should be able to extrapolate to notebook TDPs (17-35W) from this pretty easily.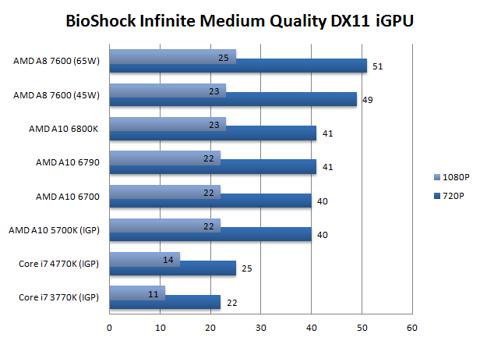 AMD did a very strange thing with this roll-out of Kaveri. It put its worst foot forward with its most important product launch in more than two years. But the PR story for this technology has always been the promise of future improvements. Allowing sites to benchmark the lower powered A8-7600 was both out of character and necessary, otherwise the roll out could have been disastrous from a PR perspective.
The Game's Afoot
We'll start seeing those improvements almost immediately. Oxide Games' latest Starswarm demo gives us a taste of how much more complexity is available once developers are not shackled to Microsoft's (NASDAQ:MSFT) DirectX. One of the common criticisms of AMD's APU strategy is that for the price one can get a CPU plus discrete GPU for a similar price and produce somewhat better results. Mantle will improve the performance of said APUs but it will also improve all GCN architecture video cards so that's a wash as well.
However, Kaveri will likely thrive because with Mantle and TrueAudio it will bring higher quality gaming opportunities to more people on a smaller budget in a mobile platform. The enthusiast is not the target market here. The target market is the sub-$500 laptop/hybrid buyer who can have most of everything they want in a smaller form factor. By making Kaveri so capable, graphically, at mobile TDPs - 35W and below - AMD has created a platform to expand the definition of "gamer" by a large number.
This will be especially true if AMD can put Kaveri in a dual graphics configuration with its mobile R5 and R7 GPUs and have it dramatically boost performance. A two chip dual graphics setup to play modern games at 1080p with real positional, 3D audio should be a notebook OEM's dream come true as long as the heat can be properly managed.
It will be the OEMs that drive Kaveri's success if it enables a new type of product at today's prices. If past is prologue then Intel will not be rolling out 14nm Broadwell at price points that are competitive with Kaveri even if Broadwell's graphics performance takes another leap higher like it did with Haswell.
Intel's earnings report - and I suspect we'll see similar thoughts from AMD's next week - highlighted that the slide in desktop and notebook sales has begun to slow. By Intel's own admission during their earnings call, Asia is a bad market for them and Asia is the one market that will continue to see huge computing - read that as gaming- growth. Emerging markets are so much more price sensitive than western markets. Therefore, the chips with the best overall performance per dollar will be chosen.
One needs to only look at the chart of gaming giant Tencent Holdings (OTCPK:TCEHY) or the sales reports for both the Xbox One and Sony's (NYSE:SNE) Playstation 4 to see what I'm driving at here. Gaming is an industry that has a lot of room to grow with projected CAGRs of between 7% and 15% depending on the segment between now and 2015, according to an October 2013 report from Gartner.
Microsoft should want nothing more than for Kaveri to be a runaway success in markets where its mobile strategy is paying off, namely India. Windows Phone is doing remarkably well there and if Redmond wants to continue to make inroads against Google's (NASDAQ:GOOG) Android it will need a cutting edge platform that offers better overall value at the entry level than Intel's chips provide.
PC Gaming has the projected slowest growth of all gaming sub-markets, but Kaveri and Carrizo could easily push those numbers higher if AMD pulls the market share from Intel I think it will. The number of PCs may not be increasing in unit sales but the proportion of gaming-capable PCs sold should rise over the next few years. It was expected for Kaveri to be the chip to create this opportunity and the early benchmarks and developer support for the new technologies support this view.
A Strong Close into Earnings
Despite major headwinds from a poor earnings report from Intel, a weak close by the S&P 500 (NYSEARCA:SPY) and options expiration for AMD's stock put in a strong close last week at $4.18 after challenging longer-term resistance at $4.60. The pullback is healthy coming into earnings on Tuesday since we got a re-test of the breakout area at $4.13 on Friday and it held.
If the stock opens flat on Tuesday there will be good value to be had in July and January 2015 calls in the $5.50 to $7.00 range as implied volatility should fall slightly and along with it premiums for bulls. But, the stock's price is all about the earnings call now that we've had this big rally and pullback. Downside support is at today's low of $4.11 and beyond that $3.99. Resistance will be stiff between $4.60 and $4.65.
Disclosure: I am long AMD. I wrote this article myself, and it expresses my own opinions. I am not receiving compensation for it (other than from Seeking Alpha). I have no business relationship with any company whose stock is mentioned in this article.