Dow Chemical (NYSE:DOW) is set up well for stock performance in 2014. There are a few positive things going for the company that should continue beyond this year. The company is cyclical in nature, so I think that the stock can be owned during cyclical bull markets. However, it is also a stock to sell at the sign of overall economic weakness or during the mature phase of an economic cycle.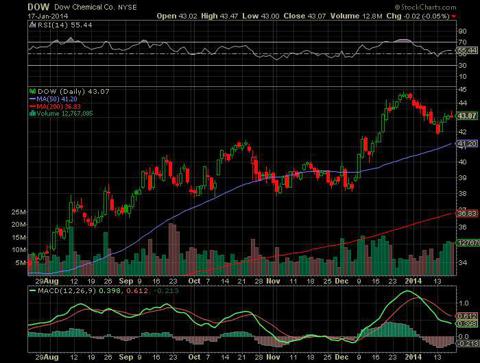 Currently, the economy is continuing to make steady gains in the U.S. and abroad. Even the fragile economy of Europe is on the road to recovery. Cyclical chemical stocks such as Dow Chemical typically perform well during an economic recovery up to the point where the Federal Reserve hikes rates for the third time. Once the economy reaches that level, economic growth tends to slow down and Dow Chemical tends to sell off. Since we are now experiencing low interest rates, Dow Chemical is likely to perform well again until interest rates are raised at least twice by the Fed. However, the Fed will need to taper its bond buying program before hiking interest rates. This should take a number of years to play out.
Another positive development for Dow Chemical is the low price of natural gas. Natural gas represents a key input cost for the company. Dow purchases natural gas to generate electricity. Dow also uses large quantities of ethane, butane and propane which are obtained from the production of natural gas. The increase of natural gas production in the U.S. should keep the price relatively low for many years. Therefore, Dow should be able to maintain an attractive gross margin for the next few years.
The company's revenue is likely to see growth in water, agriculture, electronics and packaging. These are the areas that Dow has identified for strategic growth. Dow's Water and Process Solutions business is involved in producing reverse osmosis membranes and ion exchange resins for purifying water. These are used in applications such as reusing waste water streams, making drinking water from sea water, creating a closed loop water system for oil fields, purifying dairy products, and to make controlled release drugs. As the population grows, the need for pure drinking water will increase, which should have beneficial effects on sales for this segment.
The Agriculture segment provides key products for crop protection, pest management, plant biotechnology and healthy oils. Population growth should also benefit this sector as farmers look to increase production and protect their crops and as food producers look to offer the healthy products that consumers demand.
The Electronic and Functional segment produces products such as semiconductors, LCDs, microbial protection for the oil and gas industry, and cellulosics for innovative drug formulation and healthier foods. On the electronic side, Dow produces integrated circuit fabrication, printed circuit boards and display materials. The company also handles the following growth technologies in electronics: advanced chip packaging materials, metal organic precursors for LEDs, optical and ceramic materials. Dow should experience increased revenue in this segment as the company produces the products that are necessary for new electronic technologies.
Dow's Functional materials are designed to allow customers to differentiate their products in the global pharmaceutical, water, food, energy and personal care markets. It also provides key materials for industrial uses such as solving microbial challenges in the oil and gas industry and other industries. Higher revenues are likely in this segment as Dow helps companies produce products that are gluten-free, produce products with reduced oil and fat, to help bring new classes of drugs to the market, etc. As consumer tastes get more specific, Dow can help its customers produce the products that meet their needs.
Overall, Dow Chemical looks fairly valued with a forward PE of 15 and a price to book ratio of 2.6. On the bright side, the company has a low price to sales ratio of 0.92. The price to sales ratio is lower than competitors such as E. I. du Pont de Nemours and Company (NYSE:DD), BASF SE (OTCQX:BASFY) and Bayer AG (OTCPK:BAYRY), which are 1.67, 1.03 and 2.2 respectively. Dow is expected to grow earnings at 22% to 23% in 2014 to an EPS of $2.81. This growth is derived from a revenue increase of 3% to 4% plus a 19% increase in gross margin. With that growth, the stock should reasonably increase to the $50s in 2014.
Dow Chemical pays a 3% dividend on a 54% payout ratio. The company has paid a dividend every quarter since 1912. The risk for Dow Chemical is in its economic sensitivity. The stock takes a beating during economic downturns. For example, the stock fell from the $50s to the single digits as a result of the 2008 financial crisis. The stock also fell rapidly from the $40s to the $20s during the European debt crisis in 2011. For this reason, I think that the stock can be owned during the recovery phase of an economic cycle, but sold during the mature phase, such as after the second or third Federal Reserve interest rate hike. For that reason, I think that the stock is for the nimble investor. With that in mind, Dow Chemical looks like a good buy until we are at the point of multiple interest rate hikes from the Fed.
Disclosure: I have no positions in any stocks mentioned, and no plans to initiate any positions within the next 72 hours. I wrote this article myself, and it expresses my own opinions. I am not receiving compensation for it (other than from Seeking Alpha). I have no business relationship with any company whose stock is mentioned in this article.