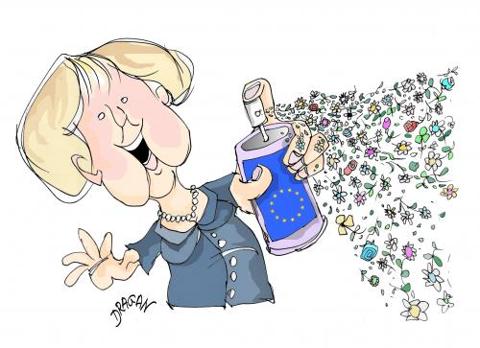 Click to enlargeWow, we got a two-fer today!
In a stunning turn-around, Chancellor Merkel laid out her terms for an aid package for debt-laden Greece, saying she supports loans from the International Monetary Fund and European governments as a last resort if default looms. "A good European is not necessarily one who rushes to assist," Merkel told German lawmakers in Berlin today. "A good European is one who abides by the European treaties and national law and thus sees to it that the euro zone's stability isn't harmed. That's our guidance for all decisions today and tomorrow, and also for the future."
Isn't that great? It's just like when you have to borrow money from a relative and part of the penalty is you have to listen to them lecture you on responsibility etc… Of course, Merkel needs to make it painful because Portugal, Spain, Ireland and Turkey are watching the proceedings very closely, but THIS crisis is, for now, off the table as ECB President Jean-Claude Trichet took some pressure off Greece today by extending the bank's emergency lending rules, saying its bonds won't be cut off from ECB refinancing operations next year. Adding even more boost to the market, now that Goldman Sachs has stopped out their sheeple on long Euro bets, their analysts tell us today that the IMF may be giving Greece $27Bn in aid, helping to boost the Euro.
Greek bonds rallied, sending the 10-year yield down 4 basis points to 6.32 percent, 321 basis points above comparable German debt. That extra borrowing cost has risen from 273 basis points on Feb. 11 when the EU vowed "determined and coordinated action" to stanch the crisis. Greece still needs to borrow $13Bn in the next month but it is the rate at which they have to borrow that's been the issue. "The German strategy for the next couple of months is very simple: provide just enough positive rhetoric that investors continue to purchase Greek bonds," said Peter Zeihan, an analyst at Stratfor, a geopolitical risk consultancy in Austin, Texas. "On the flip side, they want to make sure via rhetoric that there's just enough doubt that the markets demand a much higher spread than the Greeks are hoping for. The Germans want to make very sure that the Greeks are punished."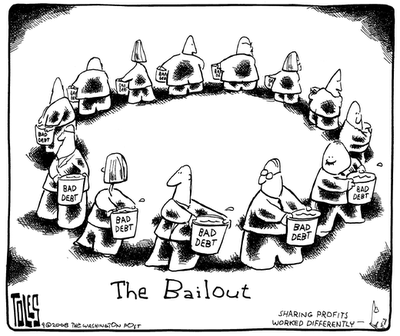 At the same time as Greece is being supported in Europe, Dubai promises to support Dubai World's remaining $9.5Bn debt restructuring, bringing the total aid up to the $20Bn mark and investors will now get their money back - over an 8-year period. This all sounds good but Dubai already has $109Bn of outstanding debt and the properties they've been building on artificial islands are 70% empty and selling for 50% off their highs so it's hard to see where the long-term cash flow is coming from. Still it makes good headlines for today so, YAY!
Yay also to "only" losing 442,000 jobs last week, but continuing claims are much higher than expected at 4,648,000 vs 4.5M expected - an indication that workers are NOT coming off the sidelines despite what should be a lot of Census hiring. In addition to the 4.6M technically unemployed, we also have 5.7M people who are now collecting "emergency and extended benefits." "The pace of job losses has slowed dramatically," Federal Reserve Bank of San Francisco President Janet Yellen said in a speech in Los Angeles on March 23. "What I fear is that unemployment will stay high for years." Don't forget that these figures are AFTER Obama's March 18th $18Bn jobs bill…
China was down a point, India was up a point and the Nikkei was flat. The Hang Seng dropped to 20,778 and the Shanghai finished at the low of the day, just over the 3,000 line at 3,019, so tomorrow's action will set the tone for the weekend. Commodity pushers led China lower with PetroChina (NYSE:PTR) missing big as 2009 net income dropped 9.7% on falling oil prices (38% below 2008's average) but the company is optimistic that they can really stick it to consumers in 2010 and get back on track for some record profits. "The main advantage that PetroChina has over other international oil majors is China itself," said Neil Beveridge, an energy analyst at Sanford C. Bernstein Ltd. in Hong Kong. "While other companies are struggling, you have increasing demand for oil and a huge potential demand for gas."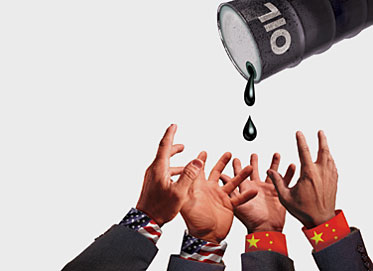 PetroChina spent more than $5 billion last year obtaining oil and gas resources abroad to help meet demand. The deals included the purchase of a stake in a Canadian oil sands project for $1.7 billion in August. "The expansion overseas will be a continuing trend," said Victor Shum, an analyst at Purvin & Gertz in Singapore. "One of the government's priorities is energy security and it's inevitable that PetroChina's profile overseas will increase as it secures the oil the country needs."
Speaking of China, it's fun to read the China Daily's spin on the Google (NASDAQ:GOOG) situation from the article with the self-explanatory titile "Google Has Become But A Political Tool, Overseas Netizens Say":
Google Inc formally announced on March 22 it will end its self-censorship of harmful information in accordance with Chinese law by redirecting traffic from its Beijing-based search engine to its service in Hong Kong… Many netizens say Google has degenerated into a US government tool to seek hegemony. Helen from the UK said that "it is well known internationally that Google's initial start-up was funded by the CIA. Besides, Google now has links to all the U.S. Intelligence agencies, which is a well publicized fact." Australian netizen James added that "Google has finally shown its real intent! That is to use the Internet to subvert and control China. I suppose China and its citizens will not agree to hand over this control of information to Google and let it use it as a tool to carve up the Chinese nation." American netizen John said that even in the US, Google practices censorship. "In the US, Google is obeying the Patriot Act, which means that it is spying on the email of an unknown number of people without their knowledge and without a court order as I understand it.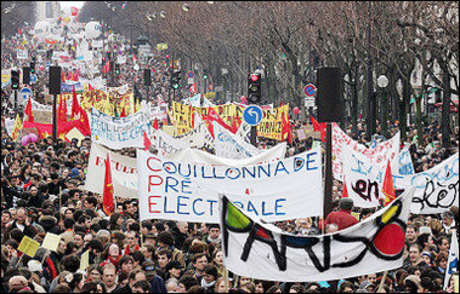 EU stocks are flying ahead of the US open, up about 1% and testing their 17-month highs on the Greek news. The UK chipped in with strong retail sales, posting the best numbers in 2 years so nothing to sneeze at there - maybe there is something to this recovery stuff after all? French consumer spending, on the other hand, fell for the second consecutive month as companies there continue to cut jobs, which is very annoying for the workers because then they have nowhere to strike outside of. UK rail workers are adding to the confusion with their own strike and British Airways is still having walkouts so it's no wonder UK spending is up - they are all trapped on that island with no way off (have you ever seen one of those Survivor auctions - they'll buy anything!).
So a very exciting morning and it's a very good thing we took our money and ran on oil (see yesterday's post) and we even added bullish plays on the DIAs and UGL yesterday since we are certainly getting used to how this game is played. We may have to lighten up on our beloved TBTs but we'll wait until the 1pm 7-year note auction since the 5-year was such a disaster yesterday and gave us such a good boost.
In my morning Alert to Members yesterday I pushed the target for a possible "Black Monday" back to April 5th, which is not to say we'll be complacent this weekend but there's no logical reason for a drop this soon and, if we can escape damages there, then we may be able to move up on real earnings starting April 12th and I will be as surprised as anybody if we have to begin re-deploying our cash to the upside of 11,000 but - what can you do? In 1999 we knew it was all going to fall apart but that didn't stop us from buying things in October that doubled by December - the trick is knowing when to quit!