The SPDR S&P 500 (NYSEARCA:SPY) will navigate a short week ahead and one light of economic data. As a result, it should be influenced by international factors and corporate earnings news as much as anything else. The SPY also continues to fend with capital flow factors as investors take profits post the turn of the year on the superior performing ETF and underlying stocks.
Brief Look at History
| | | |
| --- | --- | --- |
| Market ETF | Year-to-Date | Last 12 Months |
| SPDR S&P 500 | -0.6% | +23.8% |
| SPDR Dow Jones (NYSEARCA:DIA) | -0.8% | +20.6% |
| PowerShares QQQ (NASDAQ:QQQ) | -0.1% | +31.0% |
On the year, stocks are still in the red, but off their lows. Last week, stocks had a tumultuous run as individual retailers had some tough news to report before monthly retail sales gave life again to stocks on Tuesday.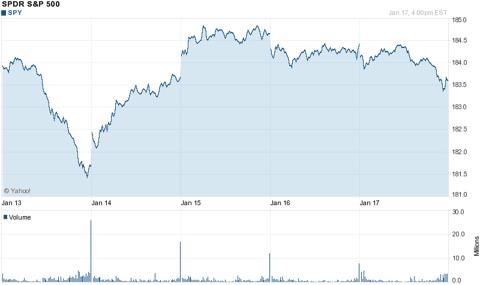 Economic Factors this Week
The economic factors are light this week, and they are all focused on Thursday. Market moving data points include Existing Home Sales and Leading Economic Indicators.
| | | | |
| --- | --- | --- | --- |
| Economic Data | Date of Report | Prior Result | Consensus |
| PMI Manufacturing Index (Flash) | Thursday | 54.4 | 55.0 |
| Existing Home Sales (Dec.) | Thursday | 4.9 M | 4.9 M |
| Leading Economic Indicators (Dec.) | Thursday | +0.8% | +0.1% |
The PMI Manufacturing Index's first reporting for the month of January is expected to show improvement. Signs of economic improvement can only support the SPY here, as it is under pressure tied to the Fed's recent shift in asset purchasing activity. Unfortunately for SPY holders, the PMI data is about the only place improvement is expected to show up this week. Leading Economic Indicators (LEI) for the month of December is expected to inch just slightly higher, with a 0.1% gain expected versus November's 0.8% improvement. Existing home sales is expected to hold flat at an annual pace of 4.9 million sales.
Looking at the regular economic reports for weekly jobless claims, consumer comfort and mortgage activity, there's not much more to write home about. Jobless claims are expected to tally at about the same pace as last week. The once steadily improving flow of claims has leveled out, so more of the same is probably not going to be received enthusiastically. Bloomberg's Consumer Comfort Index deteriorated last week to -31. On Friday, the Reuters/University of Michigan measure also showed deterioration, raising concern about troubled retailer shares. Mortgage activity increased sharply last week, but we debunked it and are not expecting much more this week. So, unfortunately for SPY longs, economic data is not going to be especially supportive this week.
International Catalysts
China reported its full-year GDP growth for 2013, and while it beat the government's target by two-tenths of a point, the 7.7% growth rate was still trending lower. In 2012, GDP grew 7.7% and in 2011 it grew 9.3%; expectations are for further slippage in 2014, to a rate of 7.4%. So much for finding support for U.S. stocks from overseas markets this week. However, the IMF is expected to lift its global economic forecast on Tuesday. More catalysts could come from the Bank of Japan monetary policy meeting on Wednesday or the ECB Governing Council meeting that same day.
EPS Catalysts
Many major EPS reports are scheduled for this week, including from Microsoft (NASDAQ:MSFT), Verizon (NYSE:VZ), IBM (NYSE:IBM), Procter & Gamble (NYSE:PG), Johnson & Johnson (NYSE:JNJ), Netflix (NASDAQ:NFLX), McDonald's (NYSE:MCD) and Starbucks (NASDAQ:SBUX). We discussed our expectations for Microsoft and Verizon in separate articles linked to here.
Microsoft is of particular interest to SPY holders, as the supplier of business infrastructure, or software you know as Windows, measures the spending of businesses pretty well. Good news here means good news for stocks generally and so the SPY. For the same reason, you will want to pay close attention to the report from IBM.
We will also get a bead on consumer spending from the results of McDonald's, Netflix and Procter & Gamble, but because P&G offers consumer staples, it is somewhat insensitive to shifts in economic activity. McDonald's has very serious competitive issues that may come to play in its report, and Netflix is in a very dynamic business including too many catalysts to read economic conclusions from. So, IBM and Microsoft will offer you the most to work with this week.
Capital Flow Factor Fading
That capital flow factor we quoted as the reason to Sell the SPY on High on New Year's Eve has got to be fading as the month ages. Those who would have taken profits on the big gainers of 2013 will have done so by now. Still, some investors are likely seeing declines in their shares this year, and the somewhat suspect EPS reports of companies like Citigroup (NYSE:C) and General Electric (NYSE:GE) likely have them reconsidering their own positions elsewhere. This could contribute to capital continuing to flow out of stocks and into other beaten down ideas like gold for a bit longer. The SPDR Gold Shares ETF (NYSEARCA:GLD) got another boost from poor employment data recently and grew legs to run further.
In conclusion, I see little upside catalyst for the SPDR S&P 500 this week, and instead see ongoing reason to wait out this early test of 2014 a bit longer before going long stocks again. So, I'm suggesting avoiding the SPY ETF this week.
Disclosure: I have no positions in any stocks mentioned, and no plans to initiate any positions within the next 72 hours. I wrote this article myself, and it expresses my own opinions. I am not receiving compensation for it (other than from Seeking Alpha). I have no business relationship with any company whose stock is mentioned in this article.