Last week was not a great one for those invested in SodaStream (NASDAQ:SODA). The company that allows you to make your own soda and other beverages at home issued a fourth quarter revenue and profit warning. Shares plunged on Monday and hit a new 52-week low, barely able to recover more than a dollar by the end of the week. Obviously, this development was not a welcome one for those that believe in the future of this company. However, this stock may have been punished just a little too much. Today, I'll examine whether SodaStream's punishment fits its crime.
The warning:
Before I get into the details of last week's announcement, let's take a trip back to the company's third quarter report. SodaStream beat on the bottom line but missed on revenues, something that was a bit unusual for the name, and shares fell. More on that later. But it was at the third quarter report where the company maintained its guidance for 2013, which was as follows:
The Company now expects full year 2013 revenue to increase approximately 30% over 2012 revenue of $436.3 million.
The Company now expects full year 2013 Adjusted net income, which excludes share-based compensation expense, to increase approximately 30% over Adjusted net income of $50.0 million reported in 2012.
The Company expects full year 2013 net income to increase approximately 23% over 2012 net income of $43.9 million.
Analysts got a little skeptical after the Q3 revenue miss, taking down revenue growth estimates from 30% ($567.26 million) to 29.3% ($564.32 million) by the time that SodaStream warned. Additionally, analysts took the EPS estimate average down to $2.57 from $2.63. SodaStream issued a small revenue warning, but a big profit warning. Here are the details:
Revenue to be approximately $562.0 million.
Adjusted net income to be approximately $52.5 million.
Net income to be approximately $41.5 million.
Daniel Birnbaum, CEO of SodaStream, provided the following statement in the press release for the warning:
"Despite achieving all-time record sales, we failed to deliver our profit targets and are disappointed in our fourth quarter performance. These preliminary results reflect a challenging holiday selling season in the U.S. and several factors, mostly from the second half of the quarter that negatively impacted our gross margin. These include lower sell-in prices and higher product costs, a shift in product mix versus plan, and unfavorable changes in foreign currency exchange rates. While we expect some of these headwinds to continue into the first half of 2014, we are moving quickly to implement the necessary measures to restore margins to historical levels in the coming year. We remain confident that despite this setback, we will continue to profitably expand our share of the global carbonated beverage category and are on the right path to meet our long-term goals."
The new revenue number is for about 28.8% year over year growth. That's not exactly a bad year, but it was the net income issue that was the problem. Since the warning, analysts have taking down their estimates for revenues to $561.95 million, or 28.8% growth. The big take down is the average EPS estimate, which has dropped from $2.57 to $1.94. At this point, it appears that SodaStream will report a 2013 drop in earnings per share from 2012 levels of $2.09. Yes, a company with nearly 30% revenue growth is going to show a decline in earnings. That's not a good sign.
2013 was still a record revenue year:
Perhaps lost in the discussion was that this still was a great sales year for SodaStream. If you go back to my 2013 predictions, I went out on a limb saying that SodaStream would have revenues of more than $525 million for the year. At that point, the average estimate was for $498 million in 2013, and the highest estimate on the street was $524 million. I ended up having to raise my target a couple of times. Even with the warning, SodaStream still came in at $562 million. In terms of sales, this was not a bad year. Additionally, revenue growth was still ahead of the projections the company made at both last year's Q4 report and the Q1 2013 report. The following table shows SodaStream's 2013 guidance throughout the year. The net income numbers are rounded to the nearest tenth of a million, and the stock price number is the day before each report or the warning.

In the end, revenue growth ended up almost right on target, but it was the net income numbers that really killed things. A $10 million miss on original guidance was magnified by guidance raises throughout the year. It is interesting to note that the stock price was down a bit since the Q3 report going into this warning, which makes the associated reaction worth examining. I'll get to that a little later.
Short interest always elevated:
One of the most interesting items when it comes to SodaStream is that there has always been a large contingent of non-believers. SodaStream has always had an extremely high short interest. During the second half of 2012 and early 2013, short interest fell by more than 40%. However, short interest rose in the second half of 2013, as seen in the chart below.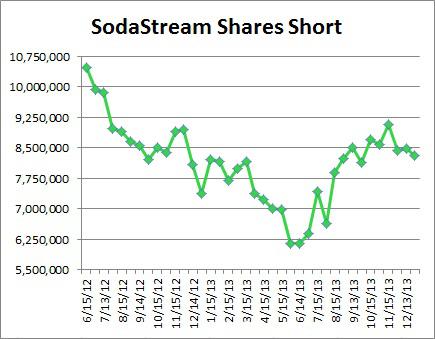 So what do these numbers all mean? Well, at the end of 2013, SodaStream had just over 8.3 million shares short. According to Yahoo! Finance, the company has an outstanding share count of 20.83 million shares and a float of 17.55 million. That means that roughly 40% of the outstanding share count and more than 47% of the float are short. These are tremendously high numbers. The days to cover ratio, which measures the number of days it would take all shorts to cover, has been mostly in the high single digits or low double digits for most of the recent short interest updates. It would take all short sellers multiple weeks to cover all of the shares short.
The key takeaway here is that SodaStream is a very highly shorted stock. That means that on good news, a short squeeze is definitely possible. On bad news however, this low float can really hurt the stock, as we saw last week. I'll be curious to see the end of January update on short interest for SodaStream, which we will get on February 11th. This update will show the associated reaction to the warning, with about 2-3 weeks of trading post-warning. If the number of shorts stays this high, and the company announces a decent 2014 forecast, it is possible that a short squeeze could recoup some of the recent losses.
Reaction to stock price:
SodaStream, with its low float as I discussed above, has always been a volatile stock. In late 2010, the company went public in the US at $20 a share, and rallied strongly to nearly $80 a share during the summer of 2011. However, a less than impressive earnings report sent shares spiraling downward, and the company spent most of the next year plus between the high $20s and low $40s.
In late 2012, the stock started to rally, along with the rest of the market. With great results in early 2013, the stock soared to nearly $80 a share during intra-day trading. Shares were actually in the high $80s (and maybe even higher) during pre-market trading one day when rumors were flying about the company being bought out. I warned investors not to jump into the frenzy then, and that was a very wise statement.
Shares came down a bit throughout the 2013 summer, mostly in the $55 to $70 range until that revenue miss at the Q3 report. That sent shares into the low $50s. Unfortunately, it also set up a dreaded technical event known as the death cross. This occurs when a short-term moving average, usually the 50-day, crosses below a longer-term moving average, generally the 200-day. You can see how this pressured shares the last couple of months in the chart below.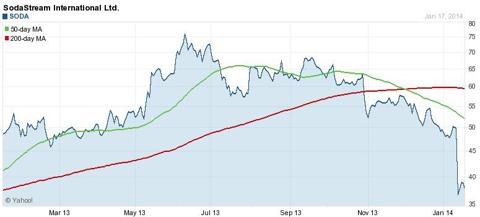 (Source: Yahoo! Finance)
Last week's warning really broke this name. Shares plunged from $50 to just over $36, and now trade a little above $38. SodaStream is now down 51% from that intra-day 52-week high, and even more if you count the pre-market trading on those false buyout rumors. The last time shares were at these levels, revenues were a lot lower. Unfortunately, investors care more about profits at the moment, and with a large miss, this name was going to be punished.
Does the valuation fit?
When trying to analyze SodaStream, there isn't another company that does exactly what SodaStream does. The closest comparison name that many talk about is Green Mountain Coffee Roasters (NASDAQ:GMCR). Green Mountain allows people to make single serve coffee at home with the Keurig k-cup systems. SodaStream allows people to make their own soda at home. In the past, these two names have been grouped together in the momentum crowd, and at times, they've traded in step with each other. Obviously, when looking at a soda company, you could compare SodaStream to the big soft drink and beverage names: Coca-Cola (NYSE:KO), Pepsico (NYSE:PEP), and even Dr. Pepper Snapple (NYSE:DPS). In the following table, I've provided a comparison of current 2014 growth estimates and valuations.

*GMCR numbers are for fiscal year ending in September. GMCR earnings numbers are non-GAAP.
When it comes to growth, SodaStream offers the most. SodaStream is the smallest name, and the company does not offer a dividend and or buyback like the other four names. The numbers above are as of Monday, meaning analysts have already taken down their estimates quite a bit. Since SodaStream's Q4 warning, 2014 revenue estimates have been reduced from $671.89 million (19.1% growth based on the 2013 estimate then) to $654.86 million, which is 16.5% growth based on the current 2013 estimate. EPS estimates for 2014 have been reduced from $3.28 to $2.32.
Even at those lower projections, SodaStream is still a bit cheaper than the pack. SodaStream trades at a cheaper basis on 2014 P/E values, and a much larger discount on P/S. Even if estimates come down a little further for SodaStream, the company will still be trading at big discounts to the others. I think SodaStream could be an compelling investment at these valuations, especially with a fair amount of growth. However, SodaStream will need to issue a solid round of 2014 guidance at its earnings report, or the stock will probably get hit again.
Final thoughts:
SodaStream's Q4 warning was a surprise to investors and sent the stock plunging. While revenue growth is still decent, concerns over profitability have EPS estimates being sliced and diced. While some share price decline was justified given the unimpressive Q4, this stock has been beaten mightily over the past six months. While I didn't like this name at $80, it looks a lot better under $40. I wouldn't rush right in as this stock could go lower, but with a large short interest number, any good news could push this name much higher quickly. SodaStream's growth story has taken a hit, but I think the punishment was a bit of an overreaction.
Disclosure: I have no positions in any stocks mentioned, and no plans to initiate any positions within the next 72 hours. I wrote this article myself, and it expresses my own opinions. I am not receiving compensation for it (other than from Seeking Alpha). I have no business relationship with any company whose stock is mentioned in this article.
Additional disclosure: Investors are always reminded that before making any investment, you should do your own proper due diligence on any name directly or indirectly mentioned in this article. Investors should also consider seeking advice from a broker or financial adviser before making any investment decisions. Any material in this article should be considered general information, and not relied on as a formal investment recommendation.