Many investors prefer Coca-Cola Co. (NYSE:KO) to PepsiCo Inc. (NYSE:PEP). This is true for both the drink as well as the stock. Yet, every Messi needs a Ronaldo, every James Bond a Dr. No, or if neither sparks your imagination, every Batman needs a Joker. Pepsi is the other big player in carbonated soft drinks, but it is more than that. Here are six reasons to consider adding Pepsi to your portfolio:
1. Pepsi trades at a discount to historical valuation
Pepsi is trading at a discount to its historical valuation. Meanwhile, the company is in an industry at low risk of creative destruction, with significant growth opportunities. In the history of the company, Pepsi destroyed the market on a total return basis. Over the past five years... not so much. This creates a relatively interesting situation to initiate or add to a position.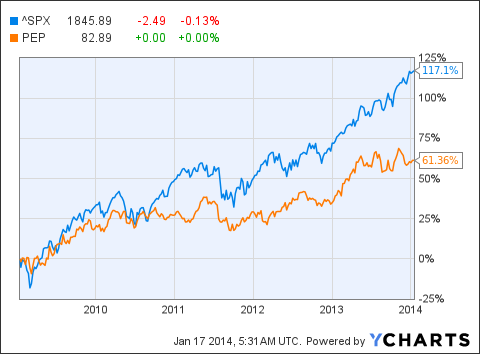 Compared on a relative basis to competitors like Coca-Cola, Dr Pepper Snapple Group (NYSE:DPS) and Monster Beverage (NASDAQ:MNST), Pepsi is attractively valued as well. Especially if you consider how strong a position Pepsi holds in this market. To show its relative value, I've compared the companies by Enterprise Value/Free Cash Flow: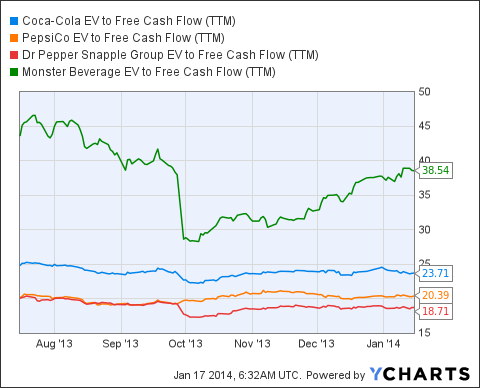 KO EV to Free Cash Flow (TTM) data by YCharts
2. World leader in salty snacks
PepsiCo is actually the world's largest provider of salty snack food. On the back of its Frito-Lay division with brands like Lay's, Doritos, Cheetos and Fritos, it serves 40% of the world demand for salty snacks. Being the number one in a market is great for one reason: It allows a firm to drive economies of scale. This means it can acquire a competitive advantage, as smaller competitors will not be able to offer a similar value proposition to consumers. This leads to further expansion of market share or excess return on capital.
In many ways, Pepsi loses out to its big brother Coca-Cola, but one area it may be ahead a little is in the health drinks market. The Pepsi-owned Tropicana, Quaker, and Gatorade brands are already strong footholds in these markets. Coca-Cola will probably manage to successfully position itself in time to better match consumer demand when necessary, but will need to do more acquisitions. Right now, that's no problem but when the market starts overheating, it can be hard to acquire at fair prices.
3. Distribution network
Coca-Cola owns an unrivalled distribution network that spans over 200 countries. An infrastructure that is extremely difficult and costly for new entrants to the business to acquire.
Pepsi admittedly lags Coca-Cola in the scope of its distribution network. However, the company smartly uses its existing distribution business to sell a diversified portfolio of food and drinks. The infrastructure required to attain the same economies of scale it derives from this distribution system would be extremely costly for competitors to duplicate, and serves as barrier to entry.
If it were just costly it wouldn't be a sustainable competitive advantage, but this distribution network is the basis for an economy of scale advantage that makes it very hard to get your foot in between the door.
4. The brand
If you occasionally read my articles, you might be aware that I have very little faith in companies basing their competitive advantage on a brand. You can always build a brand given enough capital or at least encroach upon its territory. Even a firmly-positioned brand already in place requires investment to keep it valuable. These costs drive excess returns down. If they don't, it becomes feasible for competitors to start building similar brands. You see it happening all the time.
In the end, the brand drives little additional return. However, if you can buy into a built-up brand at prices far below what it would cost to build it, you still have an interesting proposition. I think right now, the Pepsi-owned brands can be considered temporarily discounted.
5. Insiders increasing holdings
Pepsi's CEO Indra K. Nooyi owns ~$50 million worth of shares. That is a satisfactory number and enough to instill ownership behavior. However, given sizeable CEO compensation, holdings are only ~4x compensation, I would feel even better if this number was slightly higher. Overall, insiders increased their Pepsi holdings by 28% TTM. Given that the stock has been trending ever so slightly higher, this is quite a positive signal.
6. Valuation
When I value Pepsi according to the discounted cash flow method that I usually use in my articles, the company appears to be significantly undervalued.
A few of the key inputs rely on Pepsi being highly likely to remain a dominant player both in the carbonated soft drink market as well as the salty snack food market.
In addition, I expect management to be able to grow and build out the business as they have in the past. Primarily by plowing a sizeable amount of cash flows back into developing markets.
As in most of my articles, I've taken Pepsi's cash flow and performed several discounted cash flow calculations. Depending on the exact inputs, my calculations show a net present value of Pepsi per share between extremes of $73 and $235. Most likely, intrinsic value is somewhere in between. I suspect Pepsi is about 50% undervalued. $73 and $235 represent the outcomes of discounted cash flow calculations with respectively optimistic and pessimistic (but at least somewhat plausible) assumptions. My drawing skills are incredibly underdeveloped, but I still tried to visualize it: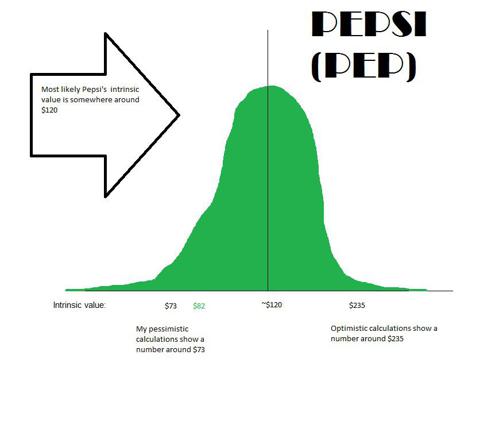 Both calculations are based on Pepsi's current cash flow. I've also assumed the company has real staying power. I took into account cash flows as far as 10 years into the future. I think that's reasonable, as I see very few threats to the human need to sustain itself. I expect Pepsi to be around even in negative scenarios.
The more optimistic calculations rely on Pepsi returning the same kind of cash to shareholders, as it has done in the past, and manage to keep its substantial growth up. I don't think that's very likely either, as there are some headwinds. For example, the company is now much larger, and in the European and U.S. market there is a lot of talk about health. Although the company will be able to serve that need, currently it's not a perfect match.
If the company manages to do worse than it did historically but still manages to do better over time than most companies in the S&P 500 because of its real competitive advantage, then the intrinsic value is somewhere between my optimistic and pessimistic figure. This leads me to believe that Pepsi is discounted perhaps as much as 50%.
Disclosure: I have no positions in any stocks mentioned, and no plans to initiate any positions within the next 72 hours. I wrote this article myself, and it expresses my own opinions. I am not receiving compensation for it (other than from Seeking Alpha). I have no business relationship with any company whose stock is mentioned in this article.