Best Buy (NYSE:BBY) was thrown under the bus over the last two trading days amid weak holiday sales. Best Buy was trading at $37.57 on January 16, 2013 and now, after two trading days, quotes at $24.43: A breath-taking evaporation of 35% of Best Buy's market capitalization. Reason for the slaughter was disappointing retail sales data that was released by the company on January 16 and caught investors off guard. The ensuing market sell-off can without a doubt be characterized as hysteric. Shares of Best Buy were thrown on the market without regard of their intrinsic value and without investors placing the retail sales data into proper context. The chart below shows the force behind last week's mindless sell-off: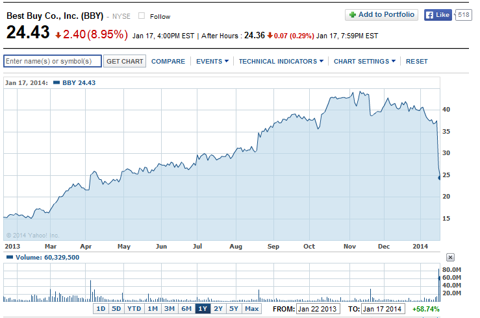 Despite last week's meltdown, shares of Best Buy are still up 59% over the last year. I think that a large part of Best Buy's share collapse last week has happened because many investors are sitting on healthy profits and they use any sign of weakness to secure those profits. The company has achieved an impressive turnaround during 2013 and Best Buy shares returned more than 270% from January to November 2013. Shares have been consolidating since November amid uncertainty about Best Buy's holiday performance.
Many investors probably sold their shares due to stop loss limits to protect their gains which in turn caused a downward spiral in Best Buy's share price. In any case, the market reaction appears to be hysteric and panicky. I compare the Best Buy sell-off to the sell-off in shares of potash firms in July 2013. Both sell-offs came unexpectedly, with extreme force and based on news that carried little information.
Background
Best Buy is an electronics retailer that is in cut-throat competition with companies like Amazon (NASDAQ:AMZN) and Wal-Mart (NYSE:WMT). Both companies have significant economies of scale and are willing to run low-margin business concepts in order to grow the top-line and increase market share. The intense rivalry in the industry caused Best Buy to restructure its business in 2013 by closing unprofitable stores and revamping old ones. And the strategy seemed to pay off: Best Buy provided good comparable store sales data in the third quarter: Comparable store sales increased 0.3% in Q3 2014 compared to a minus of 5.1% in Q3 2013. Domestic comparable store sales increased 1.7% vs. (4.0%) last year. After the company presented third quarter results in November, I have written the article 'Best Buy: Should You Still Buy the Turnaround At $39 Per Share' in which I argued that investors should not pursue an investment in this retailer mainly because of low industry profitability and a comparably high valuation relative to operating profits.
What were the bad news that triggered the recent meltdown?
Best Buy basically presented weaker-than-expected results for the last holiday period. The company posted negative domestic comparable store sales growth of 0.9% compared to 0.0% in the same period last year. Comparable store sales in Best Buy's international segment improved marginally by 0.1% vs. a 10.3% decline last year. Overall, comparable store sales declined 0.8% for the nine weeks ending January 4, 2014 but the decline was not as high as last year's 1.7%. Total revenues for the holiday period declined 2.6% to $11,451 billion compared to $11,751 last year while heavily watched US revenues declined 1.5% to $9.8 billion.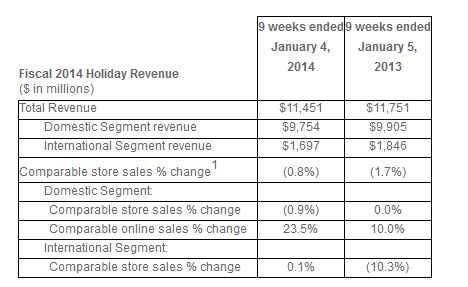 A second point of concern related to Best Buy's expected margin development. Best Buy president and CEO Hubert Joly commented on the intensity of retail competition and the reliance on promotional activities to drive sales growth [emphasis added]:
When we entered the holiday season, we said that price competitiveness was table stakes and an intensely promotional holiday season is what unfolded. In both channels, the promotional intensity that began with Black Friday continued throughout the period, which led us and our competitors to answer one question - do we make the incremental investment necessary to be price competitive and defend our market share? For us, there was only one answer. To advance our Renew Blue transformation, it was imperative that we live up to our customer promises - and one of these promises is to offer our customers competitive prices. This investment in pricing did come with a higher-than-expected cost, and we now estimate our fourth quarter non-GAAP operating income rate will be 175 to 185 basis points lower than last year. However, our price competitiveness combined with our improved customer experience both in-store and online, as demonstrated by a 400 basis point improvement in our Net Promoter Score, resulted in a market share gain in an industry that NPD says declined 240 basis points during the holiday period.
Investors react utterly allergic to declines in comparable store sales data as they immediately seem to detect a major, lasting impact on profitability. J.C. Penney's (NYSE:JCP) struggle with contracting revenues has overly sensitized investors with respect to comparable store sales growth. What many investors get wrong is that growth isn't linear. There are up- and downs in any data set that can be construed to depict a trend: Unemployment data, inflation rates, GDP growth or store sales growth. Bumps in the road and occasional setbacks are a part of reality and not every minor step backwards translates into a looming company collapse.
Conclusion
Rational investors need to ask this question: Does a less than 1% negative domestic comparable store sales growth rate and a lower margin outlook justify a 35% destruction of equity value? The clear answer is no. It is very likely that the hefty market reaction resulted from a combination of herding behavior, profit taking (partly precipitated by stop loss limits) and hysteria. Speed and force of Best Buy's correction suggest that panic played a key role in it which, to me, is a clear sign that the market exaggerates the implications of the press release outlined above. Investors in the retail space suffer from what I call 'J.C. Penney-paranoia'. J.C. The recent sell-off offers hardened contrarian investors with a stomach for volatility a chance to pick up a leading retailer at a significantly lower valuation and benefit from unreflected herding behavior.
Disclosure: I have no positions in any stocks mentioned, but may initiate a long position in BBY over the next 72 hours. I wrote this article myself, and it expresses my own opinions. I am not receiving compensation for it (other than from Seeking Alpha). I have no business relationship with any company whose stock is mentioned in this article.