Last week, chip giant Intel (NASDAQ:INTC) reported its fiscal fourth quarter and full year 2013 earnings. The report and corresponding 2014 guidance combined to be a complete dud. There was too much excitement going into this report, which sent shares to an unreasonable level, forcing a fairly predictable selloff on Friday.
One of the main reasons I have highlighted as part of Intel's troubles in recent years was that the company had way too many operating expenses. While revenues were fine, the company just spent too much. Intel has had some restructuring expenses lately that have pressured results in late 2013, and will also affect the company in 2014. On Friday afternoon, Intel confirmed that it would be reducing its headcount by roughly 5% in 2014. This is a very interesting development for the company, and is something I believe will be critical to Intel's success over the next few years. Today, I'll explain what the restructuring means for investors.
Employee count soaring:
While I'm not arguing that a company shouldn't hire workers, the company needs to make sure it hires the right number of employees. Yes, I understand that can be very difficult, but that is why management gets paid the big bucks. Intel has certainly increased the size of its workforce in recent years, as seen in the chart below.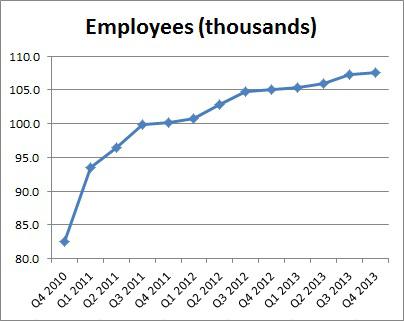 In three years, Intel has gone from 82.5 thousand employees to 107.6 thousand. That's quite a large jump. Even in the last two years, Intel is up by about 7.5 thousand employees. While a roughly 7.5% jump in employees doesn't seem like much, it's a big deal when you have declining revenues. I'll detail why in the next section.
Too many expenses:
If a company is growing its revenues, it should be able to withstand extra expenses and keep margins steady. But when you have declining revenues and rising costs, it's a two-fold negative. This has been the problem for Intel over the past two years. In the table below, I've provided Intel's revenues along with its three main expense categories: the cost of revenues, research and development expenses, and marketing, general, and administrative expenses. The table shows how both the actual costs, as well as the percentage those costs represent in terms of revenues, have really jumped in the past two years. Dollar values in millions.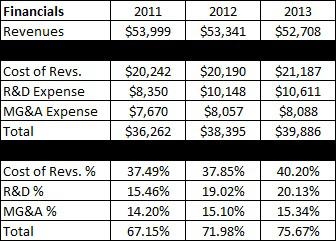 In 2012, the cost of revenues actually declined, although the decline in revenues was greater. However, Intel really ramped up its R&D expenses, as well as increasing its MG&A expenses. In 2013, all three of those expense categories rose even more, but revenues were down again. You can see how the percentage of revenues for these three categories have each jumped. This has had a dramatic impact on Intel's full year margins, as seen in the table below. Please note that Intel has other items that affect the operating margin and net profit margin (like the tax rate and amortization expenses). I'm just showing the most important expenses for now.

Companies that can keep operating expenses (not counting the cost of revenues) in check can withstand declines in gross margins. Apple (NASDAQ:AAPL) has been able to reduce its operating expenses as a percent of revenues in recent years, which has helped the company to partially offset gross margin weakness. Intel has not been so lucky. A huge jump in operating expenses has sent operating margins down by more than 900 basis points in two years.
2014 will be better, right?
Most investors were looking to 2014 as a turnaround year for Intel. The company is looking to dramatically expand tablet shipments, and many investors hoped that the PC market decline wouldn't be as bad. Normally, you would think that would help the company turn things around a bit. Well, Intel's guidance did not exactly impress. Intel first guided for flat revenues and 60% gross margins, barely above the 59.80% gross margin number for 2013. Intel's R&D plus MG&A expense guidance was $18.6 billion for 2014, which would only be a slight improvement over the $18.7 billion in 2013.
Here's where the restructuring comes in. Intel guided to $200 million in restructuring charges for Q1. In 2013, the company totaled $240 million of restructuring charges. It's quite reasonable to expect more restructuring charges throughout the year, so any improvement from the R&D plus MG&A expenses will be lost due to the restructuring charges. Intel did not give full year restructuring expense guidance. Now you can see why Intel guided for basically flat operating income at its Investor Day. Don't expect operating margins to show any improvement in 2014. Additionally, Intel guided to a tax rate of 27% in 2014, which would be up from 23.72% in 2013. It's actually possible that Intel's net income will be down further in 2014, which would mean a third straight yearly decline. Intel has already seen a more than $3.3 billion net income decline between 2011 and 2013.
Hopefully, Intel's restructuring will start to pay off in late 2014 or early 2015 with reduced operating and other expenses. If Intel can manage its employee count to be better in line with revenue growth, it would be beneficial for margins and investors. Like most restructuring efforts, this will hurt the company short-term but hopefully will improve the company's cost structure for the long-term.
No dividend raise?
When you combine the potential for lower net income, plus Intel's guidance for an additional $300 million in capital expenditures during 2014, it makes the argument for more capital returns harder. Intel has already slowed down its capital return rate. Intel bought back just $2.1 billion worth of shares in 2013, compared to $4.8 billion in 2012. A slowing buyback has resulted in a rising share count at times during 2013, compared to the declining share count investors were used to in previous years. Not getting the share count down is one reason I said that Intel missed Q4 earnings by a penny.
But most Intel investors are probably more concerned about the dividend. Intel did not raise its dividend during calendar 2013, and that got some investors a little worried. Well, as much as it pains me to say, I might have to eliminate my expectation for a dividend raise this year, which I already reduced. In 2011, Intel upped its dividend payout ratio from 33% to 40% of free cash flow. The following table shows some key statistics in terms of cash flow and dividends. Dollar values are in billions, and are rounded to the nearest tenth. We won't have 100% exact numbers until Intel releases its 10-K filing, probably in the next couple of weeks, but for this argument the numbers are close enough.

For Intel to get back to a 40% payout rate with the current dividend, free cash flow needs to rise by a billion dollars. With capex expected to be $11 billion in 2014, that might be tough for Intel, especially if net income is flat or even down. Intel is going to need some help from adjustments that add to operating cash flow. Increased depreciation add-backs will help in 2014, but other items might not. With Intel providing a very light forecast for 2014, I don't know if the company can get a billion extra in free cash flow, looking at the numbers now. That billion in free cash flow would just get the payout ratio to 40%. If Intel were to target 40% and raise the dividend, the company would need even more free cash flow. I'm not sure the company will do this, not until we get more clarity on how the tablet campaign is working. For now, I would not expect a dividend raise. If we do get one, it probably will be a penny per quarter at best.
How this impacts Intel as an investment:
There were some expectations, especially after all of the positive analyst notes leading up to earnings, that Intel might guide to some revenue growth in 2014. There is still plenty of time for Intel to have a good year, but for now, the forecast is for flat revenues. When you combine flat revenues, flat or maybe declining earnings, two straight years of disappointments, and no dividend raise, it makes Intel a tough buy for investors. Right now, there are a few other top tech names that give you a bit more, including Apple, Microsoft (NASDAQ:MSFT), Qualcomm (NASDAQ:QCOM), and maybe even Cisco Systems (NASDAQ:CSCO). The following table shows a growth and valuation comparison for these names.

*EPS and P/E numbers are non-GAAP.
In all of my articles before earnings, I was arguing that Intel needed to be more like Apple/Microsoft and less like Cisco. With Intel guiding for mostly flat revenues and expenses, analysts have started to take down their estimates, which could continue as we get more than just a few days away from earnings. Right now, Intel analysts are projecting less than a percent of revenue growth and a penny decline in earnings. Intel's forecast has pushed estimates closer to that of Cisco. Cisco already gave the kitchen sink treatment to its guidance, which is why Cisco estimates are so low. Cisco has room to beat, and the non-GAAP to GAAP conversion of Cisco's P/E puts Cisco's valuation around Apple's.
With Intel's estimates coming down, that makes the name a much less compelling investment, and this is especially true if there is no dividend raise this year. Microsoft trades at a slight discount to Intel, with a lot more expected revenue growth. Intel still does maintain a lead in dividend yield, but with a lack of growth. At the moment, it just seems outrageous to pay an 11% premium on Intel shares to Apple when Apple offers a lot more.
Now I certainly get the argument that Intel might have been conservative in its 2014 forecast. However, that was the argument back in November and nothing has changed nearly two months later. The company doesn't want to have to take down its forecast again and again like it did in both 2012 and 2013. However, there comes a point where this company needs to start delivering. As you can see from the chart below, Intel shares are still well above both the 50 and 200-day moving averages, and still up quite a bit in recent months. At the same time, Intel's estimates have been cut further to new lows. Something has to give.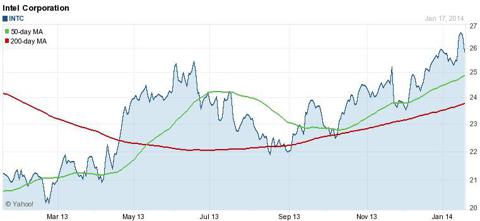 (Source: Yahoo! Finance)
Final thoughts:
Intel's employee count has skyrocketed in recent years, and the company has finally decided enough is enough. A restructuring plan will cut approximately 5% of the workforce this year. Hopefully, Intel will be able to reduce some of its operating expenses going forward. These expenses have jumped in recent years, which combined with declining revenues, have taken a large chunk out of margins.
Intel's weak 2014 forecast also puts the potential turnaround story into a bit of doubt here, and Friday's late day rally surprised me a bit. Intel is not delivering as expected, and the restructuring effort will pressure results for the near term. I think Intel remains a viable short candidate until shares reach at least the 50-day moving average, if not the 200-day. I can't see how this stock continues to rise with results that continue to disappoint.
Disclosure: I have no positions in any stocks mentioned, and no plans to initiate any positions within the next 72 hours. I wrote this article myself, and it expresses my own opinions. I am not receiving compensation for it (other than from Seeking Alpha). I have no business relationship with any company whose stock is mentioned in this article.
Additional disclosure: Investors are always reminded that before making any investment, you should do your own proper due diligence on any name directly or indirectly mentioned in this article. Investors should also consider seeking advice from a broker or financial adviser before making any investment decisions. Any material in this article should be considered general information, and not relied on as a formal investment recommendation.