Summary
So far, this year has not been hitting on all cylinders as economic data in employment and housing has not been ideal. With the Federal Reserve starting to pull back, the market has to defend itself with good data and good earnings. We do not have much data to go on this week, but we will have a very large, healthy slate of earnings. With stocks coming off a great year, the markets will need some very solid earnings to defend these gains and current valuations. Additionally, we have a busy week in overseas markets that we should watch. Key earnings to watch include Microsoft (NASDAQ:MSFT), Procter & Gamble (NYSE:PG), IBM (NYSE:IBM), McDonald's (NYSE:MCD), and eBay (NASDAQ:EBAY).
Chart Overview
The S&P (NYSEARCA:SPY) looks interesting right now to break out over 1850 line with support in the 1810-1820 area before the 50-day MA gives support at the 1800 line. The market is currently consolidating and confused as to where to go. A good week could lead to a breakout.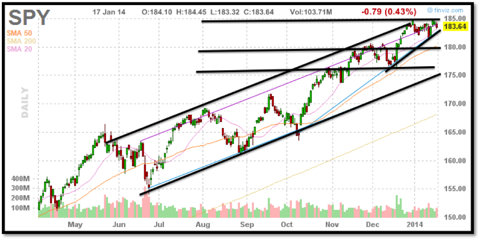 The Dow Jones (NYSEARCA:DIA) has resistance at 16500 right now with tight support at 16300 before we get support at 16100. The market is consolidating right now, and it looks interesting to either breakout or breakdown significantly right now.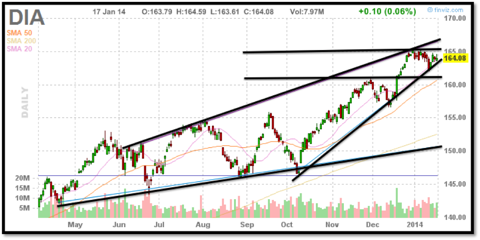 Economic Data
| | | | |
| --- | --- | --- | --- |
| Date | Data Report | Market Expectations | Previous Report |
| January 23 | Initial Claims - 01/18 | 327K | 326K |
| January 23 | FHFA Housing Price Index - November | N/A | 0.5% |
| January 23 | Existing Home Sales - December | 4.90M | 4.90M |
| January 23 | Leading Indicators - December | 0.2% | 0.8% |
It is a very light week of economic data with all of the important data coming on Thursday alone. Jobless claims, housing information, and leading indicators round out the data, and so it will be a week where economic data will likely take a back seat, giving way to an all-important earnings week. The housing information, though, should be watched. All signs have pointed to housing starting to weaken, and this data could confirm the trend or put some positive question marks on that theory. Jobless claims should be closely watched as well for their perspective on the employment questions that are plaguing the market.
Foreign Markets
Outside of the USA, Europe and Asia have busier weeks and with the insignificant data this week, some more attention will be paid to these areas. In the case of Asia, China has GDP data on Monday as well as key industrial and retail numbers. On Wednesday, we get the Bank of Japan monetary policy, which should be interesting. On Thursday, we get the HSBC/Markit Manufacturing PMI. China is very weak right now, and we need to see some progress here or the market could dip on this weakness. In Europe, we get the important German ZEW Survey for January that is always key to seeing how those countries are seeing their economic progress. On Wednesday, we will get some key unemployment data for Great Britain as well as French, German, Euro-Zone PMIs for January on Thursday.
Earnings
| | |
| --- | --- |
| Date | Key Company |
| January 21 | Johnson & Johnson (NYSE:JNJ) |
| January 21 | IBM |
| January 21 | Verizon (NYSE:VZ) |
| January 21 | Halliburton (NYSE:HAL) |
| January 22 | United Technologies (NYSE:UTX) |
| January 22 | eBay |
| January 22 | Abbott Labs (NYSE:ABT) |
| January 23 | Microsoft |
| January 23 | McDonalds |
| January 23 | Starbucks (NASDAQ:SBUX) |
| January 24 | Procter & Gamble |
It is a very important week of earnings. Not only will the news take the spotlight, but also it is also important that the market get some direction from the earnings reports. The market is searching for answers, and we cover a lot of industries and sectors this week. Some of the highlights have been listed above. We will get reports from medical to tech to cell phones to oil services to retail to food services. These reports are very important for the market, and we are excited to see how they all come out.
The report we will be watching most this week will be Microsoft. It is not the most important bellwether as that is likely PG, MCD, and JNJ. Yet, the report for Microsoft still has a very important amount of weight in the market. Further, this report could potentially be the chance for MSFT to announce their CEO, which has been closely watched. We will take a look at what are the key things to watch in this report as well as our predictions.
The last report for Microsoft was pretty solid. Earnings rose 17% and beat expectations for the market. The company reported solid sales of Office as well as server software. Yet, the company saw weakness in Windows as well as PC sales hurt them. Additionally, there was a lot of excitement around the Xbox One, Surface 2, and Windows phones. A revenue jump of 16% was also very positive for the company. Commercial revenue grew 10%, which showed strength in SQL Servers, cloud systems, and Lync. So, what is there to watch in this coming report? The three main figures we will be watching are:
- The growth of commercial revenue will continue to be very important as the company shifts to a new business model.
- The success of Xbox One is also very important to watch with this quarter giving the first results of the release.
- The deal with Nokia and how that is progressing along with the new phones and tablets.
- There is one wild card in a CEO being announced or at least more conversation around it.
Commercial revenue is definitely the most important part of Microsoft. While tablets, phones, and entertainment sometimes steal the headlines, commercial is what pays the bills. Conversation about how cloud, Windows, and servers are doing is crucial to the market understanding MSFT success. Licensing and subscriptions are the future for MSFT in many ways, and we are hopeful that the company will start to break this down further as it includes servers, online advertising, and cloud software. One of our favorites for the company is their Azure line. We want to see continued strong growth in cloud subscriptions, as we noted previously:
In the latest quarter, cloud commercial services saw 100% growth year/year along with expansion in gross margins on the back of strong action in Office 365 and Azure. What Microsoft is doing well is they are taking their popular and best-in-class Office products and developing them into a cloud presence in the way that Google has done with their similar Office-style products. Windows Azure is also helping as the company is offering cloud solutions to build, deploy, and manage applications from Microsoft data centers. Azure is offering everything from web sites to storage to application services to virtual networks and data transfers. Azure is a powerful solution that is part of the redefined Microsoft. Azure customers grew by triple digit percentage in the latest quarter.
One of the other highlights to watch will be how the Xbox One is doing. Reports out have shown that the One sold around 3M units in 2013, but they are being beat by over 4M in sales of Sony's (NYSE:SNE) PlayStation 4. The Xbox One has not launched in Asia and Europe, but it is mostly a USA-only system that does not garner a lot of attention in other nations. The earnings call should give more insight into how the system is doing and hopefully give us some outlook into 2014. Video games have been a much less popular voyage in the console setting over the last few years, and industry experts believe this could be the last major console release of this style for many years. If the company confirms this number or even higher, we should see some positive spin on the report.
Another item to watch is how the Nokia transition is going. The company could announce the completion of that purchase and will hopefully give more detail about how they will use Nokia's device business. The deal is to help Windows push their phone and tablet business, which they were late to enter. It is a pretty good deal because MSFT makes great software that people enjoy, while Nokia has always made good hardware with so-so software. Combining the two together made the successful Lumia phone, and it has helped MSFT capture 5% market share as of November 2013 versus 2.6% in the same month 2012. That growth of market share is crucial, and the company's phone results are a big part of the consumer device section. Additionally, the progress of the Surface 2 as well as any other new phones will be key to watch.
Finally, we will be interested to see how the CEO conversation develops if at all in the report. If there are any halts before the release, we may be seeing the Nokia deal is finalized or a new CEO is being announced. Right now, the leading candidates appear to be Nokia CEO Stephen Elop and Oracle President Mark Hurd. Bill Gates noted the person needs to be someone who can run a highly organized tech company for the next generation.
It will be an exciting report with a lot of changing parts to the company that we will be very interested to watch develop. We believe that if the company can see another solid high-single digit to double-digit commercial revenue with strong growth in the 60-80% range in cloud subscriptions will help set the stage. From there, the 3M number is the key to the One as well as conversation around it. Finally, if Nokia is complete that would help as well. Those are the three benchmarks we will be watching outside of typical EPS/revenue. A lot of attention will be paid to Windows and other sectors, but for us, those three things are about the next steps for the company and we believe they should be the most watched.
Fed Outlook
The Fed actually has a much needed quiet week. They have no speeches planned this week, and that will allow the market to digest earnings only. The Fed has confused many investors with a lot of various officials suggesting different plans for taper, the pace of taper, and how it should work. A more succinct, together approach would help the market a lot with knowing what to expect.
Conclusion
This week, we are watching the earnings of the market nearly wholly. What happens with key reports will shape the week. Data is limited and the Fed is quiet, so overseas acting as well as earnings take the attention of the market. With a consolidated market with tight support and resistance, a potential breakout either way could definitely occur if we get a large consensus good or bad from the key earnings reports we mentioned. Watch closely to see what guidance and items companies are paying most attention to.
Disclosure: I have no positions in any stocks mentioned, and no plans to initiate any positions within the next 72 hours.
Business relationship disclosure: I have no business relationship with any company whose stock is mentioned in this article. The Oxen Group is a team of analysts. This article was written by David Ristau, one of our writers. We did not receive compensation for this article (other than from Seeking Alpha), and we have no business relationship with any company whose stock is mentioned in this article.