Apple's (NASDAQ:AAPL) debut last week at China Mobile (NYSE:CHL), in which Tim Cook made a surprise appearance at a specific China Mobile location, was greeted with an ugly report from the New York Times' Eric Pfanner about Apple's supposed challenges in China. The report read as follows:
Instead of the round-the-block lines that have greeted Apple product introductions in China and other countries in the past, only about a dozen customers showed up to buy iPhones at the opening of a store in Beijing - despite the presence of a special guest, the Apple chief executive, Timothy D. Cook.
What followed was an unpleasant day for Apple's shareholders: a $12.9 billion selloff in Apple's shares, reflecting what could be investors' uncertainty about Apple's China presence and their willingness to listen to just about anyone for guidance. By the way, the $12.9 billion selloff reflected 1.5X more than the entire Greater China's operating income for the year 2013.
What does that mean in terms of valuations and opportunities?
If you've read my articles in the past, you know that I like to dissect valuations based on news stories as they arrive to see if a selloff is warranted, or if instead it creates an attractive opportunity. In this instance, Friday's session clearly presented such an unfair sell-off, and shareholders could take advantage of the inefficiency by dollar cost averaging into Apple if the unfair selloff further develops. Let's examine my reasons.
Is the NYT report true and are long lines representative of Apple's success?
First of all, the New York Times report, which mentioned that only a "dozen customers" showed up despite Cook's appearance seemed to contradict Cook's own photo below, in which clearly more than a dozen customers were greeting him. At first, I thought maybe the New York Times photo was taken at a different location, but it's clear that the location is exactly the same and the photo was taken around the exact same time. The New York Times photo appeared to be taken from an angle that seems to include only eight of these customers standing on either side of Cook (these same customers can be seen in Cook's photo).
See for yourself. The first photo below shows Cook's version and the second shows the New York Times' version. Perhaps New York Times concluded that the other 50 or more people in the store were not customers. I'm not sure.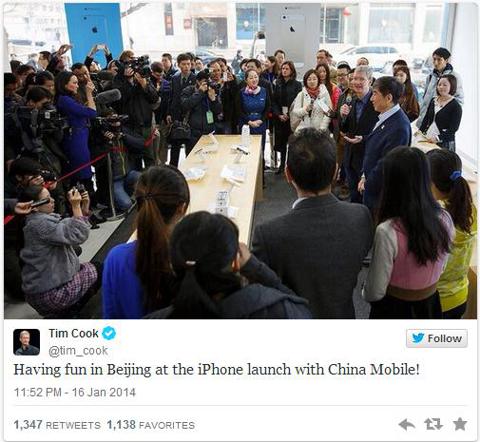 Click to enlarge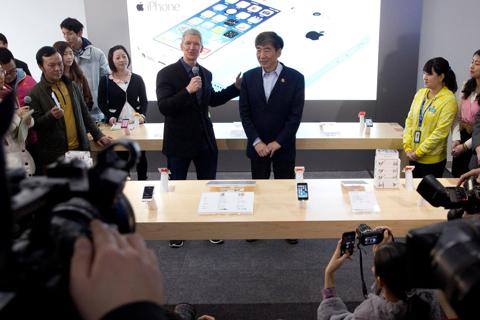 Click to enlarge
Regardless, I believe it's actually irrelevant if the store was packed at product launch or if journalists witnessed long lines. It has become a popular claim by some analysts and journalists like Pfanner, that long consumer lines are associated with consumer interest and success of an overall strategy. This erroneous association is drawn from Apple's past long lines that have coincided with incredible success of its overall strategy, and it is false for two reasons:
It is likely that these specific consumers contribute immaterial amounts to Apple's bottom line. For example, ever wonder how much those consumers forming long lines for iPads at the Apple store actually contribute to operating income? Let's take a look. The entire retail segment - that is all of Apple's products like iPads, iPhones, Macs, etc. - bought directly from the Apple stores, during its 365 day cycle in 2013, amounted to only $4 billion, or 8%, of Apple's entire $49 billion operating income. Let's assume that 45% of this $4 billion is derived from U.S. retail stores and as much as 40% of that comes directly from iPads (a generous assumption). At this point, we've accounted for $725 million which is derived from iPads sold at U.S. retail locations during 2013. Now, let's assume as many as 20% of the iPads are sold to consumers lining up the streets. That's $145 million. Not only is this a tiny fraction of all iPads sold, but it's less than half of 1% of Apple's $49 billion operating income. iPhones likely contribute slightly more, but not nearly enough to assume correlations between long lines and Apple's success!
Perhaps pundits assume that from a retailer's perspective, long lines mean additional future traffic. For example, if I see a media report that consumers are standing in lines to purchase a product, I'll likely rush to the store as well and purchase that same product. Right? No evidence exists that Apple's success is grounded in such a strategy. If that was the case, why not create a strategy entirely designed around longer lines. Give away cheap stuff at the stores during launches and create an all-out pandemonium. Or why create a surprise visit around the China Mobile launch, when Cook could have announced well in advance that he's coming to visit. That way, Apple could create this supposed "long line effect." Because the assumption is ridiculous and long lines are not what is moving this $500 billion behemoth. Why pundits use the "line effect" factor as some indicator of overall consumer interest is very strange, especially since in 2014, the products could easily be purchased over the web. In fact, everyone I've ever spoken to who owns any Apple product has never stood in these lines to purchase products.
From a consumer's standpoint, the lines have always puzzled me as well. The only way I can explain them is that perhaps they represent some sort of a sensation. One such example is Nike's limited-edition product launches. I've witnessed consumers camping out overnight in order to be among the very first to own these Nike products. Certainly we are not to conclude that somehow those few fans camping out pre-product launch are defining the billions of dollars in Nike's operating income. And if Nike is not attracting the same types of mega fan clubs in Greater China, surely that is not representative of Nike's future success in the region.
Why did Friday's loss of $12.9 billion create an opportunity?
One way to examine this $12.9 billion drop is by observing the specific news that led to the drop: China Mobile. Luckily, Apple segments Greater China by operating income. Its 2013 Greater China operating income was $8.5 billion. As the Greater China news was responsible for the entire $12.9 billion market cap drop, we can figure out how much of the value Greater China contributed towards market cap before Friday's open versus its contribution to market cap at Friday's close. If it's a little unclear at this point, keep reading.
Based on Friday's opening price, Apple's Market Cap/Operating Income multiple (excluding other expenses) was 8.5X (that is $499B/$59B) A sum of the parts valuation puts China at only a $72 billion Friday morning valuation. If Friday's selloff came primarily as a result of a series of China Mobile reports, then China's segment lost 18% of its entire value and is worth only $59 billion, as of Friday's close. That means if we assume that all other geographic segments are still valued at the same multiple, the China multiple drops to 7X!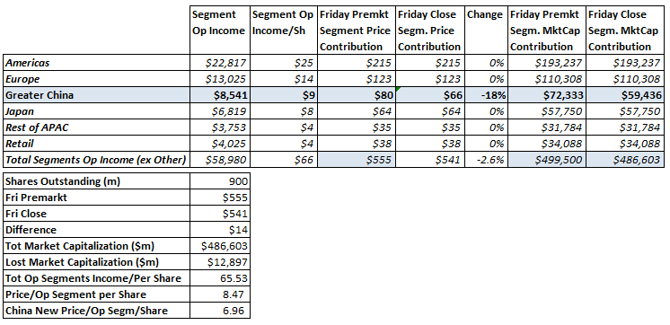 Click to enlarge
Let's explore further.
Apple's current expansion into China is not at all equivalent to its existing dominant presence in the U.S., and that's ok! In the U.S., The Company is seen as the absolute leader not only in the premium smartphone category, but in the overall smartphone category as well. As of 4Q 2013, for example, ownership of the 150 million U.S. smartphones was dominated by Apple, with a 41% market share (Samsung was at 25%). NPD paints a similar picture. According to NPD, as of 4Q 2013, Apple held a 42% share vs. Samsung's 26%.
The China market is much more fragmented, and in China, Apple's existing share of the smartphone market lags most other smartphone makers operating on tighter margins. Its market share of monthly sales reportedly leapt to 12% from 3% month/month in October 2013, before the deal with China Mobile was announced.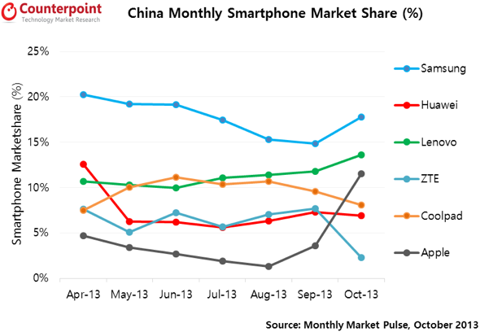 Click to enlarge
That was likely the result of strong iPhone 5S/5C sales at China Unicom/Telecom, and it presents a favorable story for Apple's future market share prospects. In fact, Cook announced that Apple sold more iPhones in China last quarter than ever before.
At the same time, pre-orders at China Mobile were tepid, equaling only 1.2 million units. That's understandable, since consumers were not told of the price prior to launch. On the other hand, of those who pre-ordered, consumers have the opportunity to cancel since the price was not yet revealed during the pre-order phase. The contract price turned out to be higher than that of China Unicom/Telecom, as China Mobile is providing a more advanced TD-LTE experience. Some pundits concluded that this is a negative signal for Apple.
My takeaway: The China Mobile pre-order/launch phase matters very little, since its outcome will be inevitable. Apple's growth. Let me explain why.
The market in China is still in development/growth stage. The expectation is for the smartphone market to grow from 360 million shipments in 2013 to 450 million shipments in 2014. That's 3X the size of the U.S. current market's shipments! It's true that the majority of these will be shipped by low margin providers (NOT Apple), but Apple could generate over a billion dollars in additional operating income (that's 8% upside!!) by capturing every additional 1% of the 450 million shipments at $650 sales/iPhone and 35% operating margins. That means that if Apple can successfully capture 10% of the China smartphone market in 2014, something that is now possible through China Mobile, the Company could generate $10.2 billion in operating income from iPhones alone, more than it currently generates for all products combined in its Greater China segment. If iPhones make up 50% of the operating income, this segment could easily reach $15 billion in operating income in 2014!
What's important at this point is not how many iPhones China Mobile will sell during the first days of launch, but that the China Mobile deal was announced in general. Let competitive forces (price wars, strategies, supply/demand) dictate how much of this premium product the Greater China segment can sell, given the product's popularity in and availability to an enormous population. As China's providers slash prices to remain competitive, they'll likely reach exponentially more price-sensitive consumers, as I've explained in a prior article! Heavy upside for Apple.
Conclusion
Apple's China story continues to create much volatility in the marketplace. My belief is that this creates attractive opportunities for those who believe that Apple's entry into China is only at the beginning of a long-term phase and is worth more than the $59 billion the market is currently awarding it. If Apple can successfully increase its Greater China operating income to $15 billion in 2014, at 8.5X Price/Operating Income per share, the segment could easily add an additional $60 billion in total market cap for the contribution of this segment alone. That on its own would bring Apple to a $600/share price target.
Disclosure: I am long AAPL, . I wrote this article myself, and it expresses my own opinions. I am not receiving compensation for it (other than from Seeking Alpha). I have no business relationship with any company whose stock is mentioned in this article.
Additional disclosure: This article represents MY views only and not the views of any company that I am affiliated with. This article is intended for informational and educational purposes only and shall not be construed to constitute investment advice. Nothing contained herein shall constitute a solicitation, recommendation, or endorsement to buy or sell any security or private fund.