In our last article we noted that several CEOs from the shipping space are cautiously optimistic. While cautious optimism is not usually grounds for excitement, the past several years have shown near chronic negativity from shipping CEOs so any shift in language is worth considering. Moreover, the Baltic Index (an index of shipping rates) recently hit multi-year highs while prices of several shipping stocks have risen dramatically as well. Skepticism remains high so it isn't a certainty that shipping has finally rounded the corner by any means. But getting in on the early innings of a major shift in the underlying business fundamentals could lead to huge profits. Given all of this, we decided to examine the relationship between the Baltic Index and select shipping stocks to look for high probability trading patterns.
The two stocks in our analysis were DryShips (NASDAQ:DRYS) and Diana Shipping (NYSE:DSX) as they have reasonable cap sizes, trade enough to be liquid, and should be impacted by the Baltic Index.
We started by looking at the Baltic Index (BDIY) versus the stocks in our analysis by determining the correlations of weekly returns back to 3/2005. We did this comparing both this week's BDIY change to this week's stock change and last week's BDIY change to this week's stock change. There were a few weeks where the Baltic Index didn't register a value so we plugged in the previous week's value in these cases. Weekly percentage changes were calculated using weekly closing prices. Results follow in the table below.

Correlations are positive (albeit not terribly high) in the same week but reverse in the following week in the case of DRYS and drop to zero looking at DSX. This implies they move together in the same week but not the following week. Ideally the one week lag approach would be used in trading as it is "predictive."
Next we did some conditional analysis conditioning this week's stock return on last week's Baltic Dry Index return. We started simply looking at the BDIY change being positive or negative (>0% or <0%) last week. The following tables display the stock return results of the study.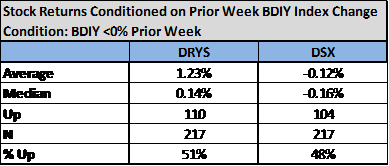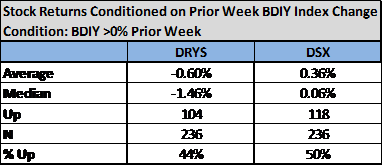 The top table shows stock returns conditioned on the BDIY being <0% last week while the bottom table shows stock returns conditioned on the BDIY being >0% last week. We see that DRYS tends to go up (on average +1.23%) the week after the BDIY falls and down (on average -0.60%) the week after the BDIY rises. This is somewhat counter intuitive as we would expect stocks to follow rates.
DSX on the other hand does experience the expected effect as it tends to rise (on average +0.36%) the week after a rise in the Baltic Index and fall (on average -0.12%) the week after a drop in the Baltic Index.
These patterns are indeed interesting and could allow for the creation of high probability standalone systematic trades or market neutral "hedged" pair trades (long one and short the other). Longer-term investors could also use these patterns to increase the likelihood of a good entry. All such methods could be tailored to specific risk management appetites. We leave such further pursuits to readers.
Disclosure: I have no positions in any stocks mentioned, and no plans to initiate any positions within the next 72 hours. I wrote this article myself, and it expresses my own opinions. I am not receiving compensation for it. I have no business relationship with any company whose stock is mentioned in this article.