While researching the latest wireless offerings and reading the latest quarterly updates by Sprint (NYSE:S) and T-Mobile (NASDAQ:TMUS), the recent merger news smacks of a horrible fit. Sprint has spent the last couple of years to rid itself of the legacy issues of the Nextel network. On top of that, T-Mobile continues to promote the "un-carrier" concept that surely wouldn't fly with customers in a new combined Sprint that would undoubtedly become part of the major carrier system. In addition, T-Mobile is in the process of integrating the MetroPCS deal further complicating any merger with Sprint.
Sprint and T-Mobile have reason to continue down the path taking shots at the big two, AT&T (NYSE:T) and Verizon (NYSE:VZ). Besides, a merger of equals places the combined Sprint and T-Mobile at nearly 100 million subscribers only slightly behind the big two. Not sure what investors gain by merging into size instead of taking market share.
Leading The Wireless Data Revolution
With the purchase of Clearwire and its massive spectrum, Sprint has an inevitable position of a leading spectrum position. Clearwire alone had more spectrum than AT&T and Verizon. Combined, Sprint has 187 MHz of spectrum compared to only 100 MHz for the big two. See the slide below from a Dish Network presentation: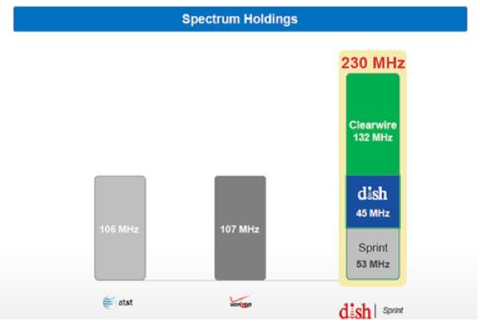 The mutli-band LTE strategy had a New Street Research analyst asking back on the Q313 earnings call how Sprint was going to take advantage of the compelling network advantage. Focusing on taking advantage of this situation is where Sprint needs to focus its time and that won't occur during a mega-merger.
So I think we are all looking forward to the point in time where Sprint has a really compelling network advantage over everybody else with a lot more capacity and faster speeds than AT&T and Verizon.

Integration Headaches
As a former employee involved in the MCI and WorldCom integration, Sprint needs to thing twice if not three times before making such a move. Any network advantage will be lost if the company is busy merging and integrating, instead of building out a network.
Even worse, according to a columnist from pcmag.com, the networks are very incompatible making integration a huge headache.
Technology Nightmares. Sprint and T-Mobile have incompatible technologies and frequency bands. Sprint works with CDMA, some FD-LTE and increasingly TD-LTE. T-Mobile works with GSM, HSPA+ and FD-LTE. Sprint is trying to aggregate the 800, 1900, and 2600 bands; T-Mobile has some 1900, but does a lot of its work on 1700. This merger would result in a horrible technology alphabet soup; there's very little compatible here, which means lots of time and energy will have to be wasted aligning these networks somehow. That means a combined Sprint/T-Mobile will fall even farther behind AT&T and Verizon.
Complications of the separate networks could place Sprint back into the same dilemma as before with Nextel.
Focus On Surging Tablet Sales
Rather than working on integrating a very complex deal with T-Mobile, Sprint should focus on utilizing the leading data network capacity to take market share in the tablet and notebook space. According to NPD Group, tablet sales through U.S. commercial channels surged 49% in 2013, compared to 2012. These users can either be constrained by existing wi-fi networks or tap into a wireless carrier's network. With the Clearwire spectrum, Sprint has the ability to be the leader in connecting the domestic tablet user on the go.
Conclusion
Both Sprint and T-Mobile are making compelling advances in the domestic wireless market that any deal would likely derail for the next 18 months. Long-term, it is easy to envision Sprint gaining market share with a spectrum leading position and a revenue base of only $35 billion. A focused company could easily take market share in 2015 with a 4G LTE network that finally covers over 200 million POPs. Investors should want no part of another merger integration that could be similar to the devastating one that occurred with Nextel. The leader in mobile data especially in the area of tablets and notebooks is where this investors wants to invest.
Disclosure: I am long T. I wrote this article myself, and it expresses my own opinions. I am not receiving compensation for it (other than from Seeking Alpha). I have no business relationship with any company whose stock is mentioned in this article.
Disclaimer: The information contained herein is for informational purposes only. Nothing in this article should be taken as a solicitation to purchase or sell securities. Before buying or selling any stock you should do your own research and reach your own conclusion or consult a financial advisor. Investing includes risks, including loss of principal.