This is a series of articles that will attempt to find the best of breed BDCs that I will include in my updated "Total Return Portfolio" for 2014. Please read "Part 1" for complete description of the portfolio but basically it is for investors that want dependable regular dividends and the potential for special dividends as well as long-term capital appreciation from increased stock values. The other five portfolios that I cover are: General, Risk Averse, High-Yield, Value, and Underdog. This article will cover dividend sustainability using three simple measurements: last 12 month EPS compared dividends paid during the same period, actual EPS over the last two quarters and projected EPS over the next two quarters compared to the current dividend.
Last 12 Months
There are pros and cons to using the last 12 months EPS compared to actual dividends paid. The biggest issue is that there is always a certain amount of one-time income and/or expenses. BDCs know this as well and should plan their distributions accordingly so it is still a valid measurement. Another issue is that EPS is not the best measurement of recurring income to cover dividends. I will cover this in future articles and starting next quarter will use a 'core recurring net investment income' approach to coverage. BDCs that have increased or decreased dividends recently will skew the results of this analysis but I will cover that in the other measures. The table below shows this analysis and the only BDCs that I adjusted were TCP Capital (NASDAQ:TCPC) because in Q4 2012 they were temporarily not paying incentive fees and resulted in an artificially high EPS, Prospect Capital (NASDAQ:PSEC) had a large amount of one-time income in Q4 2012 from the Gas Solutions sale that inflated EPS, Main Street Capital (NYSE:MAIN) excludes effects of prepayment of SBIC loans and New Mountain Finance (NYSE:NMFC) excludes non-cash incentive fees for capital gains. I am sure there are a few other one-time discrepancies and I will continue to include these in my analysis.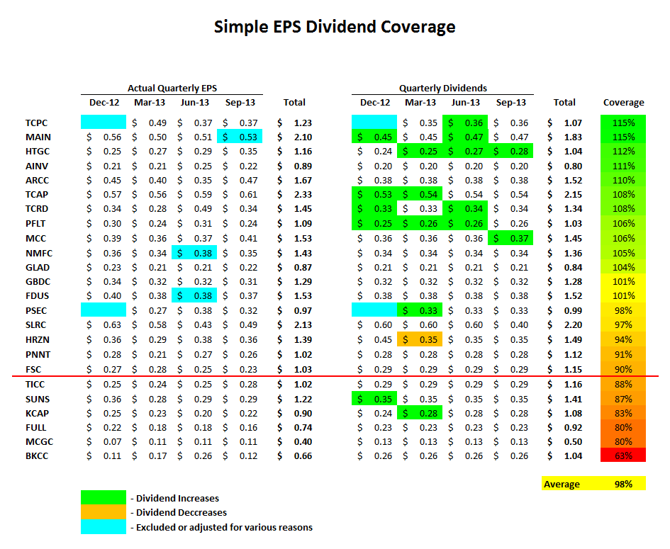 The average of 98% coverage is expected and implies that BDCs are paying out what they earn. Using only this analysis I would not recommend investing in any BDC below 90% which would include TICC Capital (NASDAQ:TICC), Solar Senior Capital (NASDAQ:SUNS), KCAP Financial (NASDAQ:KCAP), Full Circle Capital (FULL), MCG Capital (NASDAQ:MCGC) and BlackRock Kelso Capital (NASDAQ:BKCC). Both FULL and KCAP have reduced dividends recently and it is important to note the BDCs that increased or decreased distributions recently.
Recent EPS Coverage of Current Dividend
The table below uses the average EPS over the last two quarters compared to the current dividend. MAIN, Hercules Technology Growth Capital (NASDAQ:HTGC) and PennantPark Floating Rate Capital (NASDAQ:PFLT) have all recently raised dividends so this analysis is skewed unfavorably for them if they raised dividends due to strength in the portfolio.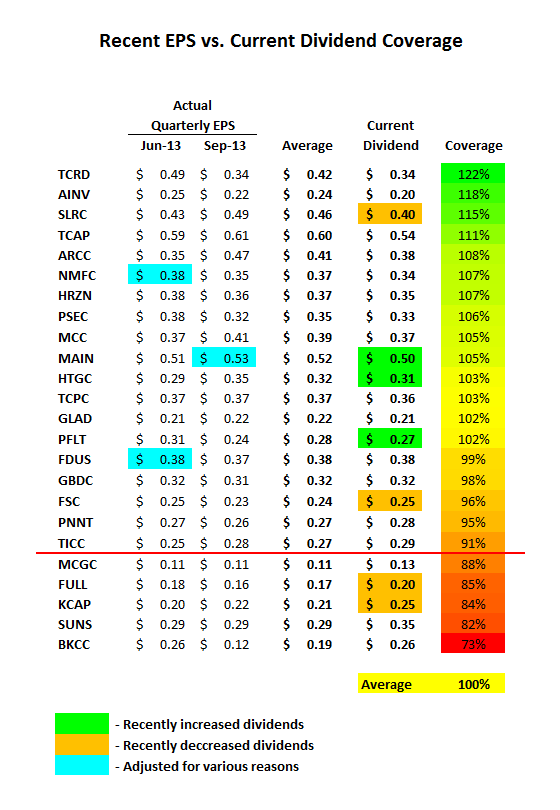 The average of 100% again implies that BDCs are paying out most of their income (or will be) and many of the same companies are below 90% coverage such as MCGC, SUNS and BKCC. Even after reducing dividends FULL and KCAP still would not have covered with EPS but hopefully will in the coming quarters.
Projected EPS Coverage of Current Dividend
This is probably the most important of the three measurements but is more uncertain since it is based on projections. Of the 25 BDCs that I cover, I have projected core earnings for 9 of them over the next two to three quarters and have included that analysis in this measurement. For the other 16 I used standard Thomson Reuters/First Call average analyst estimates that often does not include the most recent information from preliminary reporting such as with MAIN and its "Q4 Update" or HTGC which I have not looked at as well after its "Q4 Update". But as discussed in my "January BDC Rankings" depending upon timing of deployments and repayments during the quarter, or large one-time income and expenses, the actual EPS amounts can swing and are nearly impossible to predict. My estimates assume business as usual and an average between best and worst case scenarios and are covered articles such as "TCAP: January 2014". The table below shows the average projected EPS over the coming quarters compared to the current dividends with my projections for the highlighted BDCs.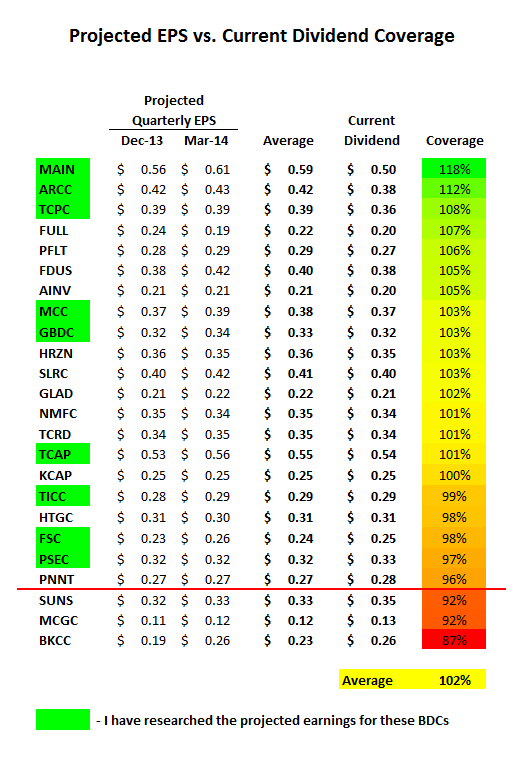 For SUNS I have done long-term projections based on its new Gemino acquisition and use of increased leverage to grow income in my article "Solar Senior Capital: Its Accretive Acquisition Should Cover Dividends" but I am uncertain of the timing and will wait for the next earnings release to revise projections.
Who will most likely cover dividends?
Until I finish my analysis of historical and projected core earnings for each BDC I will use an average of these measures because they all have pros and cons. However the BDCs that I have projected to cover more than the others will be contenders for the total return portfolio including MAIN, TCPC, Ares Capital (NASDAQ:ARCC), Triangle Capital (NYSE:TCAP), Medley Capital (NYSE:MCC) and Golub Capital BDC (NASDAQ:GBDC). Most likely Fifth Street Finance (NYSE:FSC), PSEC and TICC will not.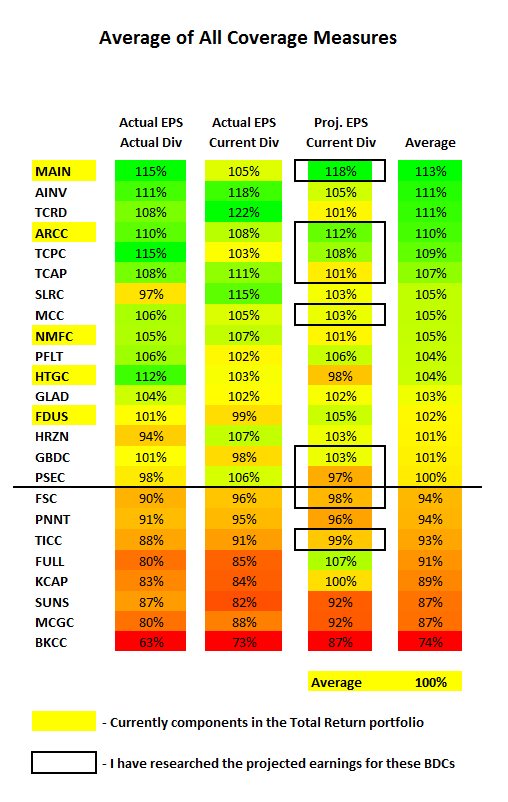 The rest of this series will continue to look at historical results and projected performance of each BDC to uncover the best BDCs for this portfolio. The key criteria I will be analyzing are:
Regular dividend yield and sustainability
Dividend and portfolio growth potential
Special dividend potential
Relative valuations
Risk to reward ratio
NAV per share growth historically and projected
I will try to cover each of these areas using available public information as well as my own analysis and I will most likely be investing in all of these BDCs personally. Investors should only use this information as a starting point for due diligence. See the following for more information:
Disclosure: I am long MAIN, TCPC, ARCC, FDUS, TCRD, PSEC, NMFC. I wrote this article myself, and it expresses my own opinions. I am not receiving compensation for it (other than from Seeking Alpha). I have no business relationship with any company whose stock is mentioned in this article.