SLB has spent $1.07B to acquire unlisted Oil and gas services company Geoservices (including debt taken over). Geoservices specializes in mud logging, slickline and production surveillance operations.
With revenues of $491M in FY09, the EV/Sales for the deal works out to 2x. SLB currently trades at 3.5X FY09 revenues. Also, this is in line with valuations of 2X FY09 revenues for HAL and a 25% premium to the 1.6X FY09 revenues for BHI.
SLB was one of the big 4 oil services companies that did not have much of a presence in the mud drilling segment. The acquisitions, thus, fills this gap. A search through latest filings of Oil and gas services companies brings in the following explanation of mud logging from the 10K dated 01-Mar-2010 of Weatherford International Ltd. (NYSE:WFT).
Surface Logging Systems — often referred to as mud logging, this is a well-site service that uses fluid and gas samples along with drilling cuttings to evaluate the geology and geo chemistry of the formation as it is being drilled. The derived data and interpretation is used to help geologists and drillers ensure that the well is placed in the most productive formation to maximize ultimate well productivity.
Additional data on the revenue breakup of Geospace is available from its site and is presented below:
Revenue grew at a fast clip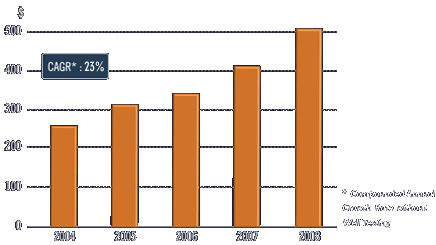 Revenues are Geographically diversified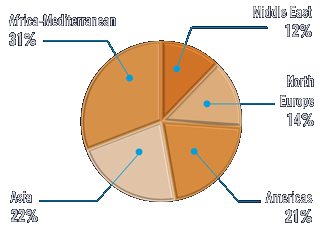 Major part of revenues is from Mudlogging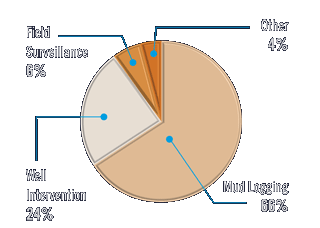 Source: geoservices.com
Geoservices does seem to have grown at a rapid pace against the revenue growth of SLB as seen from the table below:
| | | | | |
| --- | --- | --- | --- | --- |
| Company | Ticker | Total revenue 1Yr Growth (%) | Net income 1Yr Growth (%) | Total revenue 3Yr CAGR (%) |
| Schlumberger Limited | SLB | -16.7 | -42.3 | 5.6 |
| Weatherford International Ltd. | WFT | -8.1 | -81.3 | 10.3 |
| Baker Hughes Incorporated | BHI | -18.5 | -74.3 | 2.3 |
| Halliburton Company | HAL | -19.7 | -25.6 | -13.4 |
Source: Gridstone Research screener
Also, it complements and will strengthen the Geographic revenues of SLB in areas other than the Americas.
| | |
| --- | --- |
| Region | % of FY09 revenues |
| North America | 18.1% |
| Latin America | 20.6% |
| Europe / CIS / W. Africa | 34.8% |
| Middle East and Asia | 25.5% |
| Elims / Other | 1.0% |
Source: Gridstone Research, company filing
As far as integration with SLB's current product lines is concerned, the company's management gives some details in its press release:
In formation evaluation, mud logging complements wireline logging and logging-while-drilling measurements. In drilling efficiency, mud logging information provides insight into the dynamic state of the well and allows drilling mud weight properties to be optimized.
As suggested by the paragraph above, the use of mud logging helps improve productivity of the drilling rig. Also, Feedback on mud characteristics would help prevent drill bit damage and help save down time. And, any technology that helps save time on equipment that charges dayrates upwards of $300,000 is a positive.
Also, the combination of mud logging with existing offerings will help SLB gain a level playing field in the deep sea drilling field.
The acquisition seems positive for SLB.
Disclosure: No holdings