This article is a follow up to my previous note in which I delivered the unfortunate news (for us Intel (NASDAQ:INTC) longs, anyway) that Intel had lost the Galaxy Tab design win. In the article, I explained just why I believe Intel lost the design and I took the opportunity to explain just why this is something that shareholders shouldn't shrug off lightly. This design loss is symptomatic of the fact that Intel doesn't quite have the right chips to play in the game today (although they're getting better), and this is something that is rightfully a concern for many investors.
So, as CES is now over, and Samsung's (OTC:SSNLF) new tablet lineup has been formally announced, it's clear that Intel did in fact lose the design. Further, Intel didn't really have much to show at CES by way of tablet designs based on Android/Bay Trail, although I do expect a flood of designs from perhaps lesser-known players at Mobile World Congress. Nevertheless, it'd have been nice to see more progress. That said, checking the tech press, I see some interesting material worth commenting on.
Barron's Tiernan Ray Interviews Hermann Eul, Head of MCG
Over at Barron's, there is an excellent interview with Intel's Prof. Dr. Hermann Eul, head of Intel's Mobile and Communications group (check it out here). In this interview, Mr. Ray extracts some very useful answers from Prof. Dr. Eul (both directly and indirectly).
Take the following snippet:
As for tablets, last year saw an important win for Intel with Samsung Electronics in one of the Korean giant's 10-inch tablets running Google's Android Software. Samsung's press conference on Monday was not as kind to Intel, as the newly announced Samsung tablets run Qualcomm's chips.

Eul calmly batted the matter away, observing "Samsung always has multiple sources for its chips," including Samsung's own in-house chip effort. When I pressed him on whether that could mean Samsung tablets with Intel chips later on this year, he vaguely indicated his ascent to the matter without committing himself or Samsung to anything definite.
As an Intel investor, it may be prudent to take the loss of the Galaxy Tab more seriously than management would have you believe (although it is easy to make excuses here, it's probably best not to). Intel lost this design not because, "Oh, Samsung likes to have multiple sources for its chips", but because the chips from those other sources were simply better suited than anything Intel had to offer at the time.
While I completely understand that Prof. Dr. Eul had to be calm about it and had to sort of try to placate anybody reading the column, this lack of progress is something investors really do need to be concerned about. Intel is shut out of Samsung's Tab/Note lines for at least another year, although it could be for much longer depending on whether Intel can produce world-class silicon and get it out in the right time-frame to compete with Samsung's own chip guys and Qualcomm.
I also want you to notice that the non-cellular version is using Samsung's own Exynos processor while the cellular version uses Qualcomm's processor. This shows a clear propensity to use Samsung's in-house silicon wherever and whenever possible - a trend unfavorable to Intel. This means Intel's chips need to be absolutely world-class if they are to win sockets at Samsung.
Prof. Dr. Eul Talks Up Fabrication, But It's Not Enough
Later in the interview, Prof. Dr. Eul makes an interesting but - in my view - incomplete claim,
Eul has a slightly different take on things. He points out that Qualcomm, and other competitors such as Nvidia (NVDA) and Broadcom (BRCM), all of whom are dependent on Taiwan Semiconductor Manufacturing to actually make the chips they design, will run into a problem as Taiwan Semi's technology stops scaling.
Okay, so I will be perfectly upfront and say that I absolutely believe Intel's claims that it will (finally) have a density lead at 14 nanometer over its competition at 14/16nm.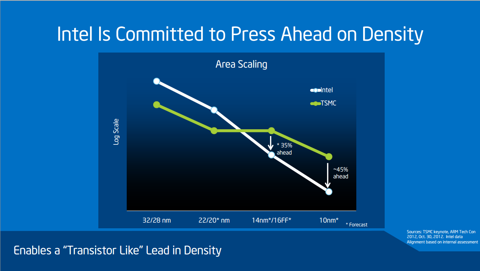 In theory, a transistor performance lead and a density lead is a pretty lethal combination. Should the design teams actually design the correct products for their market segments, then Intel should be able to offer similar performance/power for cheaper than its competitors OR more performance for the same cost. However, the problem never has been process for Intel - it's been getting the design right (which is really weird given how good Intel's designs are in its other operating segments).
Intel's low power CPU designs are superb, but its SoCs sill leave much to be desired. Bay Trail, for example, has exemplary CPU performance, but lackluster GPU performance, a bloated bill-of-materials, no integrated connectivity/cellular, and a die size as large as chips from its competition (but the competition's chips were better integrated).
So, when the head of the mobile group says that it's Intel's manufacturing process that will win the day, I can't help but feel the need to point out that it's a great tool but not the only one that Intel needs. Intel has a superior process today and yet Samsung and Apple (NASDAQ:AAPL) are laughing all the way to the bank with Exynos and A-series, respectively - both better chips than any mobile processor Intel has built to date from a full chip perspective. Process is important insofar as it allows a design team to develop a better product, but process itself alone isn't enough. It's an enabler and, in a world of equally competent design teams, the company with the better process can do the better product at a given cost. Intel's job, now, is to make its designs much more compelling.
Conclusion
Yes, while Intel's process lead is wonderful and great, it needs to translate into superior products with superior architectures otherwise it's completely pointless. To say that Intel will automatically win thanks to process is naive, but if one were to say that assuming Intel's design team gets its act together and takes full advantage of what the process folks have given them, then you'd get no argument from me.
During most of 2014, Intel will be competing using Bay Trail against highly competitive parts from NVIDIA/Qualcomm/Samsung, which is probably the real reason Intel decided on its subsidy program to shove Bay Trail into the low end. However, if Intel can actually pull it together and pull-in Cherry Trail - its first 14 nanometer Atom complete with a brand new GPU architecture - then Intel has a fighting chance of having something that really hunts as 2014 closes out.
That being said, I am now eagerly awaiting Broxton and this really does represent the "last chance" as far as I'm concerned for Intel to prove its viability in this market. If this part comes out of the gate, wins some great designs, and performs very well, then it's all-systems-go and I have no doubt that at that point Intel would be a $40+ stock within a couple of years. If not, then I may finally throw in the towel.
Disclosure: I am long INTC, NVDA. I wrote this article myself, and it expresses my own opinions. I am not receiving compensation for it (other than from Seeking Alpha). I have no business relationship with any company whose stock is mentioned in this article.