ShoreTel, Inc. (NASDAQ:SHOR) the provider of Internet Protocol Unified Communications Systems, should continue to trade higher as the acquisition of M5 Networks, Inc. makes the company's offerings highly competitive in the marketplace. Relative to other providers of services via the cloud, ShoreTel is trading at a steep discount. I attribute the discount to the legacy portion of the business, which in my opinion is uncompetitive.
As the company continues to integrate its on-premise offerings with its hosted solutions during 2014, 3.5 times book value could turn into 4 or more times book value. The ShoreTel Dock and ShoreTel Connect are likely to be contributors to continued revenues growth during the coming fiscal years.
Unified Communications ("UC") is a top investment initiative for North American small and midsize businesses (SMBs). Increasingly, SMBs are evaluating a broad range of integrated communications functionality to facilitate communications across workgroups and with customers. UC vendor selection is mission-critical to business processes. According to Gartner, ShoreTel and Cisco (NASDAQ:CSCO) are the UC SMB market leaders in North America.
Recent Developments
Business Summary
ShoreTel, Inc. and its subsidiaries is a leading provider of pure Internet Protocol Unified Communications Systems for enterprises while offering both premise-based and hosted business solutions. The enterprise's premise systems are based on its distributed software architecture and switch-based hardware platforms that enable multi-site enterprises to be served by a single telecommunications system. ShoreTel provides communications systems for enterprises, which integrate with business applications and smartphones.
The acquisition of M5 Networks, Inc., a provider of hosted unified communications solutions, expanded the products and services offerings to include hosted solutions. The hosted communications segment is a key driver of the increase in valuation, in my opinion.
The acquisition of Agito Networks, Inc., a provider of platform-agnostic enterprise mobility, expanded the existing mobile solutions by allowing users to communicate on any device, such as a desk phone, mobile phone, tablet, or computer, at any location using any cellular or Wi-Fi network.
Unified Communications is the integration of real-time communication services, such as instant messaging, presence information, telephony, video conferencing, data sharing, call control, and speech recognition, with non-real-time communication services, such as voicemail, e-mail, SMS, and fax. UC is a set of products that provides a consistent unified user-interface and user-experience across multiple devices and media-types.
UC allows the individual to send a message on one medium and receive the same communication on another medium. For example, one can receive a voicemail message and choose to access it through e-mail or a cell phone. If the sender is online according to the presence information and currently accepting calls, the response can be sent immediately through text chat or video call. Otherwise, it may be sent as a non-real-time message that can be accessed through a variety of media.
There are three main use cases. Unified communication systems are utilized as emergency communication systems. Enterprises employ UC to improve interdepartmental communication and customer service. There are also "everyday" uses or consumer-oriented use cases. Simply said, the technology has broad applications, and ShoreTel's investment in cloud-UC should turn out to be an excellent decision.
ShoreTel faces competition from larger more established rivals in the unified communications marketplace. IBM and Microsoft have offerings in the space. There is a Unified Communications Interoperability Forum whose founding members include HP, Juniper Networks, and Microsoft. Also, Cisco is ShoreTel's best-positioned competitor.
Cisco's solutions come at a steep price and are complex. Also, its cloud offering is available through AT&T and Verizon who offer the service to enterprises with 500+ users. On the other hand, Cisco has the brand, reputation, scale, and channel partners.
ShoreTel can scale from its Small Business Edition 100, with up to 100 users, to ShoreTel Director Web application, which scales to 20,000 users. ShoreTel Connect should be available in early 2014, which is a cloud offering that integrates with premise. Gartner cites ease of use, management and implementation as reasons to consider ShoreTel. On the other hand, the company could improve its breath and depth of features. Management is calling for the cloud business to grow at a faster rate than the premise business. This is an assessment that I agree with as I view the cloud business as the cornerstone and critical to the success of the enterprise.
Premise revenue is derived from the sale of IP phones, switches, and software applications. Some of these products are sold through resellers and value-added distributors. The price charged to channel partners varies. Premise support and services revenue primarily consists of post-contractual support, and to a lesser extent revenue from training services, professional services, and installations. Premise support is correlated with the installed base. Consequently, as the installed base increases in size, so does revenue from premise support and services; additionally, this is a nice, stable chunk (~19%) of total revenues.
In September, ShoreTel began shipping the ShoreTel Dock, which is a docking station that transforms iPhones and iPads into desk phones when paired with ShoreTel Mobility. The solution works with ShoreTel premise and ShoreTel Sky. I view this as accretive to revenues and the market-based valuation during fiscal 2014 and 2015.
Risks
The share price is likely to remain volatile and investors could lose a portion or all of their investment.
Investors should judge the suitability of an investment in ShoreTel in light of their own unique circumstances.
A decline in the global economic growth rate and/or a decline in the pace of economic growth in the United States could adversely impact the results of operations and the share price.
Cyclicality in IT expenditure may affect the performance.
The technology industry is characterized by rapid technological change, which could materially adversely impact the results of operations.
Competition in product development and pricing could adversely impact performance.
Incorrect forecasts of customer demand could adversely impact the results of operations.
This section does not discuss all risks related to an investment in ShoreTel.
Technical Analysis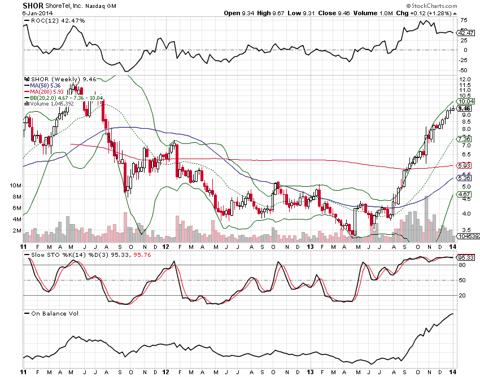 ShoreTel is in a confirmed intermediate up-trend; confirmation, in this chart, comes from the slow stochastic indicator, on balance volume, rate of change, moving average, and Bollinger bands. The share price is above the flat 200-day simple moving average, but the primary uptrend lacks confirmation. The intermediate-term uptrend is "long in the tooth." Meaning, the trending market is likely to give way to a consolidating market, or trader's market, in the coming weeks. A slow stochastic reading near 20 for a sustained period would provide evidence of the trend change. ShoreTel is in a bull market. The acquisition of M5 Networks, Inc. is the catalyst for the rally.
Disclosure: I have no positions in any stocks mentioned, and no plans to initiate any positions within the next 72 hours. I wrote this article myself, and it expresses my own opinions. I am not receiving compensation for it (other than from Seeking Alpha). I have no business relationship with any company whose stock is mentioned in this article.