Introduction
Dollar Tree, Inc. (NASDAQ:DLTR), one of the group of "Dollar stores," is a retail business that offers inexpensive merchandise, virtually all of it priced at $1 - and up to C$1.25 in Canada. While not a specialty retailer, it has similarities to companies that offer products to customers who seek to save money, such as specialty auto parts retailers and home improvement businesses that have also handily outperformed the market in recent years. Its limit on the prices of items for sale; such as drinking glasses, stationary and food; causes concern for investors about their costs and also confers legitimacy to its marketing.
Recent Events and Valuation
Shares sold off after reporting declining same store sales in November. Dollar Tree gave guidance that some viewed as uninspiring when it announced. Stock subsequently traded at close to $56. Family Dollar (NYSE:FDO) lowered its guidance on January 9th, and Dollar General (NYSE:DG) then declined with the other two discussed here.
A bottomed DLTR share price is not obvious, but may be worth tracking. As of January 20th, 2014, the stock is in the favor of sell side analysts. Thomson/First Call shows a mean recommendation of 2, and a Median Target of $62, above its high of $60.19 set in October. Shares currently trade at close to $54, so there is reason to believe that over 15% upside is offered. Further, the same analysts project $3.30 in earnings for the year that ends January 2015, and a five year growth rate of 17.05%. Using all of these metrics, shares are inexpensive and the potential reward for investors may be viewed as competitive with the risks (Other information is available here).
However, Dollar Tree is summarily shown to trade at higher EV / EBITDA multiples by YCharts: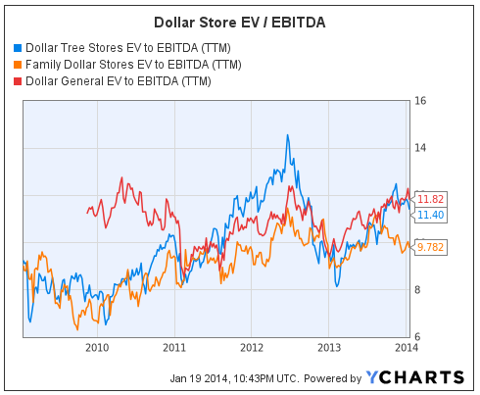 Click to enlarge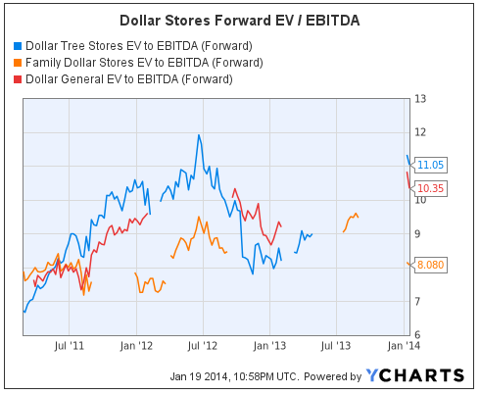 Click to enlarge
Operations
The large-cap corporation has 4,777 stores in the United States and another 177 in Canada, per its most recent Form 10-Q. It expands its square footage through new locations, and tries to increase sales in existing stores, in order to grow.
Purchased merchandise is largely imported: directly, and through distributors believed to buy from China.
The firm has a logistics network, projected to have a $10.2 billion capacity per its Form 10-K, that conveys supplies to distribution centers and stores. While there are many risks involved, one of them involves volatile costs of diesel fuel, which also could prove helpful. The Q3 Conference Call Q&A Section records questioning about deleveraging due to "DC" posed by BofA Merrill Lynch, in the context of the new distribution center in Windsor, Connecticut, that CFO Kevin Wampler indirectly references as "…Not having the full load of stores today that it will at some point." My tendency is to anticipate future improvement.
As selling items priced at exactly $1 is a central part of the business, any increase in costs involving merchandise is amongst concerns for investors.
Innovation without any added expenditures due intellectual property claims is appropriate, if continuously achievable. Yet there is an extensive list of other legal actions that the company has recently defended itself against. Some of them involve labor and employment matters. Pertaining to the litigation, there is a strangely worded statement about Selling, General, & Administrative ("SG&A") expenses during Q3 contained in the above-linked quarterly filing (bold added): "Operating and corporate expenses increased 30 basis points due primarily to a favorable legal settlement in the prior year."
For the past quarter, SG&A as a percentage of sales is actually reported to have remained at 24.2%, and to have declined to 23.9% YoY. Remarkably, the corporation has experienced a concurrent 3.1% QoQ increase in comparable store net sales, including strong results in higher margin discretionary items: Halloween, back to school, and check out/front-end impulse.
However, health insurance claims have recently been costly, as the company self-insures. It sounds as though it should not lead to future difficulty.
Perhaps more concerning, interest expense is higher, and should continue to be so due to new debt issued in September.
Management
Management is tenured. Bob Sasser is CEO. He has been in charge since 2004, so there is little chance of shareholders hearing Jim Cramer describe him as a "Freshman" on television.
In light of law suits and what might be viewed as questionable labor relations for anyone who reviews the company's SEC filings, COO Gary M. Philbin deserves attention. However, little information is published about him except that he has been carrying out his duties since 2007.
Our nation is observing a national holiday recognizing a great civil rights leader, Dr. Martin Luther King. At this time, it is challenging to observe that important executives at Dollar Tree are making so little known about themselves while information about formal complaints alleging wrongdoing to employees is much easier to find.
However, other company leaders are also building on extensive experience. Robert H. Rudman, Chief Marketing Officer has been at his post since 2003. Wampler has been fulfilling his duties since December 2008.
Financials
The company's financial position appears to be solid. Dollar Tree has no credit rating with Standard & Poor's ("S&P") or Moody's. According to a Forbes article published nearly a year ago, it is not rated by S&P due to a lack of long term borrowing. While debt is not an obvious problem, it has increased substantially with the issuance of $750 million in notes, in three tranches at rates under 5%, during September, 2013. The first semi-annual interest payment should have been made on January 15th.
Ample cash probably remains available, though it has more than halved QoQ: from close to $400 to $147 million. Cash is also lower since October 2012 when they company had $222.4 million on hand.
However, figures for Total current assets are higher than they have been, with Merchandise inventories, net being the largest item. Inventory tends to be scrutinized at big retailers. In the prepared remarks section of the Q3, 2013 Conference Call Transcript, Wampler clarifies that "…Levels are appropriate to support scheduled new store openings and our fourth quarter sales initiatives." Also, in response to a question, Sasser adds that its increase, along with an expanded assortment, is helping the discretionary business (stationary, party, & seasonal).
Capital Returns To Shareholders
Dollar Tree has a notable capital allocation policy in its buyback program. Feelings about repurchase authorizations can vary. Some may take issue with the fact the company is borrowing to return capital to shareholders - however, there is no dividend to be cut. The Form 10-Q goes into detail about spending $1 billion to retire its stock through collared and uncollared agreements and also open market purchases, respectively:
7.8 million shares minimum through collar, or cap;
7.2 million shares delivered to the company;
2.4 million shares on the open market for $112.1 million ($46.70 / share).
As of November 15th, there were just over 208 million shares outstanding, compared to 224 million in February, and 227.2 million in October of 2012. Through a new reauthorization, increasing the amount available to buy back shares to $2 billion total, the company had $1 billion remaining.
There is a stock compensation plan to employees, and for the 39 weeks ended November, 2013, its expenses is tallied at nearly $30 million.
Guidance assumes no additional share repurchase. It is reasonable to anticipate further aggressive buyback activity though, particularly with the recently lowered stock price, and a likelihood of a share count at or under 200 million when the company next reports.
Outlook
The next earnings event should occur near the conclusion of February. Recent Wedbush channel checks are reported to indicate that the store has done well over the holidays. Meanwhile, shares are roughly 10% off of their 52 week high and it may be an advantageous time to acquire stock.
However, it could also make sense to continue monitoring, particularly if the price continues to lessen. While Dollar Tree offers some value to investors based on forecast earnings growth and is taking aggressive steps to repurchase stock, it has gotten sued a lot and cannot easily increase prices. The former matter may be particularly irking to retail investors and those who read financial articles. The latter invites caution.
Shares are somewhat enticing now, though if they somehow drop down to $50 I would like them better. The market does not need to cooperate. Meanwhile, to grow, the company needs to open new stores and increase sales at its existing ones, amidst competition.
Disclosure: I have no positions in any stocks mentioned, but may initiate a long position in DLTR, FDO over the next 72 hours. I wrote this article myself, and it expresses my own opinions. I am not receiving compensation for it (other than from Seeking Alpha). I have no business relationship with any company whose stock is mentioned in this article.